A's deal Samardzija to White Sox for 4 players
Oakland also trades away Ynoa while acquiring Semien, Bassitt, Phegley, Ravelo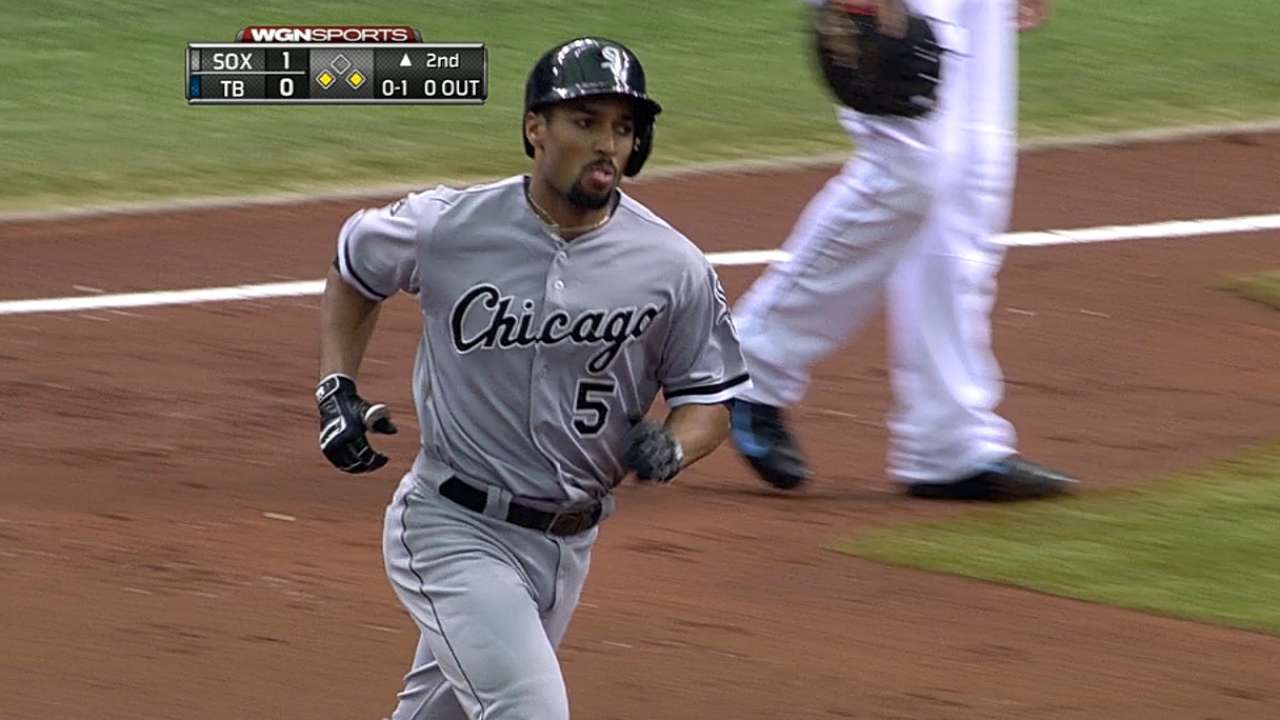 SAN DIEGO -- The A's traded their third All-Star in 11 days and fourth in a span of five months on Tuesday morning, sending right-hander Jeff Samardzija to the White Sox in exchange for four players to kick off Day 2 of the Winter Meetings.
They also packaged right-hander Michael Ynoa to Chicago and received infielders Marcus Semien and Rangel Ravelo, right-hander Chris Bassitt and catcher Josh Phegley in return.
It's the second big trade in as many days for the A's, who dealt Brandon Moss to Cleveland on Monday for Minor League second baseman Joe Wendle. They also traded third baseman Josh Donaldson to Toronto less than two weeks ago, as general manager Billy Beane looks to retool with a crop of young players.
Beane has collected a total of nine players in that time, several of which could help shape the 2015 roster. Semien, a local Bay Area product, is among them, and he is expected to be given every opportunity to hold down everyday shortstop duties in Oakland.
Beane said he first tried to acquire him in a trade this past summer, but was unsuccessful in his pursuit until now.
"Going through these periods is always challenging," said Beane. "When you trade a guy like Jeff, who's not only a great performer, but a great teammate, just a class act, that was tough. I had a good conversation with Jeff this morning. Really, for the time he was here, we just loved having him here. That being said, even if you look going into the offseason, we needed a shortstop, and in this deal, this is one we had interest in.
"We were looking for a particularly young guy. In Marcus' case, a guy we've thought highly of over the years."
Though most comfortable at shortstop, a position he's played since he was 6 years old, the 24-year-old Semien has also played third base at the big league level, as well as second base and the outfield, seemingly making him a perfect fit in the always versatile A's lineup. He has a career .240 average in 85 games, after hitting .272 in four Minor League seasons.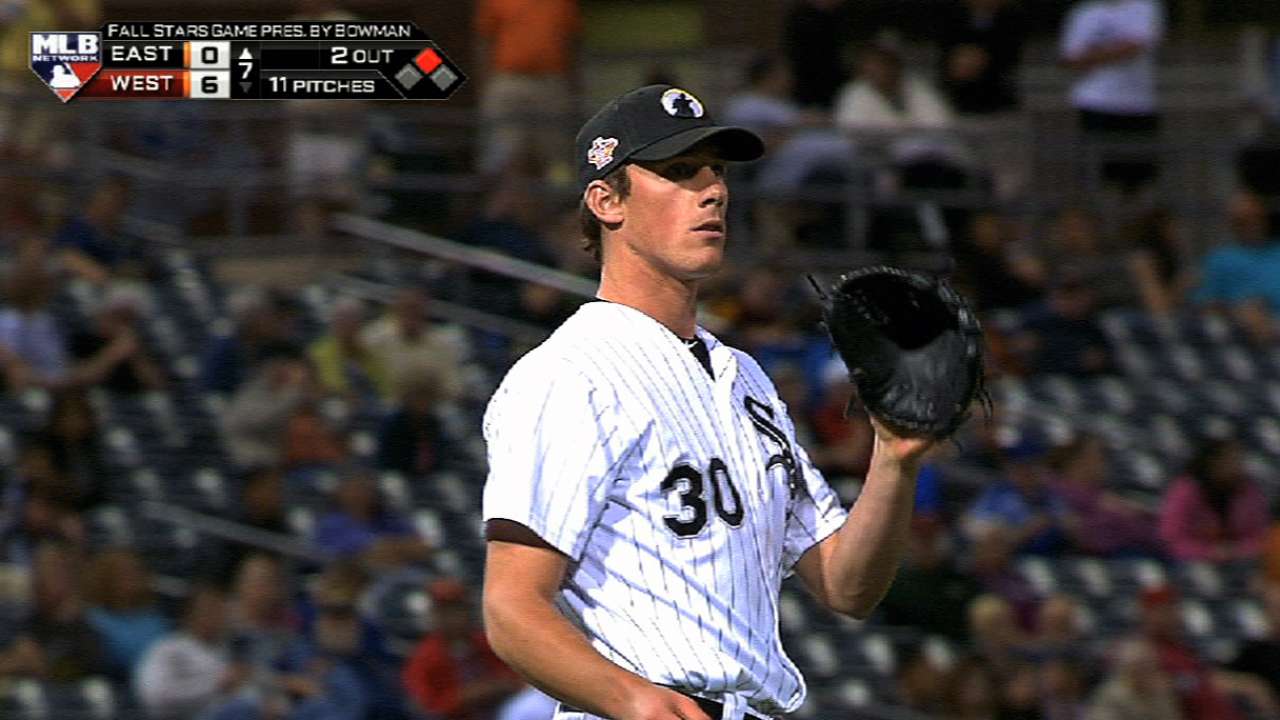 A product of Berkeley, like his new manager, Bob Melvin, Semien relishes the opportunity to play in the Bay Area, having grown up nearby in El Cerrito. He attended mostly Giants games with his grandmother, who lives in San Francisco, but did occasionally make his way to the Coliseum to see the A's, too.
"It looks like a great opportunity there," said Semien. "I haven't really had a chance to look at the roster yet. I know they've made a lot of moves and that there's opportunity out there for young guys, so I'm excited to be a part of this."
Semien was raised in the White Sox system with Bassitt, who adds to the A's youthful starting depth. The 25-year-old made his debut with the White Sox in 2014, going 1-1 with a 3.94 ERA in six games, including five starts. He faced the A's in September, allowing one run in six innings.
Phegley and Ravelo could also join the big league club at some point next season, but will likely begin it in the Minors, a place of significant focus for these A's, who have traded away considerable Minor League capital in recent years for the betterment of the Major League club and a shot at a championship run.
Notably, the A's acquired Samardzija prior to the Trade Deadline this year at the cost of two top prospects in shortstop Addison Russell and outfielder Billy McKinney. Shortly after, they traded Cuban slugger Yoenis Cespedes to Boston for lefty ace Jon Lester. Samardzija and Lester were excellent, combining for 11 wins and a 2.75 ERA down the stretch, but not even they could save the A's from yet another early postseason departure, this time by way of a Wild Card Game loss to the Royals.
Since then, the A's have signed a former Royal, designated hitter Billy Butler, and caused havoc in the trade market. Samardzija was always expected to go elsewhere during this offseason makeover project, particularly since he was set to make nearly $10 million in arbitration in 2015. He's a free agent at the end of the season.
Phegley spent the bulk of 2014 at Triple-A Charlotte, batting .274 with 23 home runs and 75 RBIs in 107 games. The 24-year-old right-handed hitter also hit .216 with three home runs and seven RBIs in 11 games with the White Sox as a September callup, and he is a .207 career hitter in 76 games over two seasons with Chicago.
"Catching depth, that's one of the things that really came into play last season," said Beane, who cited injuries to both Stephen Vogt and John Jaso.
Ravelo, meanwhile, hit .309 with 11 home runs and 66 RBIs in 133 games in his Double-A debut with Birmingham last season, adding 56 walks for a .386 on-base percentage. The 22-year-old began his career as a third baseman, but has been playing more first base recently, and the A's are in talks about what position is best for his future.
For the A's, giving up Ynoa was no easy decision. He was signed by the organization to a then-record $4.25 million bonus at age 16 in 2008, but his path to the big leagues has been derailed by numerous injuries, including Tommy John surgery. The righty most recently went 4-2 with a 5.52 ERA in 31 relief appearances with Class A Advanced Stockton in 2014.
Jane Lee is a reporter for MLB.com. This story was not subject to the approval of Major League Baseball or its clubs.