MLB.com Columnist
Richard Justice
Just like that, White Sox reshape outlook in AL Central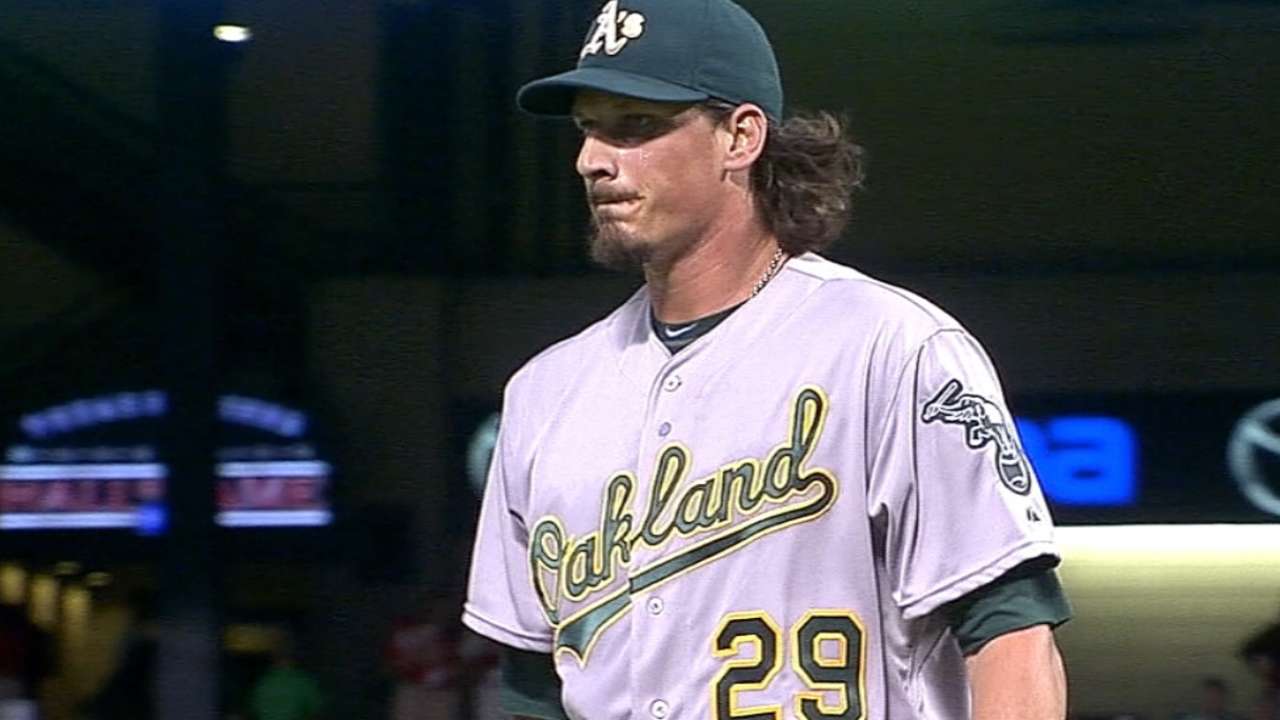 SAN DIEGO -- The Chicago White Sox redefined themselves on Monday. Along the way, they redefined the American League Central as well.
This was a day that reminded us why we love the Hot Stove League. One day we're focused on this team or that one. And in an instant, everything changes.
Here's to the White Sox. Gotta watch the quiet ones.
No team has improved itself more than this one. No team has made itself more relevant.
---
Winter Meetings action
Day 4: Dec. 11
Transaction
Official?
OF Matt Kemp
C Tim Federowicz
Traded to Padres
No
C Yasmani Grandal
RHP Joe Wieland
RHP Zach Eflin
Traded to Dodgers
No
OF Yoenis Cespedes
RHP Alex Wilson
Traded to Tigers
Yes
RHP Rick Porcello
Traded to Red Sox
Yes
RHP Ervin Santana
Four-year deal with Twins
No
LHP Mat Latos
Traded to Marlins
No
RHP Anthony DeSclafani
C Chad Wallach
Traded to Reds
No
RHP Justin Masterson
One-year deal with Red Sox
No
RHP Alfredo Simon
Traded to Tigers
Yes
RHP Jonathon Crawford
IF Eugenio Suarez
Traded to Reds
Yes
LHP Ross Detwiler
Traded to Rangers
No
OF John Mayberry Jr.
One-year deal with Mets
No
RHP Andre Rienzo
Traded to Marlins
Yes
LHP Dan Jennings
Traded to White Sox
Yes
The White Sox took one significant step forward on Monday night by agreeing to a deal with free-agent closer David Robertson, sources told MLB.com. USA Today first reported the four-year agreement, and CBSSports.com reported it's worth $46 million.
If they hadn't done one other thing, that deal would have sent shockwaves through the AL Central. The White Sox had 21 blown saves last season, third most in the AL. So adding a guy who made good on 39 of 44 save chances with the Yankees would have signaled a significant upgrade.
And then the White Sox closed in on something else even more significant. As they were finishing the Robertson trade, they were set to acquire right-hander Jeff Samardzija from the A's, according to CBSSports.com.
Samardzija is all of 29 years old and has averaged 203 innings the last three seasons. He's among the Major League leaders in strikeouts in that time.
Now when the White Sox look to 2015, they hope to pencil Samardzija in right behind the best pitcher in baseball, Chris Sale, and right in front of Jose Quintana.
The White Sox had already signed Adam LaRoche to split the first base and designated hitter at-bats with Jose Abreu. Meanwhile, they added left-hander Zach Duke, who can swing between the bullpen and the rotation.
What's left?
When Rick Hahn took over as general manager last offseason, he seemed to focus on infusing the roster with young talent. In the last 18 months, the White Sox have acquired center fielder Adam Eaton from Arizona and right fielder Avisail Garcia to play right.
It's not just that the White Sox have added talent. They've added impact talent. Abreu hit 36 home runs in his rookie year. LaRoche has averaged 23 home runs and 29 doubles in the last 10 seasons.
Now with Robertson and Samardzija, the White Sox appear to be good enough to contend.
But good teams win because they've got talent. To have a rotation led by Sale and Samardzija and Quintana is to have three pitchers who throw hard and make opposing hitters uncomfortable.
Likewise, lineups are built from the inside out. With Abreu and LaRoche in the middle of the order, with Eaton's .362 on-base percentrage at the top, the White Sox will have the potential to put pitchers in high-stress situation from the first inning on.
They are not yet a finished production. They're going to have young players scattered up and down their roster, and they need some of them to take a step forward to contend with the Tigers and Royals in the AL Central.
But that division race looks way different than it did at the beginning of the week. With three acquisitions, the White Sox have positioned themselves to compete with virtually any team in the game.
The White Sox have reminded us that baseball's competitive balance has put every team in position to succeed and that every general manager believes he's a move or two away from going to the postseason.
This has already been a nice Hot Stove League for the Red Sox and Blue Jays and for the Cardinals and others. There's plenty more to come as the Giants, Yankees, Cubs and others are aggressively pursuing a series of deals.
On Monday, it was the White Sox stepping to center stage. They were already close enough to the postseason to think only a couple of things needed to happen. Now they're closer.
Richard Justice is a columnist for MLB.com. Read his blog, Justice4U. This story was not subject to the approval of Major League Baseball or its clubs.