Red Sox positioned to bolster rotation via trade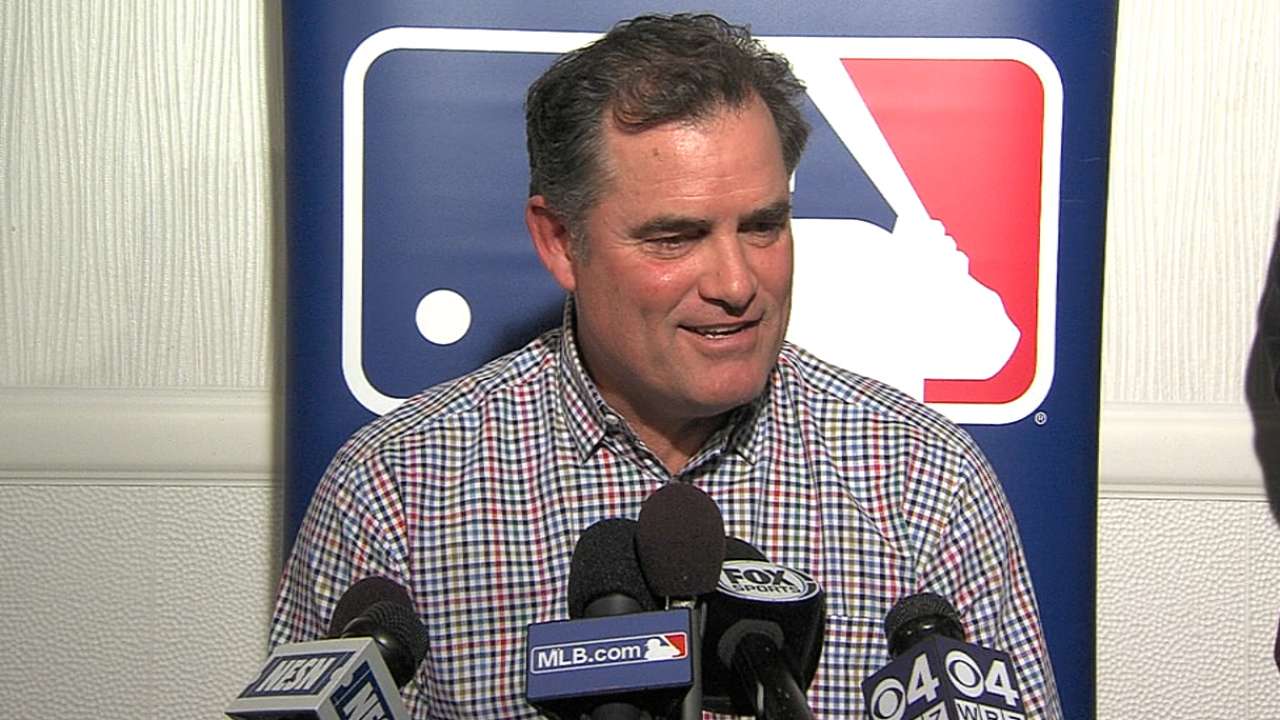 SAN DIEGO -- The more Red Sox general manager Ben Cherington speaks to other clubs, the more he becomes convinced he has the resources to acquire quality starting pitching.
"I think we've found like there's no shortage of possibilities," Cherington said. "There's nothing, in theory, we can't do, you know? It's just a question of what we want to do, what we think makes sense. So we're still working on that. But I was confident at the beginning of the offseason and I'm even more confident now that we're going to be able to add pitching and build a good pitching staff and have a good team going into next year."
The rotation is expected to consist of Clay Buchholz, Joe Kelly, two new acquisitions and probably an internal competition between several young pitchers for the fifth spot.
One of those acquisitions could be Jon Lester, who is expected to choose which team he will sign with on Tuesday.
Regardless of where Lester goes, the Red Sox are confident their starting rotation can be a strength by the time Spring Training starts.
Cherington is convinced that his overload of depth in the outfield in addition to his strong wealth of prospects will lead to some trades that can lead to a new-and-improved starting rotation.
"I think we're in a position where we have position player strength and depth," Cherington said. "We have resources, we have some financial flexibility. There's all sorts of different ways to build the pitching staff. We've been able to pursue all kinds of things. We don't feel constrained, other than just trying to find a deal that makes sense. That's the constraint -- it's not one guy or the other. We're just still working towards deals that make sense."
Manager John Farrell would have no problem with finding a fifth starter during camp.
"The one thing we do have is depth of quality with the young guys," said Farrell. "If one of those spots in the rotation is a spot to be in competition for in Spring Training, that's certainly part of the luxury that we have with guys that have started their transition to the big leagues. We haven't even gotten into the next group of young starters that are on the way, and that would be [Henry] Owens and [Eduardo] Rodriguez and [Edwin] Escobar, just to name a few guys. We've got some depth from which we can pick from."
Is Cherington close to any trades?
"No. We've advanced some conversations since last week, but I would say it's still in the work phase," Cherington said.
Ian Browne is a reporter for MLB.com. Read his blog, Brownie Points, and follow him on Twitter @IanMBrowne. This story was not subject to the approval of Major League Baseball or its clubs.