MLB.com Columnist
Lyle Spencer
Trading for Kemp won't come cheap
Dodgers will have to be 'overwhelmed' to move resurgent slugger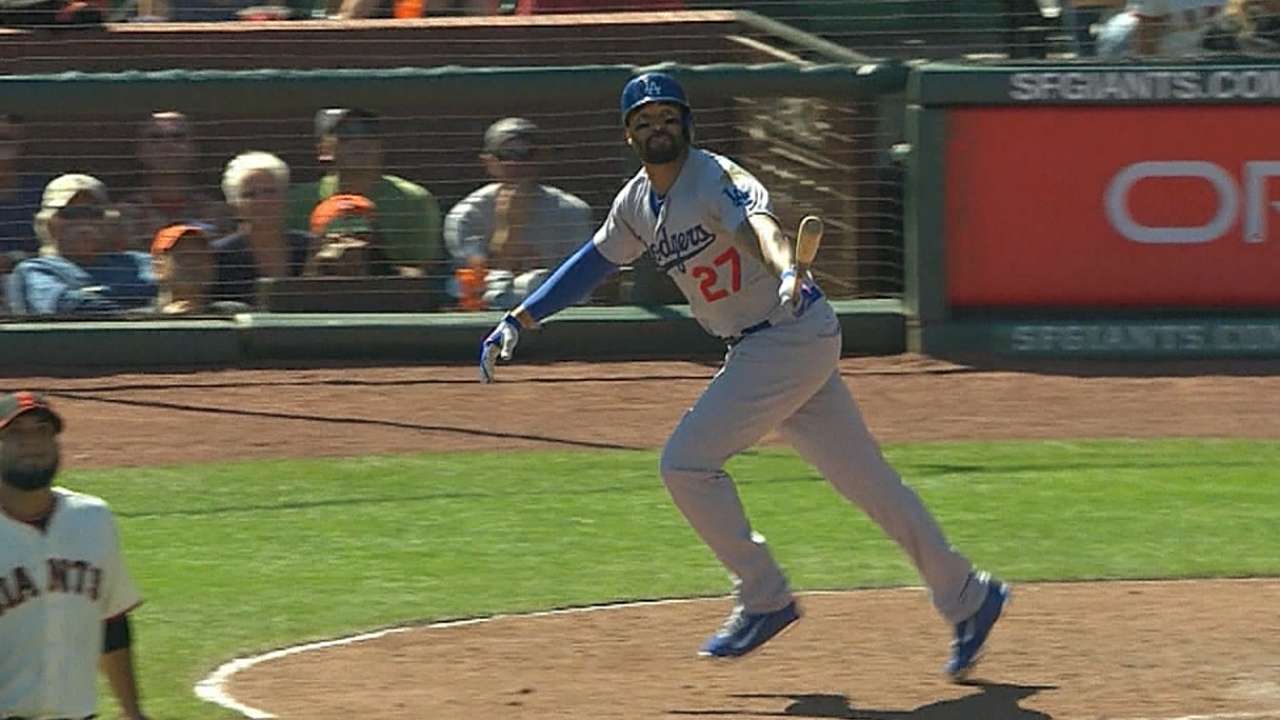 SAN DIEGO -- Only Jon Lester, the lefty expected to make a momentous free-agent decision any day now, has popped up in more Winter Meetings conversations than Dodgers outfielder Matt Kemp.
Andrew Friedman, the Dodgers' new president of baseball operations, doesn't like to address specific names in the marketplace, but he couldn't resist smiling when he was asked on Monday evening if he'd have to be overwhelmed to move a proven star in the middle of his career whose name has popped up frequently in trade talks.
"Yes," Friedman said quickly, asking the inquisitor if he had a rhyme for the name in question. "Hemp," came the reply, creating a moment of levity and laughter in the hotel suite temporarily housing these Dodgers operations.
Friedman gave no hints with respect to Lester, who is generally believed to be weighing hefty offers from the Giants, Red Sox and Cubs as well as the Dodgers.
As for Kemp, the right fielder whose superb second half last season suggested that a return to 2011 MVP runner-up form could be on the horizon, Friedman's one-word answer is a clue.
The Dodgers will have to be bowled over to unload Kemp. It will take at least three quality players, it is believed, to get it done.
The Padres, looking to make a big-name splash and add much-needed offense, are among a handful of teams linked to Kemp in recent days. It remains to be seen if San Diego or any other club can deliver the goods it will take.
---
Winter Meetings action
Day 4: Dec. 11
Transaction
Official?
OF Matt Kemp
C Tim Federowicz
Traded to Padres
No
C Yasmani Grandal
RHP Joe Wieland
RHP Zach Eflin
Traded to Dodgers
No
OF Yoenis Cespedes
RHP Alex Wilson
Traded to Tigers
Yes
RHP Rick Porcello
Traded to Red Sox
Yes
RHP Ervin Santana
Four-year deal with Twins
No
LHP Mat Latos
Traded to Marlins
No
RHP Anthony DeSclafani
C Chad Wallach
Traded to Reds
No
RHP Justin Masterson
One-year deal with Red Sox
No
RHP Alfredo Simon
Traded to Tigers
Yes
RHP Jonathon Crawford
IF Eugenio Suarez
Traded to Reds
Yes
LHP Ross Detwiler
Traded to Rangers
No
OF John Mayberry Jr.
One-year deal with Mets
No
RHP Andre Rienzo
Traded to Marlins
Yes
LHP Dan Jennings
Traded to White Sox
Yes
Finally over the lingering effects of surgeries on his left shoulder and left ankle, Kemp played 150 games in 2014, his first nearly full season since 2011 when many folks viewed him as baseball's premier all-around player.
While his overall numbers in 2014 -- .287/.346/ 506, 25 homers, 89 RBIs -- didn't measure up with '11, Kemp's second half was close. His .309/.365/.606 line with 17 homers and 54 RBIs in 64 games was right in line with '11: .324/.399/.586. Kemp was a homer shy of being a 40-40 man, leading the National League in runs (115) and RBIs (126).
It was, in reflection, a better season than the Angels' Mike Trout put together in being named the American League's unanimous Most Valuable Player in 2014.
In a sport that treasures numbers, these can't be dismissed for a man who, at 30, has lost perhaps a half-step.
"I think he's going to have a huge season," said one MLB general manager who doubts that the Dodgers will move Kemp.
Kemp has taken beautifully to right field, a transition not always easy to make for a world-class athlete who always identified himself as a center fielder. Torii Hunter, back with the Twins after two solid seasons in Detroit, made the seamless transition with the Angels, and Hunter and Kemp are close.
"I always thought of myself as a center fielder, not a baseball player," said Hunter, who collected nine Gold Gloves in center. "It's not easy to give up your identity like that, but I realized it was the right thing to do."
Retaining Kemp makes a center fielder of Yasiel Puig, who started 52 games there in 2014. It leaves valued prospect Joc Pederson as a swing outfielder competing for a spot in left with those who remain among Carl Crawford, Andre Ethier, Scott Van Slyke and newly acquired Chris Heisey.
The Dodgers clearly have an outfield surplus they would like to address in an effort to upgrade shortstop. The Rangers have a high-end, high-priced shortstop in Elvis Andrus, whose eight-year, $120 million contract seems untenable for a normal franchise. Texas has a much cheaper alternative in Jurickson Profar.
Setting payroll records, the Dodgers are not normal. Andrus, 26, is coming off a down year, but he's a .272 career hitter who scored 88, 96, 85 and 91 runs in consecutive seasons in Texas. His breezy, upbeat personality would be a blast of fresh air in Los Angeles. He's not Andrelton Simmons with the glove, but Andrus is solid and durable, averaging 152 games through six seasons.
Asked if he would move a big contract with a shorter duration (such as Ethier's) for a longer big contract, Friedman grinned.
"It's fairly obvious, looking at the roster, to take from strength and address weakness, it's obviously in the outfield," he said. "To the extent we can do that, it will make for a more functional roster."
Having learned the ropes during his highly successful run in Tampa Bay, Friedman is an open-field runner who doesn't openly dispense inside information. Nobody does these days.
What he will say is that he is engaged with agents and general managers, he's not reluctant to deal with rival NL West teams and, sure, he'd like to add a starting pitcher. He won't get into specific names, leaving media to speculate about a certain southpaw -- and search for words that rhyme with Lester.
Lyle Spencer is a national reporter for MLB.com. This story was not subject to the approval of Major League Baseball or its clubs.