Hale likes depth of outfield heading into first season
New manager talks about roster at Winter Meetings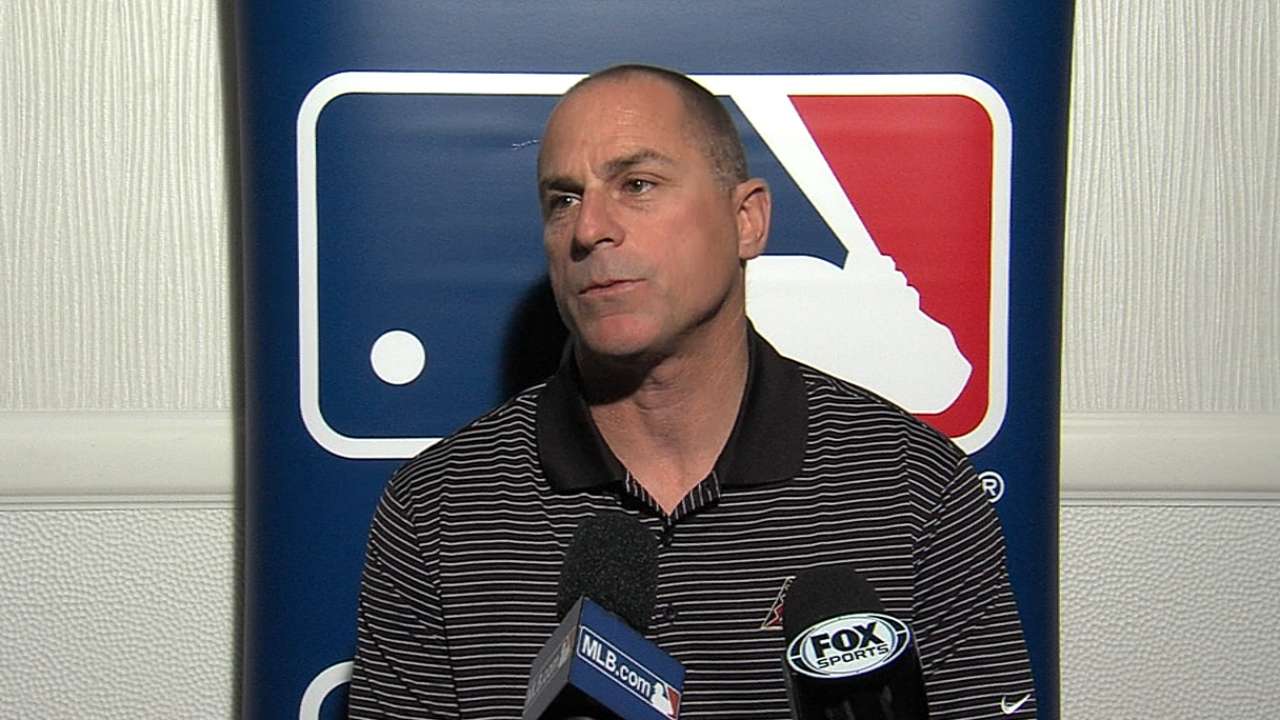 SAN DIEGO -- D-backs manager Chip Hale met with the media Monday at Major League Baseball's annual Winter Meetings.
Here's a look at what the rookie skipper had to say on a variety of subjects:
On how he plans to use outfielders Mark Trumbo, A.J. Pollock, Ender Inciarte, Cody Ross and David Peralta if Yasmany Tomas is able to play third base:
Hale: With the people we have, we have Trumbo in right, we'll move him over to right where he's more comfortable. That's where he played with Anaheim. He feels a lot better over there. Pollock in center, and then a combination of Inciarte and Peralta in left field with Cody Ross kind of backing up over there, sort of a platoon thing. So for me, we're really deep in the outfield.
On whether situational hitting will be a point of emphasis during Spring Training:
Hale: Yeah, situational hitting, situational defense. Just from the seventh inning on, there are so many games you can win by just being able to make the plays defensively or getting the guy over, getting him in from third base. The league average is really low. I mean, that one year St. Louis was really good, like 75 percent. We'd like to get to that point. It's not easy. We know that. We're all ex-players and we know how hard it is when a guy gets to third. We know how hard the pitcher works to not let that guy get in. So we really work hard on that stuff, and try to teach a certain way to do it.
On when left-hander Patrick Corbin and right-hander David Hernandez would be able to return from Tommy John surgery:
Hale: Corbin's June. Probably Hernandez a little sooner from what the trainers have told me. We have to be really careful. It used to be a 12-month surgery when guys would come back and we've just let them go. We've figured out it's more of 15 months now. In that first year they pitch, we really have to slow play them. We can all say, 'Hey, he's going to come back and be our No. 1,' or, 'Hernandez is going to come back and be our eighth-inning guy. It's just tough. It's tough on them. They have to feel comfortable letting that ball go. It's really 2016 when those guys will be full-go.
On whether Aaron Hill will have a chance to win back his starting job at second after a down year in 2014:
Hale: Yeah, I'm excited for Aaron. We're going to sit down and talk. And to be quite honest, I think that Hill is going to get another shot to get over there at second. We're going to give him a shot at third. We're going to put him everywhere and get as many at-bats for him. If he's the best guy at one position, then he'll be our guy. He's a veteran with a lot of good track record of hitting. Had a tough year last year. But he's excited and motivated to have a good year.
On whether he's got Josh Collmenter penciled into the rotation along with Wade Miley and Jeremy Hellickson:
Hale: Yes, he's earned that right. Like I said, that could change if we get some more starters or maybe make some moves. But that guy has been told he's a long guy, fifth starter at best. All he does is go out there and give his team a chance to win. He's a tough guy. I'm excited about him.
On whether Daniel Hudson would be used as a starter or reliever in 2015:
Hale: For me, his value is really, really high as a starter. But maybe it's one of those things you start out one way and end up the other just for innings purposes. But it's his career, and he's not a kid anymore. So we'll sit with him and the trainers and figure out the best way to get the most out of him.
On whether shortstop Chris Owings will be cleared for full activity when Spring Training starts following offseason surgery on his left shoulder:
Hale: No. We expect him to be in there doing all drills and working. But like some of the other stuff, we're going to slow play that. That's an injury that you've got to be careful with the left shoulder as a hitter. We expect him to be ready and a hundred percent for Opening Day. He's going to be very confident in how he's swinging the bat before he's put into a game.
Steve Gilbert is a reporter for MLB.com. Read his blog, Inside the D-backs, and follow him on Twitter @SteveGilbertMLB. This story was not subject to the approval of Major League Baseball or its clubs.