Friedman not tipping hand after Day 1 of Meetings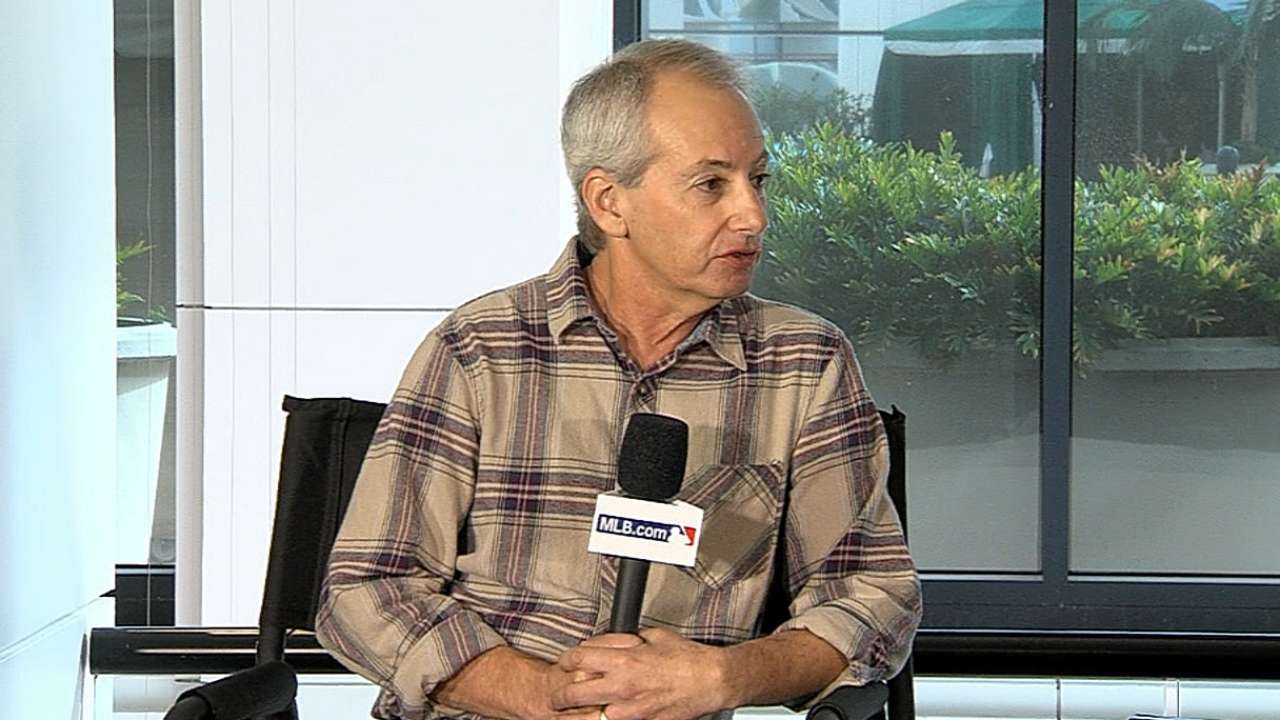 SAN DIEGO -- Andrew Friedman's first Winter Meetings press briefing in charge of the Dodgers was long on "solving for winning" and short on how he'll do it.
The club's new president of baseball operations prefers to operate covertly, welcoming the "misinformation" of rumors, believing that it's "helpful" when other clubs don't know which players he's in or out on.
So Friedman's interest in free-agent pitcher Jon Lester, which is probably less than rumored, came under his vague explanation of "any really good players are guys we check on when we're trying to solve for winning."
Friedman said the club wants to add at least one starting pitcher by trade or free agency. But if the Dodgers are chasing Lester or any big-name starter, Friedman seemed to shoot down next year's opt-out clause in Zack Greinke's contract as a reason.
"Obviously, that's a year down the road," he said. "We're so focused now on doing everything we can to put the best pitchers on the Opening Day roster, we'll cross that bridge when we get there. We have no say in it. But we'll put ourselves in the best position to act accordingly."
Friedman steered clear from the numerous Matt Kemp rumors, repeating only his previously stated goal of trading away one, if not more, from the current glut of outfielders.
"It's fairly obvious, looking at the roster, to take from strength and address weakness, it's obviously in the outfield," he said. "To the extent we can do that, it will make for a more functional roster."
Friedman wouldn't confirm the rumored proposed trade of Andre Ethier to Arizona for catcher Miguel Montero, from which the D-backs backed away.
"There's no upside for us to get into that," he said, adding that he had no problem with Ethier's comments last week that he wants to start with the Dodgers or elsewhere.
Friedman wouldn't come close to addressing the rumored Kemp trade to the Padres for catcher Yasmani Grandal and others.
Having already lost right-handed slugger Hanley Ramirez, Friedman was asked if the lineup could withstand a further blow to the batting order, referring of course to Kemp.
"Our ability to score is so intertwined with the ability to prevent them from scoring," he said. "I'd be OK scoring 200 runs if we allow 100. I'd be OK allowing 900 if we score 1,300."
It seems no coincidence that both trades would have brought a catcher back to the Dodgers, as Friedman and general manager Farhan Zaidi have indicated a "combination" including A.J. Ellis and an unnamed partner was possible for 2015.
Friedman did confirm that he has no problem dealing within the division, which he's already proved by obtaining Juan Nicasio from Colorado and Mike Bolsinger from Arizona.
He said it is hard enough to make deals with all 29 teams in play.
"To cut off four makes it even more difficult," he said. "We'll do a deal that makes sense for us. I think there's a nuance to apply to it. We'll do it when we feel it's helping us."
Friedman said it still isn't clear whether the Dodgers will acquire a shortstop to replace Ramirez or look internally with Justin Turner, Miguel Rojas and Erisbel Arruebarrena.
"That's been a real focus, whether to stay internal or go external," Friedman said. "It's not the easiest position in terms of supply. We continue to assess and if something lines up we'll act on that."
Friedman said he has spoken to several free agents on the phone, but not met with any. He also said he did not expect the club to be active in the Rule 5 Draft on Thursday. The Dodgers roster is full at 40.
Ken Gurnick is a reporter for MLB.com. This story was not subject to the approval of Major League Baseball or its clubs.