Samardzija trade the latest in Beane's busy offseason
A's GM has dealt 'Shark,' Donaldson, Moss while stockpiling young talent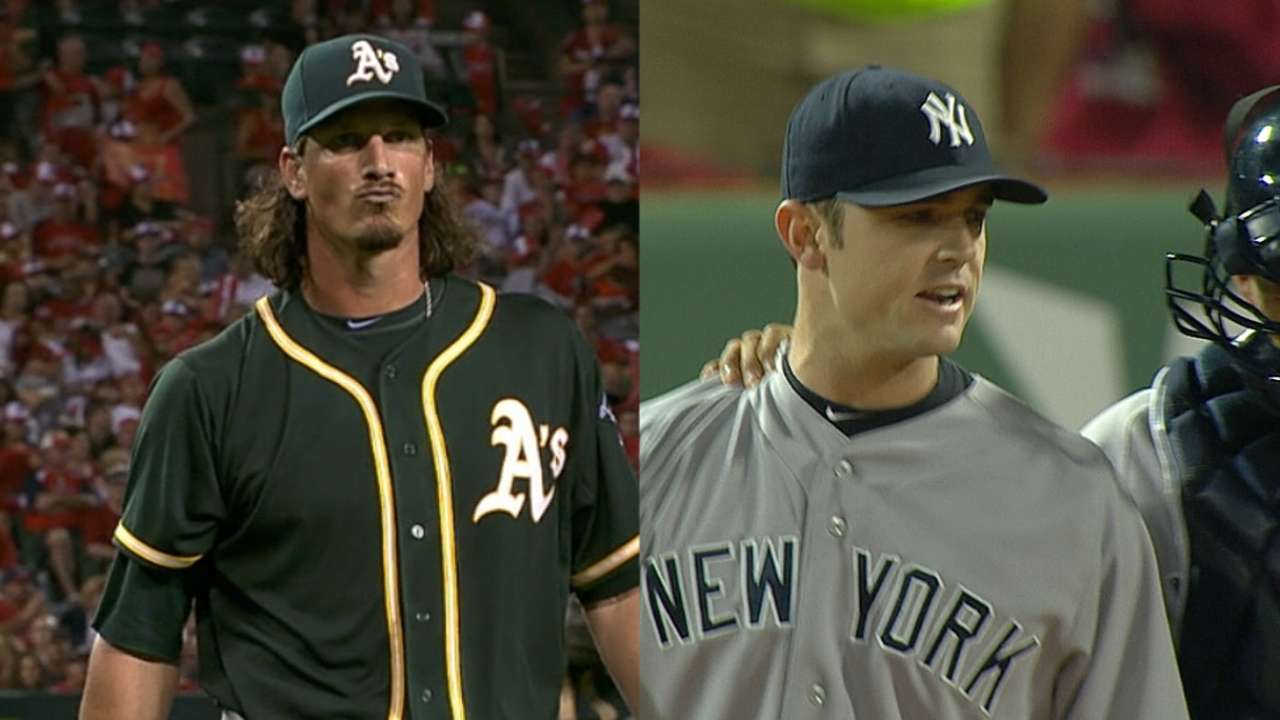 On Monday, Beane moved Moss to the Indians in a trade that netted him Minor League second baseman Joe Wendle.
---
Winter Meetings action
Day 4: Dec. 11
Transaction
Official?
OF Matt Kemp
C Tim Federowicz
Traded to Padres
No
C Yasmani Grandal
RHP Joe Wieland
RHP Zach Eflin
Traded to Dodgers
No
OF Yoenis Cespedes
RHP Alex Wilson
Traded to Tigers
Yes
RHP Rick Porcello
Traded to Red Sox
Yes
RHP Ervin Santana
Four-year deal with Twins
No
LHP Mat Latos
Traded to Marlins
No
RHP Anthony DeSclafani
C Chad Wallach
Traded to Reds
No
RHP Justin Masterson
One-year deal with Red Sox
No
RHP Alfredo Simon
Traded to Tigers
Yes
RHP Jonathon Crawford
IF Eugenio Suarez
Traded to Reds
Yes
LHP Ross Detwiler
Traded to Rangers
No
OF John Mayberry Jr.
One-year deal with Mets
No
RHP Andre Rienzo
Traded to Marlins
Yes
LHP Dan Jennings
Traded to White Sox
Yes
In acquiring younger talent, Beane is simultaneously piecing together a respectable 2015 roster that will contend in the robust American League West while compiling a group of players for subsequent years. It's a cycle we've seen multiple times during Beane's run at the helm. The last time he orchestrated such a makeover, trading All-Star pitchers Trevor Cahill, Gio Gonzalez and Andrew Bailey ahead of the 2012 season, the A's went on to win the division in consecutive years.
The dollars accrued from those trades allowed the A's to reallocate funds elsewhere. They extended Coco Crisp and reeled in Bartolo Colon and Yoenis Cespedes, making a trade for Seth Smith, too.
A similar blueprint appears to be in place this winter.
"We sort of took what were our best assets, collected young players, and, as a result, we were sort of able to redeploy the payroll," said Beane. "That was all in January and February. There is a lot of the offseason. The benefit is we could conceivably have some savings to reinvest. That's the balance we're trying to walk. What we're not going to do, trying to do, is reduce payroll. That's a product of some of the trades we may make. The flip side, if we see available guys who can help us in 2015 and 2016, we're going to do that.
"In some respect, that's what Butler was. It was just early. It wasn't that we sort of switched gears after that. We were always going to want a guy like this, a right-handed hitter who hits in the middle of the lineup for three years."
Fellow newcomers Brett Lawrie and Ike Davis will help fill out the new-look lineup while providing immediate replacements for Donaldson and Moss at third and first, respectively. The middle infield now appears to be taking shape, too, and the A's like their current group of outfielders: Crisp, Josh Reddick, Sam Fuld and Craig Gentry. Stephen Vogt is also an option, too.
Of course, the A's still boast a heap of pitching, even without Samardzija. Led by Sonny Gray and Scott Kazmir, the A's rotation is home to several other talented arms, including Drew Pomeranz, Jesse Chavez and recently acquired Sean Nolin and Kendall Graveman. Rehabbing pitchers Jarrod Parker and A.J. Griffin are expected to join this mix before the All-Star break.
"We're looking to compete again," said manager Bob Melvin. "This isn't something where we're breaking it down and moving in a different direction. The players that we're getting back we like. There's always a balance here for us in that we have to look down the road. We lost quite a bit of talent the last couple of years making some trades. Billy is about as good as it gets as far as being able to handle that balance and keep us competitive currently, yet also having to look down the road for the future."
"This is how it is here," said Beane. "Every time we've done it, we're trying to be proactive. You have to be realistic. It's not necessarily just a reflection on our team, but also recognizing who your competition is.
"Look, in the second half of the season, starting in June, we had one of the worst records in the game, and we lost some very critical players, guys who are going to get a lot of money. You lose those guys, you couple that with the trend line of the team performance, you talk about the division … you have to take all those things into account and realize when the time to do things is. If you wait too long, you cost yourself a number of years."
Jane Lee is a reporter for MLB.com. This story was not subject to the approval of Major League Baseball or its clubs.