Trading Gee would give Mets flexibility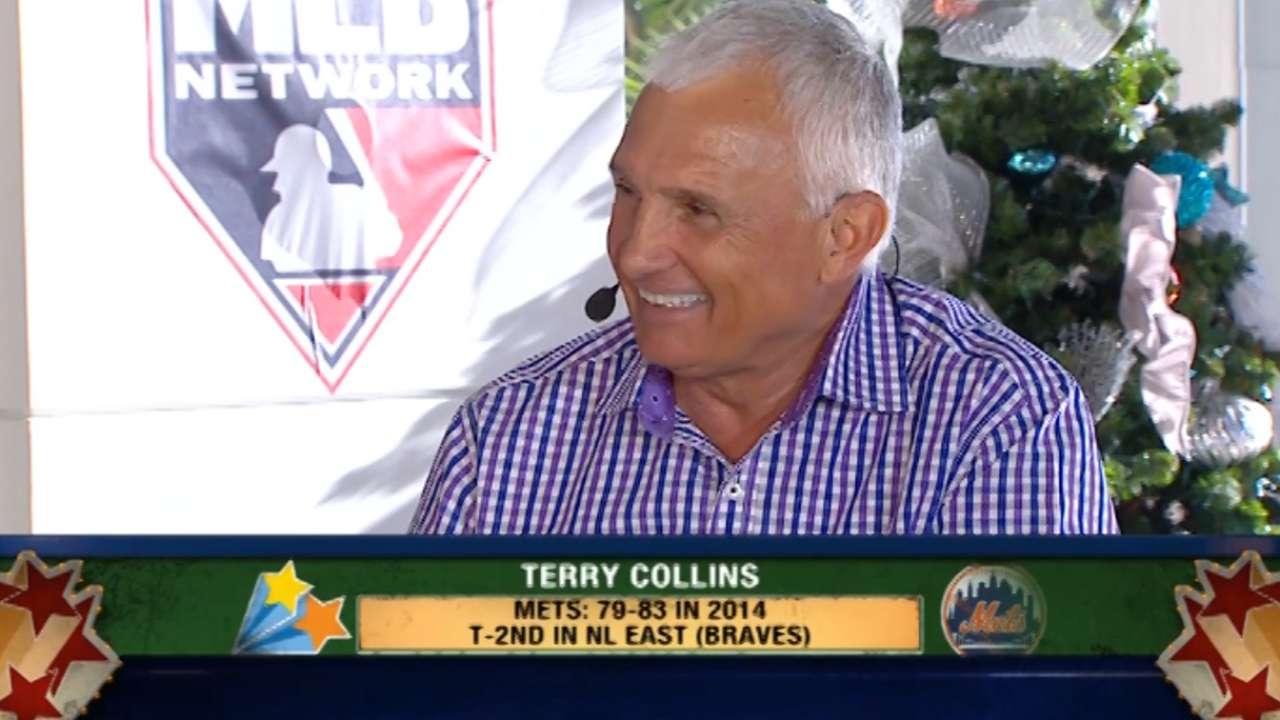 SAN DIEGO -- Much of what the Mets do this winter will be colored by money. Though the team plans to compete with the heavyweights of the National League East next summer, it hopes to do so with a payroll no greater than the roughly $100 million currently on the books.
"It might be a little lower," general manager Sandy Alderson said on Monday at the Winter Meetings. "It might be at that level. I don't expect it to go up too much, if at all."
That has already influenced how the Mets are operating in San Diego, and should continue to do so throughout the offseason. Although the Mets still hope to find a shortstop upgrade over Wilmer Flores, a left-handed reliever and a right-handed bench bat, a source said that they have focused most of their early energy on trying to trade Dillon Gee. The club does not expect Gee to bring back anything in the way of big league talent, but dealing him is nonetheless their clear preference.
The goal is to create flexibility in a rotation currently featuring six pitchers for five spots, as well as provide a measure of salary relief. With Gee slated to make roughly $5 million through arbitration this winter, trading him would give the Mets enough payroll flexibility to sign the aforementioned reliever and bench bat.
The Mets could still shop Jon Niese or Bartolo Colon, but they like Niese's left arm and team-friendly contract, and "frankly," Alderson said, "we're not looking to trade [Colon]."
"Bartolo is one of those guys that leads by a great example," manager Terry Collins said. "He very quietly talks to those young relief pitchers we have down there, and he's somebody that they can talk to and get an idea of how to pitch. The one thing about Bartolo -- I know he's going to be 41 years old, but I just think he gives us that guy that we run out there every five days that you can depend on."
So if the Mets do anything at these Winter Meetings, there is a good chance it will involve trading Gee. That could happen as soon as the next couple of days, with the Giants and Rangers emerging as two potential suitors. Or it could wait until Jon Lester and the free-agent market's other top dominoes begin falling.
"It will probably take one or two to sign before clubs start looking elsewhere," Alderson said. "But we expect to have conversations about pitching while we're here. I'm not sure we'll do anything while we're here, but I expect to have conversations and maybe have a better idea of what's possible, certainly, by the end of Thursday.
"We are open to making deals."
Any deals the Mets ultimately make could influence what they do at shortstop, though it remains unreasonable to expect a Troy Tulowitzki-size upgrade. Instead the Mets are canvassing the international market -- the agent for Korean shortstop Jung-Ho Kang said that his client will be posted later this month, and Collins said the Mets have already talked about Japanese shortstop Takashi Toritani -- and keeping tabs on domestic solutions.
With their roughly $100 million payroll, it will be difficult for the Mets to make a splash at shortstop, but Alderson does not consider either of the international free agents much of a splash.
"It's always difficult to gauge the potential impact of an international player, but there seem to be clubs willing to spend $60 [million] or $70 million to find out," Alderson said. "We haven't been in that category. I expect we will be in that category soon. But these international shortstop possibilities, at least the ones that are more or less Major League-ready, probably don't fit into that category anyway."
Anthony DiComo is a reporter for MLB.com. Follow him on Twitter @AnthonyDicomo. This story was not subject to the approval of Major League Baseball or its clubs.