Day 1 deals launch Meetings in San Diego
Tribe's trade for Moss, D-backs' contract with Tomas set table at annual gathering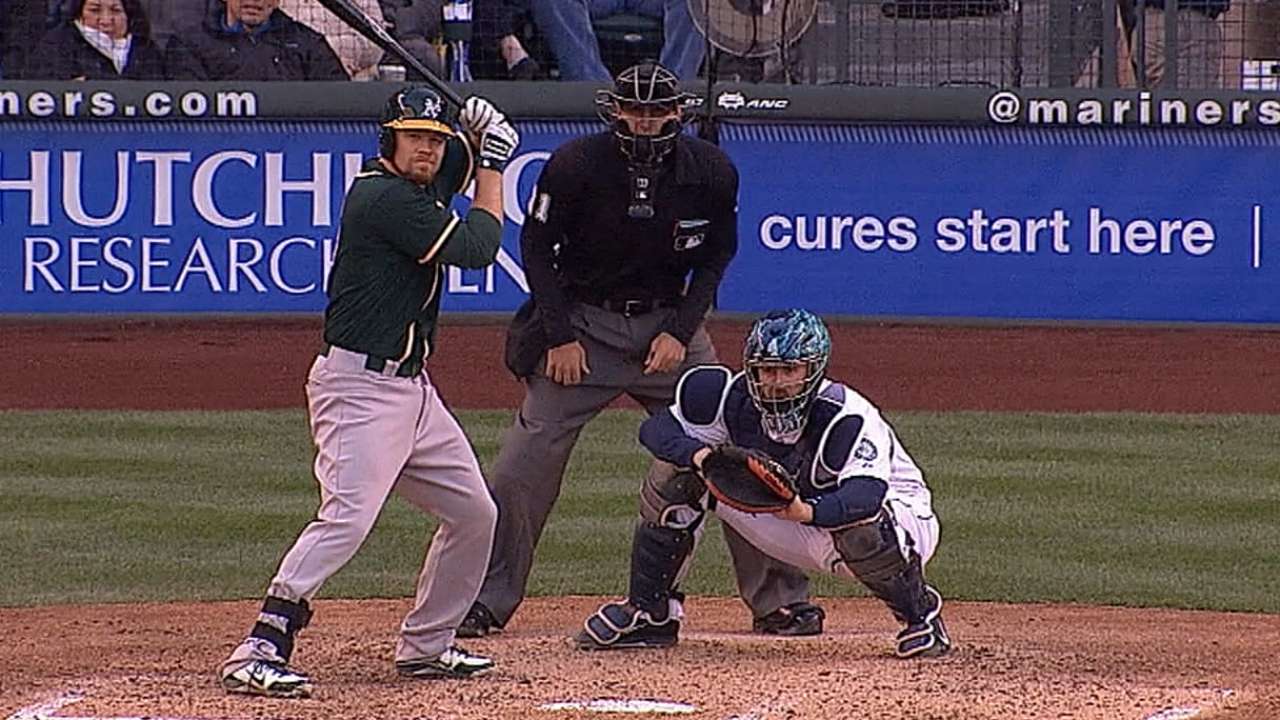 The bags and briefcases unpacked, the handshakes and hellos complete, it was time to get down to business Monday at the annual convention of Major League Baseball's brain trusts and newsmakers, the Winter Meetings. While there was, predictably, more buzz than beef on the first official day of the four-day December festival of whispers, rumblings and blockbusters, some major news could be on that beautiful horizon just outside the center of the baseball universe in San Diego.
Jon Lester, a primary pitching target among free agents, was the name most mentioned in breathless tones Monday, widely reported to be close to a decision regarding a lucrative future, possibly as early as Tuesday. And his situation -- seen as the linchpin that will open up the market -- is just one of the many storylines bubbling up to the surface as the offseason hits its highest note this week along San Diego Bay.
---
Winter Meetings action
Day 4: Dec. 11
Transaction
Official?
OF Matt Kemp
C Tim Federowicz
Traded to Padres
No
C Yasmani Grandal
RHP Joe Wieland
RHP Zach Eflin
Traded to Dodgers
No
OF Yoenis Cespedes
RHP Alex Wilson
Traded to Tigers
Yes
RHP Rick Porcello
Traded to Red Sox
Yes
RHP Ervin Santana
Four-year deal with Twins
No
LHP Mat Latos
Traded to Marlins
No
RHP Anthony DeSclafani
C Chad Wallach
Traded to Reds
No
RHP Justin Masterson
One-year deal with Red Sox
No
RHP Alfredo Simon
Traded to Tigers
Yes
RHP Jonathon Crawford
IF Eugenio Suarez
Traded to Reds
Yes
LHP Ross Detwiler
Traded to Rangers
No
OF John Mayberry Jr.
One-year deal with Mets
No
RHP Andre Rienzo
Traded to Marlins
Yes
LHP Dan Jennings
Traded to White Sox
Yes
While there was a flurry of activity leading up to this year's session, it's no surprise there wasn't an immediate crush of transactions in the opening 24 hours of the Winter Meetings. Still, the first trade of the Meetings came early Monday with Brandon Moss becoming the next A's player to change addresses, going to Cleveland for second base prospect Joey Wendle, and word of the first free-agent signing came late, as a source told MLB.com that reliever David Robertson will join the White Sox on a four-year deal. In between, another free agent was the subject of an introductory press conference, as the D-backs officially announced their six-year, $68.5 million deal with Cuban outfielder Yasmany Tomas, who earned high praise from a Hall of Famer.
"The game starts with talent and this young man has very special talent," said Tony La Russa, Arizona's chief baseball officer, of the latest Cuban player to burst onto the American scene.
Done deal. pic.twitter.com/U2L3CwO5kC

- Arizona Diamondbacks (@Dbacks) December 8, 2014
As the first day of the Winter Meetings turned into the first long night, this much was clear: We're just getting started, and this year's event is ripe for a flurry of moves.
Pitching is at the center of the discussions, what with Lester joined by Max Scherzer and James Shields atop the class of free agents and Phillies ace Cole Hamels among the names being bandied about in trade rumors. Right-hander Jeff Samardzija reportedly joined the exodus out of Oakland, with the White Sox agreeing to a trade. Elsewhere on the trade front, it's evident Matt Kemp could be the one from the Dodgers' crowded outfield to find a new home -- and reports say it could be just a few stops of the San Diego Trolley down from the site of this year's Winter Meetings, at Petco Park with the Padres. The future of Yoenis Cespedes, the outfielder traded for Lester to the Red Sox last summer, remains a subject of speculation, too.
The #WinterMeetings are here. Let the deals commence: http://t.co/hu5DZoZkCa pic.twitter.com/xn74XDdLyR

- MLB (@MLB) December 8, 2014
Lester is the headliner among free agents, and sources tell MLB.com that his decision likely will come down on the second day of the Winter Meetings. The 30-year-old left-hander with a strong resume of consistent success reportedly is deciding between the defending World Series champion Giants or the building Cubs, with the Red Sox of his baseball upbringing still in the fray and some believing the Yankees are lurking. It will take at least six years and an overall value reported to be in the $140 million range to wrap up Lester, but while the imminent nature of the decision has been widely discussed, few specifics of contract parameters have come to the surface.
While the baseball world awaits Lester's decision, the Cubs and free agent Jason Hammel reportedly (but still unofficially) have come to terms on a reunion. Although the Cubs have yet to announce the deal, it appears Hammel was quick to get his return ticket to Wrigley Field after he joined Samardzija in being dealt to the A's. Hammel was reported to have agreed to a two-year, $18 million deal with the Cubs.
Moss, meanwhile, became the next player -- and the third 2014 All-Star -- to be traded away from Oakland. In Cleveland, he will reunite with Indians manager Terry Francona, having taken his career to All-Star heights following a 2008 trade from the Red Sox. Now, another trade has him headed to heart of the Indians lineup, with the A's receiving a top prospect in return with Wendle.
"I feel like this team I'm going to is a lot like the team I've been playing on the past three years, where it's a lot of young guys with a core group who are coming together and moving toward something special," Moss said.
Welcome to Cleveland, Brandon Moss! We've acquired the 2014 All-Star for minor-league infielder Joey Wendle. pic.twitter.com/FbvKIZqXOr

- Cleveland Indians (@Indians) December 8, 2014
Another team that could be looking to deal in the coming days is the Braves, who will have to determine whether they want to trade Justin Upton or Evan Gattis in order to add Major League-ready starting pitching and address other needs. The Braves are also in on another Cuban player, Dian Toscano, as veteran executive John Hart makes his first moves with the Braves, having already acquired pitcher Shelby Miller while moving outfielder Jason Heyward.
Hart says he's had a few teams approach him about Gattis and J-Up. He expects the trade market to heat up once some FAs sign.

- Mark Bowman (@mlbbowman) December 9, 2014
There was news away from the buzz of business at the Winter Meetings, too.
The National Baseball Hall of Fame announced that its 16-member committee examined candidates from the game's Golden Age (1947-72) and determined that none would be inducted next summer, with Dick Allen and Tony Oliva each winding up one vote short of the 12 needed to gain 75 percent of the vote.
Also, a cadre of all 30 public-relations directors in MLB joined forces for the third year to set up a charity auction to raise funds to fight cancer, this year benefiting LUNGevity, the largest national lung cancer-focused nonprofit, in memory of the late Baltimore Orioles public relations director Monica Barlow.
Golf with Hall of Famers, play catch at Wrigley, or meet your favorite stars while benefitting @LUNGevity. Bid NOW: http://t.co/ShpUJYEu7e

- MLB (@MLB) December 8, 2014
As the Winter Meetings continue into their four-day run, the rumors will continue to fly, and it's only a matter of time before some of those players said to be heading elsewhere actually land in new locations. There's just no telling yet when, or who, until it happens.
With so many rumors floating around the lobbies and suites as everyone settled in for the first long night, it's evident there will be plenty more business to come before Thursday, when everyone packs their bags and goes through the handshakes and goodbyes as they head their separate ways again.
John Schlegel is a national reporter for MLB.com. You can follow him on Twitter @JohnSchlegelMLB. This story was not subject to the approval of Major League Baseball or its clubs.