Molitor plans tweaks to Spring Training for Twins
New manager wants Santana to compete for shortstop job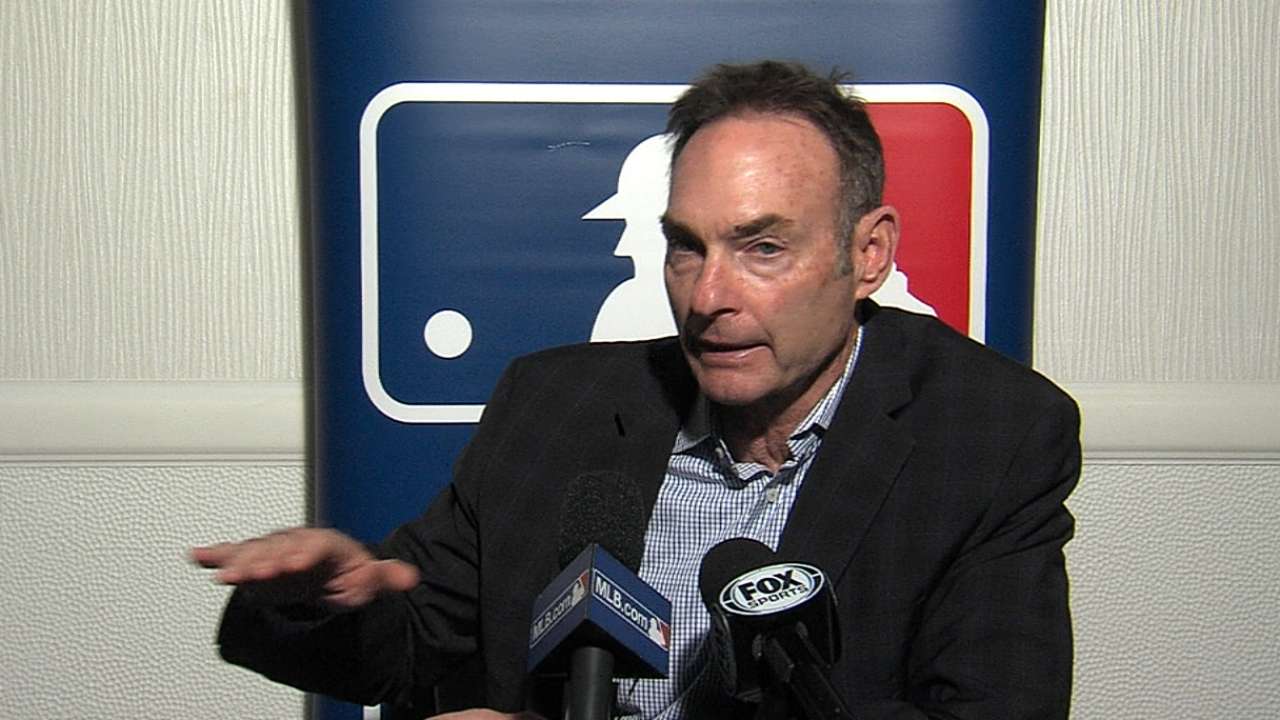 SAN DIEGO -- Despite a 21-year Hall of Fame playing career and several years of experience coaching and instructing players at the Major League and Minor League levels, Paul Molitor had never been to the Winter Meetings before this year.
But the new Twins manager is in San Diego representing the organization at the Winter Meetings this week and said Monday that it's been a valuable learning experience to be able to sit in on meetings along with general manager Terry Ryan and his staff.
"I've spent a lot of time in the Twins suite discussing our goals for our time here, reviewing everything from free agents to the Rule 5 [Draft] to guys who could be a fit in a trade," Molitor said. "I think you continue to learn about different parts of the job that you're undertaking. You'd be foolish not to keep your ears open and try to expose yourself to many things that transpire and the development of an organization and the process of trying to supplement your roster in any way that you possibly can."
Molitor, 58, was hired to replace Ron Gardenhire as manager on Nov. 3 and spent much of his first month on the job working to fill out the rest of his coaching staff. The Twins wanted to hire all seven coaches before the Winter Meetings and accomplished their goal by making their final hire Dec. 1.
So it's allowed Molitor to focus more on planning for his first Spring Training as a manager, while also dabbling in recruiting free agents and offering his input to the front office.
Molitor said he'll run Spring Training similar to the way Gardenhire did, as it's based off former Twins manager Tom Kelly's blueprint. But Molitor noted he'll add his own wrinkles here and there, while the structure will largely remain the same.
"We have a field plan that's successful for the most part," Molitor said. "We have certain things that I feel we are going to adjust, whether it's how we have pickoffs or bunt defenses or whatever, cutoff and relays, you might do things differently. Whatever you want to do, you have to do it early because then I think the players will understand we're doing something different. And the reason we're doing it is because we want to be different and better."
One change, however, is that Molitor said he plans on having Danny Santana come into camp competing for a spot at his natural shortstop position instead of center field. Santana had twice as many starts in center field (62) than shortstop (31) last year. Molitor, however, said it's not set in stone because of the logjam it creates at shortstop with Eduardo Escobar and the hole it creates in center field.
"I'm just trying to think of big picture here and maybe see what's the best thing and how he's going to fit in if that move happens," Molitor said. "We'll just have to see how that plays out."
But one thing Molitor wants to change is the culture of the clubhouse, as he said it surprised him how much he saw players sitting at their lockers on their phones or iPads instead of interacting with teammates. He said the addition of noted clubhouse presence Torii Hunter should help the situation.
"Somehow I think we've got to try to find a little bit better balance there," Molitor said. "Guys knowing what their purpose of being at the ballpark is. Definitely, you want to have fun and do certain things. But I would like to stir that up just a little bit if I can."
Molitor, though, said he doesn't want to come off as a stickler, but plans on bringing a measured approach to managing instead of being a fiery-type manager.
"I think that I'm going to be more internal than external," Molitor said. "I think I like the idea of calmness, regardless of circumstance. I like calm. Calm is good for me."
Rhett Bollinger is a reporter for MLB.com. Read his blog, Bollinger Beat, and follow him on Twitter @RhettBollinger. This story was not subject to the approval of Major League Baseball or its clubs.