Lester remains focal point for Cubs at Winter Meetings
Free-agent left-hander said to be close to making decision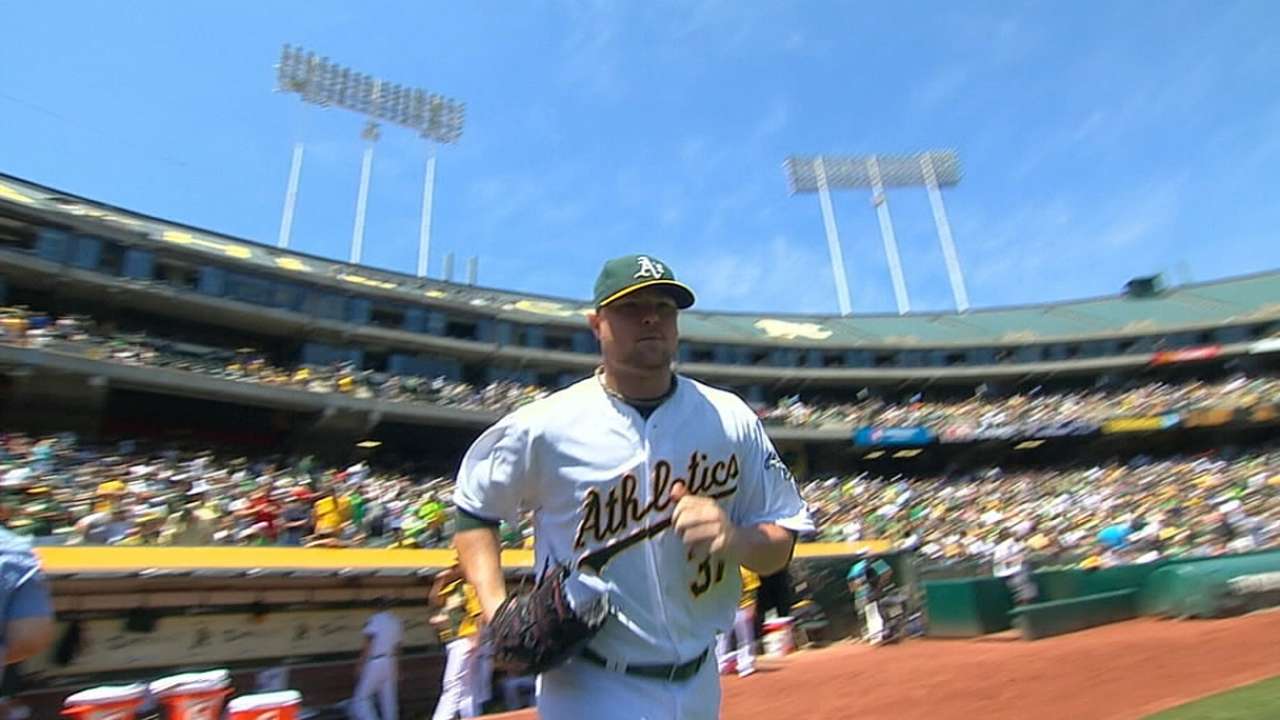 SAN DIEGO -- The Cubs appear to be one of the finalists in the bidding for free agent Jon Lester, but all general manager Jed Hoyer would confirm is that they are looking to add starting pitching.
At least four teams are believed to be in contention for Lester, whose whereabouts have definitely dominated the Winter Meetings. Red Sox manager John Farrell said they were "still confident" that they could sign the left-hander and bring him back to Boston.
There was a report Monday that Lester had narrowed his choices down to the Cubs and Giants, but his agent, Seth Levinson, quickly corrected that, saying the Red Sox were still very much involved. The Dodgers' Andrew Friedman would not confirm their interest in Lester, but he did say it's "safe to assume on really good players, we're going to be in on." Giants general manager Brian Sabean said he counted five teams involved in Lester.
---
Winter Meetings action
Day 4: Dec. 11
Transaction
Official?
OF Matt Kemp
C Tim Federowicz
Traded to Padres
No
C Yasmani Grandal
RHP Joe Wieland
RHP Zach Eflin
Traded to Dodgers
No
OF Yoenis Cespedes
RHP Alex Wilson
Traded to Tigers
Yes
RHP Rick Porcello
Traded to Red Sox
Yes
RHP Ervin Santana
Four-year deal with Twins
No
LHP Mat Latos
Traded to Marlins
No
RHP Anthony DeSclafani
C Chad Wallach
Traded to Reds
No
RHP Justin Masterson
One-year deal with Red Sox
No
RHP Alfredo Simon
Traded to Tigers
Yes
RHP Jonathon Crawford
IF Eugenio Suarez
Traded to Reds
Yes
LHP Ross Detwiler
Traded to Rangers
No
OF John Mayberry Jr.
One-year deal with Mets
No
RHP Andre Rienzo
Traded to Marlins
Yes
LHP Dan Jennings
Traded to White Sox
Yes
Hoyer said he tries to ignore the rapid-fire rumors.
"We try to condition ourselves as much as we can, especially this week of all weeks, to ignore that," Hoyer said. "You don't know what's information and what's misinformation. I'd be lying to say we don't read it because you do want to sift through it and see what's going on. To rely on it or let your emotions go up and down based on what's happening down [in the lobby] doesn't make a lot of sense. We've all seen people be massively wrong on stuff like that."
That didn't stop others from talking about Lester, including Athletics general manager Billy Beane, who acquired the pitcher at the Trade Deadline.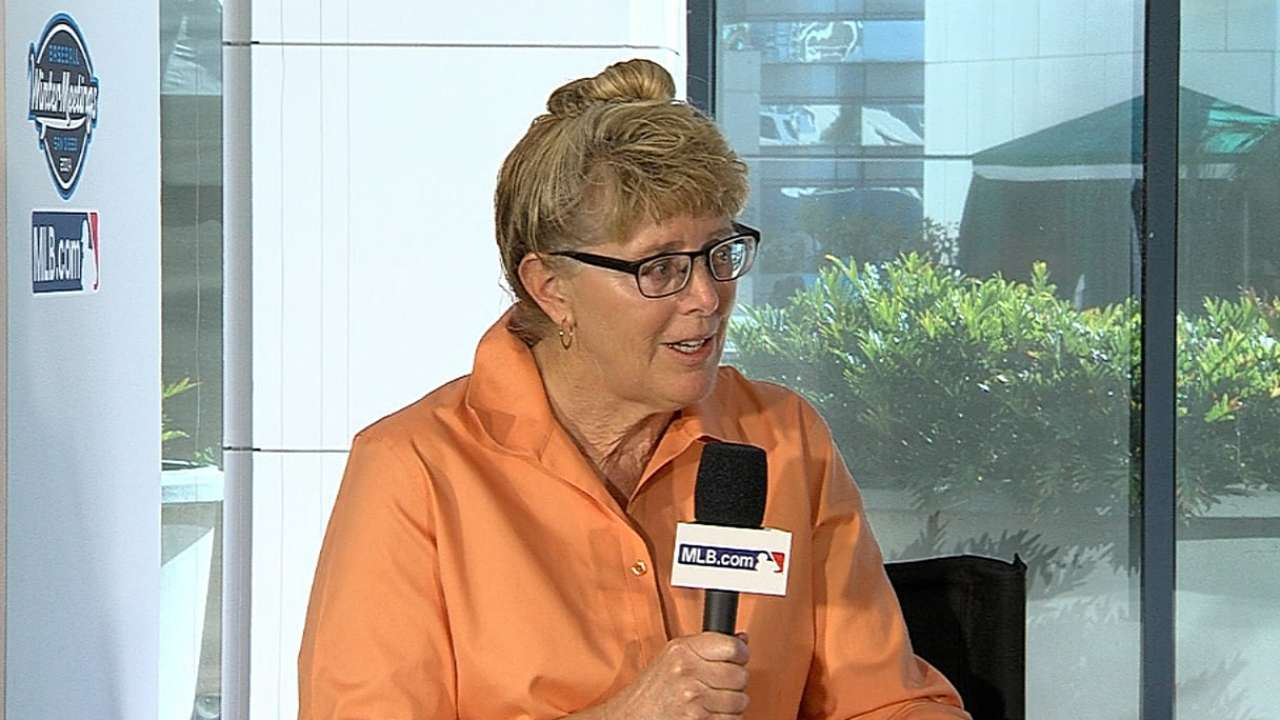 "Like Arthur Miller being briefly married to Marilyn Monroe, that's who we are," Beane said. "We're the Arthur Miller in Lester's career."
Lester has been the hot topic and the left-hander could make a decision by Tuesday, which would allow the rest of baseball the opportunity to move on. Hoyer, though, didn't think Lester was holding up any other transactions.
"People talk about that, but at the same time, there's a lot of players available," Hoyer said. "The idea that one or two or three people hold up a market, I don't necessarily believe in that. ... You've seen enough deals to indicate there's not a logjam."
Lester, who turns 31 next month, visited Chicago in mid-November, and got re-acquainted with Hoyer and president of baseball operations Theo Epstein, who were both in Boston with the left-hander, and together on the 2007 World Series championship team.
If Lester did come to Chicago, he could have a chance to be the first player to win a World Series for both the Red Sox and Cubs.
However, he'd have to be willing to spend Spring Training in Arizona, not Florida, and learn how to hit in the National League.
The Cubs did add to their rotation on Monday with the addition of free agent Jason Hammel, signing him to a two-year, $20 million contract that includes an option year. Hoyer would not confirm the deal, which will likely be finalized once Hammel completes a physical.
The Cubs' rotation now includes Jake Arrieta, Travis Wood, Tsuyoshi Wada and Kyle Hendricks, and the addition of both Lester and Hammel would provide a huge boost.
"We've been pretty clear that we want to add multiple starting pitchers this winter," Hoyer said. "I think we need to. We looked at our roster and we feel good about the depth and the talent we have going into the season. ... We do need to add those innings. We don't have the same depth coming out of the system starting pitcher-wise that we do position player-wise."
Carrie Muskat is a reporter for MLB.com. She writes a blog, Muskat Ramblings, and you can follow her on Twitter @CarrieMuskat. This story was not subject to the approval of Major League Baseball or its clubs.