Royals seeking matches at Winter Meetings
Moore using time to size up potential moves for AL champions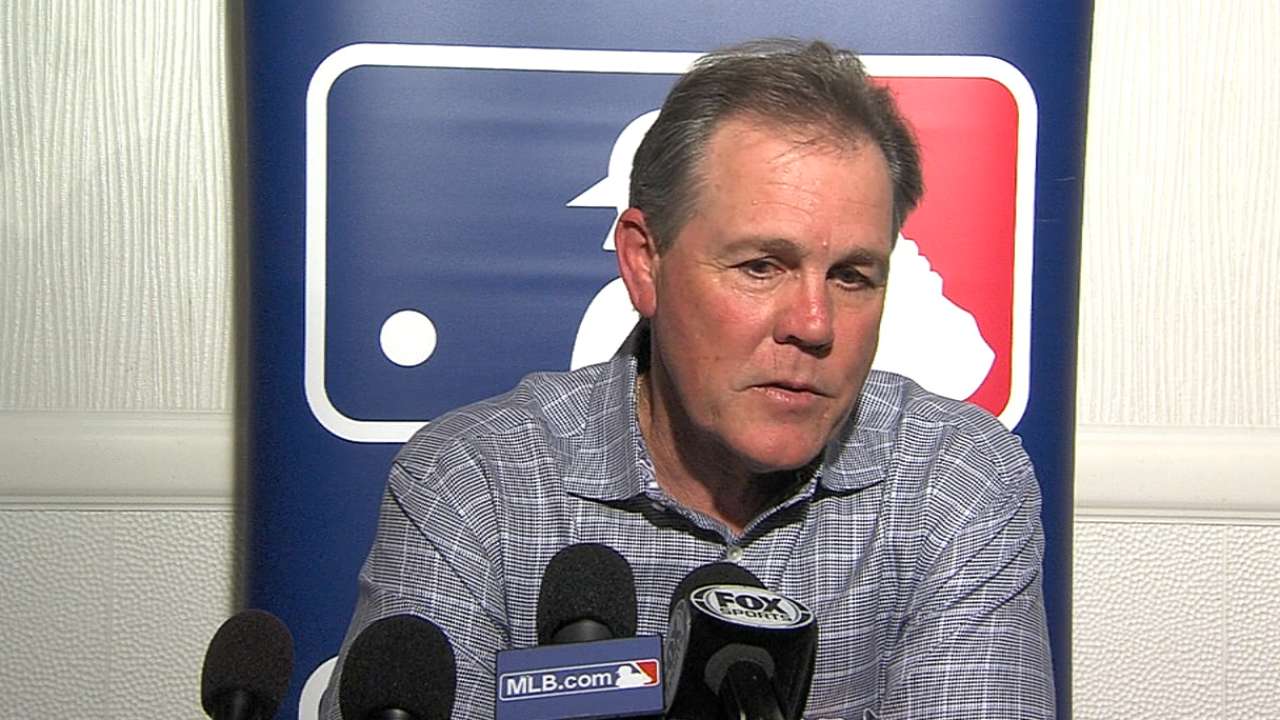 SAN DIEGO -- Dayton Moore and the Royals are willing to be patient.
As the sun went down over the Pacific out the window of his hotel suite on Monday, the first day of the Winter Meetings, the general manager of the American League champions seemed about as relaxed as one could expect, even if he does have quite a bit of business to take care of.
"It seems like everybody kind of waits for the market to develop, but truthfully, we've been discussing a lot of different scenarios with other teams," Moore said. "I don't know how much really to put into it at this point in time."
The Royals need a bat to replace designated hitter Billy Butler, who left via free agency to the Oakland A's on a three-year deal for $30 million. They're prepared to say goodbye to No. 1 starter James Shields, who is in line to get more years and more money from someone else. They could also land a right fielder to replace free agent Nori Aoki, but a lot depends on who's available.
The Royals could ignore the free-agent market altogether and put all their energy into a trade, which they did to get Shields and reliever Wade Davis from the Rays two winters ago by giving up a package keyed by top prospect Wil Myers. They could dangle closer Greg Holland and trigger a blockbuster. Everything seems to be in play, and Moore seems more than willing to wait for the right moment to strike.
"I think what you end up doing [at the Winter Meetings] is just get a clearer vision of who you really match up with and who you don't," Moore said. "Oftentimes deals are made after you leave the Winter Meetings, or before Spring Training, or even during Spring Training because of the conversations that you had at the Winter Meetings.
---
Winter Meetings action
Day 4: Dec. 11
Transaction
Official?
OF Matt Kemp
C Tim Federowicz
Traded to Padres
No
C Yasmani Grandal
RHP Joe Wieland
RHP Zach Eflin
Traded to Dodgers
No
OF Yoenis Cespedes
RHP Alex Wilson
Traded to Tigers
Yes
RHP Rick Porcello
Traded to Red Sox
Yes
RHP Ervin Santana
Four-year deal with Twins
No
LHP Mat Latos
Traded to Marlins
No
RHP Anthony DeSclafani
C Chad Wallach
Traded to Reds
No
RHP Justin Masterson
One-year deal with Red Sox
No
RHP Alfredo Simon
Traded to Tigers
Yes
RHP Jonathon Crawford
IF Eugenio Suarez
Traded to Reds
Yes
LHP Ross Detwiler
Traded to Rangers
No
OF John Mayberry Jr.
One-year deal with Mets
No
RHP Andre Rienzo
Traded to Marlins
Yes
LHP Dan Jennings
Traded to White Sox
Yes
"To say we're close to doing a deal today wouldn't be accurate. But things could develop. Sometimes these things happen very, very quickly."
The question remains: How will the Royals match up?
They do not figure to be players in the highest-dollar sweepstakes for starters, which rules out headliners Max Scherzer, Jon Lester or Shields. The next tier includes former Royals righty Ervin Santana, lefty Francisco Liriano and right-hander Brandon McCarthy, and all three of those share qualities that the Royals seek.
Moore hearkened back to his team acquiring Santana, Shields and Jeremy Guthrie to fill out the 2013 starting staff.
"What we wanted to do is put together a rotation with guys that had the mindset of a No. 1 or 2 starter, the competitiveness of a No. 1 or 2 starter, the preparedness of a No. 1 or 2 starter," Moore said. "Throw strikes, prepare, compete, give us innings, and that's what we're going to try to do [this offseason] as well. That's what we're going to try to replace the guys with."
The Royals also want a good hitter and someone who could play outfield, which may or may not end up being the same person. If they can only get an outfielder, they can rotate DH duties among their current regulars, including catcher Salvador Perez. They've been linked to another former member of their team, outfielder Melky Cabrera, but his asking price might end up being too high. Moore says his options are still open there, too. Then again, maybe they'll get two bats.
"If you get a legit middle-of-the-order bat or legit top-of-the-order bat, you may be able to manage the rest of it in a way that gives you some flexibility with the DH, but keep in mind this: Any deal that we make today or tomorrow or by Thursday or by Christmas or by Spring Training, we're going to have to make a heck of a lot more deals throughout the year," Moore said.
"So we're not going to get too crazy about being overaggressive just because some other clubs can."
Moore said the club will continue to be cautious of comparing itself to higher-revenue markets.
"We focus on what we can do, but there's no doubt that some teams have ... more revenue to spend based on their revenue streams," Moore said. "We can't do anything about it. So just like I've told several agents today, 'It's not an arbitration case. This is what we have to spend. This is our budget. This is what we can do.'
That pipeline enabled the Royals to land Shields and Davis in one of the more memorable deals of his Kansas City tenure, but Moore said it won't always work that way because the team now has escalating costs with its talented young core due raises and arbitration. The Royals can't just reload via the First-Year Player Draft and international signings because they're picking low as AL champions and the rules have changed.
"We've got a group of young players in our farm system right now who we feel are very talented," Moore said. "How aggressive are we going to be in using those players to bring back Major League talent, knowing it's going to be a heck of a lot harder to replace those guys? So we're in a different position than we once were."
Moore has three more days at the Winter Meetings to try to get deals done. He said he won't stress out about it if it doesn't happen right away.
Doug Miller is a reporter for MLB.com. Follow him on Twitter @DougMillerMLB. This story was not subject to the approval of Major League Baseball or its clubs.