Preller: Offseason doesn't end with Winter Meetings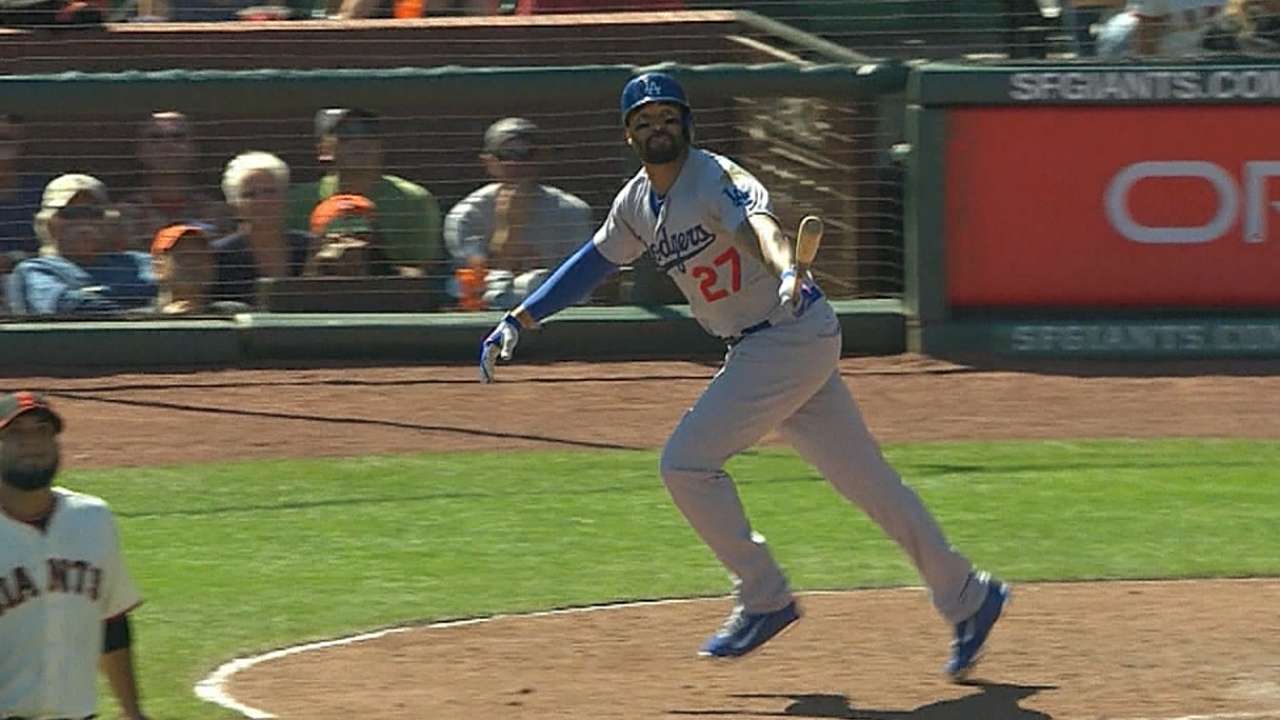 SAN DIEGO -- The first day of the Winter Meetings was, as Padres general manger A.J. Preller termed it, "busy and hectic."
Yet, Monday came and went without a deal of any kind for the Padres, who have acknowledged they have significant offensive upgrades to acquire between now and Opening Day.
But when those upgrades will arrive is anyone's guess.
"The offseason is a long offseason, and it doesn't end with the Winter Meetings," Preller cautioned. "In an ideal world, we get something done this week that improves the team. But, ultimately, it may not be this week or this month."
The Padres, who had the worst offense in all of baseball in 2014, are seeking multiple upgrades at many spots and have been linked to a handful of players -- through free agency and through trades. Preller, on the job since August, has cast a wide net in terms of contacting agents and general managers about potential fits.
He spent most of Monday tucked inside a two-room suite at the Winter Meetings' hotel, talking trades and giving serious consideration to potential deals.
The team has been linked to Dodgers' outfielder Matt Kemp, and rumors persist the team will move catcher Yasmani Grandal and others to land Kemp -- who has five years and $107 million remaining on his contract.
The Reds' Jay Bruce and Yoenis Cespedes of the Red Sox are two players the Padres have also expressed interest in. They have also been linked to Braves' outfielder Justin Upton.
If the Padres were to land any of those four players, they would immediately become the best hitter in the lineup.
The Kemp rumors have persisted for weeks, although some are convinced the Dodgers aren't entirely serious about moving him -- with or without salary relief to the team he heads to.
The Padres appear set to move Grandal in a deal, and ready to have Rene Rivera set to handle the staff in 2015, with Austin Hedges, their top defensive catcher in the Minor Leagues, not far off.
It was reported Monday that the Rangers -- Preller's former team -- might have interest in pitcher Andrew Cashner. But the Padres want to keep Cashner and Tyson Ross together at the top of their rotation and feel they can make a run in the National League West by building around those two -- not breaking them apart.
"It's the time of year for a lot of speculation," said Preller, who has a policy of not commenting on specific players or rumors.
At this point, Preller said, teams know what the Padres have to offer in a deal: Grandal, starting pitcher Ian Kennedy, a handful of relievers and any number of Minor League players, though the team doesn't have many Major League-ready Minor League prospects.
The Padres, consequently, have a good idea of what might be available to them in a deal.
Does that mean a trade or trades could be imminent and that the Padres could make their splash right at the Winter Meetings in their own backyard?
"Where we're at right now … the biggest thing is we've done our homework and know where teams are at right now. I think they know where we stand. Now we have to see if we have a match," Preller said.
Preller said that the team is looking at players who can help the team in the short term and long term, though he came back to later say that, ideally, he would like "guys in a perfect world would be a fit for us in a long-term-type setting."
Could that mean taking on a contract or, many more accurately, a player under team control?
Preller indicated that he wouldn't have a problem trading within the division, even if that meant dealing with a NL West team the Padres would face 18 times a season.
"We're pretty open to deals that get us better," Preller said.
If the Padres do anything at these Meetings -- or later -- it will likely involve the trade market more so than free agency, as the team missed on free-agent third baseman Pablo Sandoval and were only set to go to a certain point on Cuban slugger Yasmany Tomas, who agreed to a six-year, $68.5 million deal with the D-backs on Monday.
"Today was a mix of talking to agents and talking to clubs," said Preller, who had meetings scheduled late Monday. "With some of the big bats off the market, we'll probably be a little more active on the trade front."
Elsewhere, the Padres have until Thursday to complete a contract with Korean left-handed pitcher Kwang-Hyun Kim. Preller said the team is doing its "due diligence" and going over the medicals but that Kim had a good meeting in San Diego. Preller is set to talk to Kim's agent, Melvin Roman, this week.
Corey Brock is a reporter for MLB.com. Keep track of @FollowThePadres on Twitter. This story was not subject to the approval of Major League Baseball or its clubs.