Yost excited as Royals retool for run in 2015
Skipper says club remains focused on winning World Series title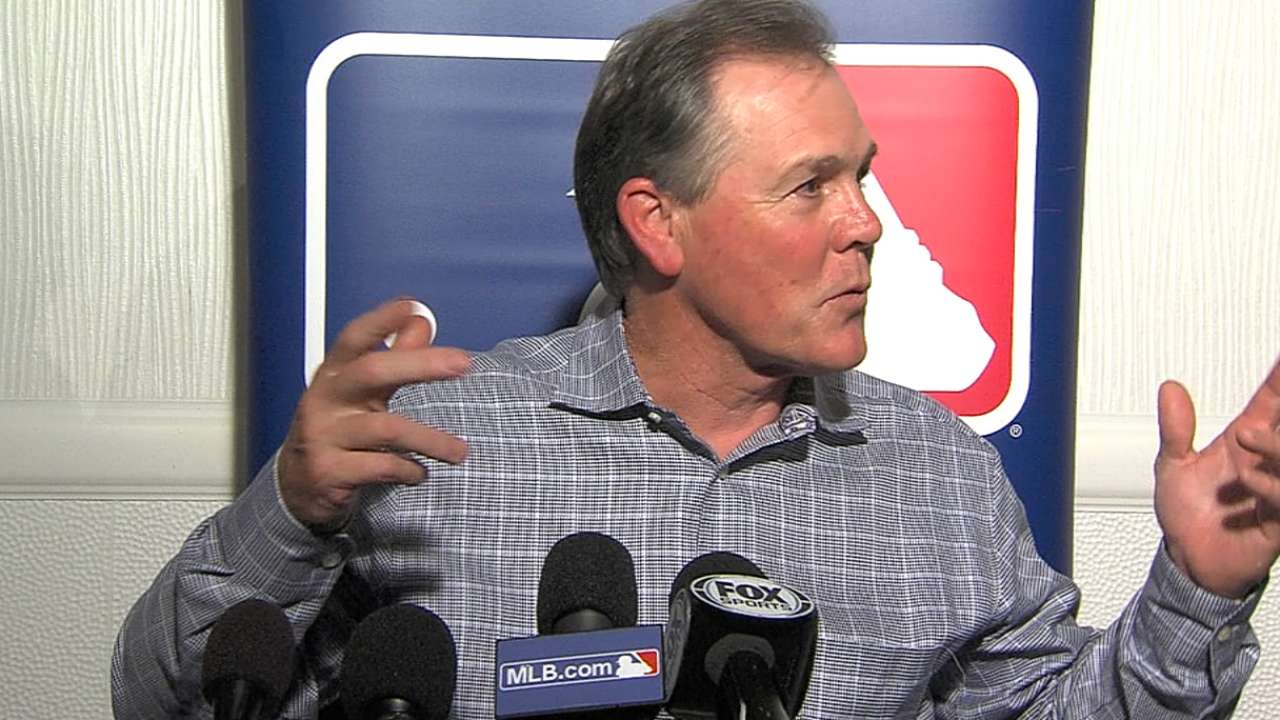 SAN DIEGO -- Royals manager Ned Yost attacked his Winter Meetings media session on Monday in an energetic, demonstrative fashion that brought back memories of six weeks ago, when his team tore through October. His body language seemed to say, "Bring it on."
Yost is ready for the remaining winter moves his front office will make to fill the vacancies created by free agency departures. He's set to bring on February, when his team will reconvene in Surprise, Ariz., for Spring Training as the American League champion with the target on its back. He's prepared to deal with all the skeptics and doubters, just as he did in 2014.
And Yost is eager to take what he and his players and coaches have learned from the remarkable experience they all shared in their historic playoff run that ended one win shy of a World Series title.
"I was really excited about the way that our kids stood up during the playoffs," Yost said. "We've talked ... for years about taking their game to the next level, and what it feels like, and the intensity and the focus, and the whole mindset of taking their game to the next level. And they took their game to the next level during the playoffs.
"Everything was about winning this game, finding a way to win the game. ... And they understood it. And they embraced it and they were extremely successful doing it. So with that experience, I'm really excited to see what they can accomplish next year."
Yost admitted that the way the club is currently constructed, the front office would like to see more talent added to the mix. Billy Butler is no longer around to be the designated hitter, while starter James Shields is likely to get a bigger contract elsewhere and take his 227 innings in 2014 (and 228 2/3 in 2013) with him. Right field is a question mark, too, with Nori Aoki a free agent and plans to get an impact bat via signing or trade.
---
Winter Meetings action
Day 4: Dec. 11
Transaction
Official?
OF Matt Kemp
C Tim Federowicz
Traded to Padres
No
C Yasmani Grandal
RHP Joe Wieland
RHP Zach Eflin
Traded to Dodgers
No
OF Yoenis Cespedes
RHP Alex Wilson
Traded to Tigers
Yes
RHP Rick Porcello
Traded to Red Sox
Yes
RHP Ervin Santana
Four-year deal with Twins
No
LHP Mat Latos
Traded to Marlins
No
RHP Anthony DeSclafani
C Chad Wallach
Traded to Reds
No
RHP Justin Masterson
One-year deal with Red Sox
No
RHP Alfredo Simon
Traded to Tigers
Yes
RHP Jonathon Crawford
IF Eugenio Suarez
Traded to Reds
Yes
LHP Ross Detwiler
Traded to Rangers
No
OF John Mayberry Jr.
One-year deal with Mets
No
RHP Andre Rienzo
Traded to Marlins
Yes
LHP Dan Jennings
Traded to White Sox
Yes
But that doesn't mean Yost doesn't like the guys that are sticking around. While the Royals haven't made a secret of the fact that they're shopping for a starting pitcher and a bat, whether it be a DH type or a right fielder or both, Yost said the Royals could look within if need be, mentioning Minor Leaguers Paulo Orlando and Carlos Peguero as potential options.
Yosy also said he would like to get catcher Salvador Perez on a different program, which will include more DH duties for the two-time Gold Glove Award winning backstop.
"I can't catch Sal 150 games again," Yost said. "I can't. I'll kill the kid. The problem when you're locked into a DH, you don't want Sal's bat out of that lineup. And there's days where it would be beneficial for Omar [Infante] to DH, because his bat is good, [Alex Gordon] to DH, [Eric Hosmer] to DH, [Lorenzo] Cain could DH. We're talking about getting another bat. If we can get one, fine. If we can't, I'm not going to lose sleep over it. Because I think that the revolving DH will pay benefits to everybody on the field.
I think we kind of wore [Perez] down little bit. Because I know that Sal is a tremendous offensive performer. He got to where ... he felt like his bat was getting a little slow. He'd have to start his swing earlier, which resulted [in] more swings out of the zone. I think a lot of that was my fault."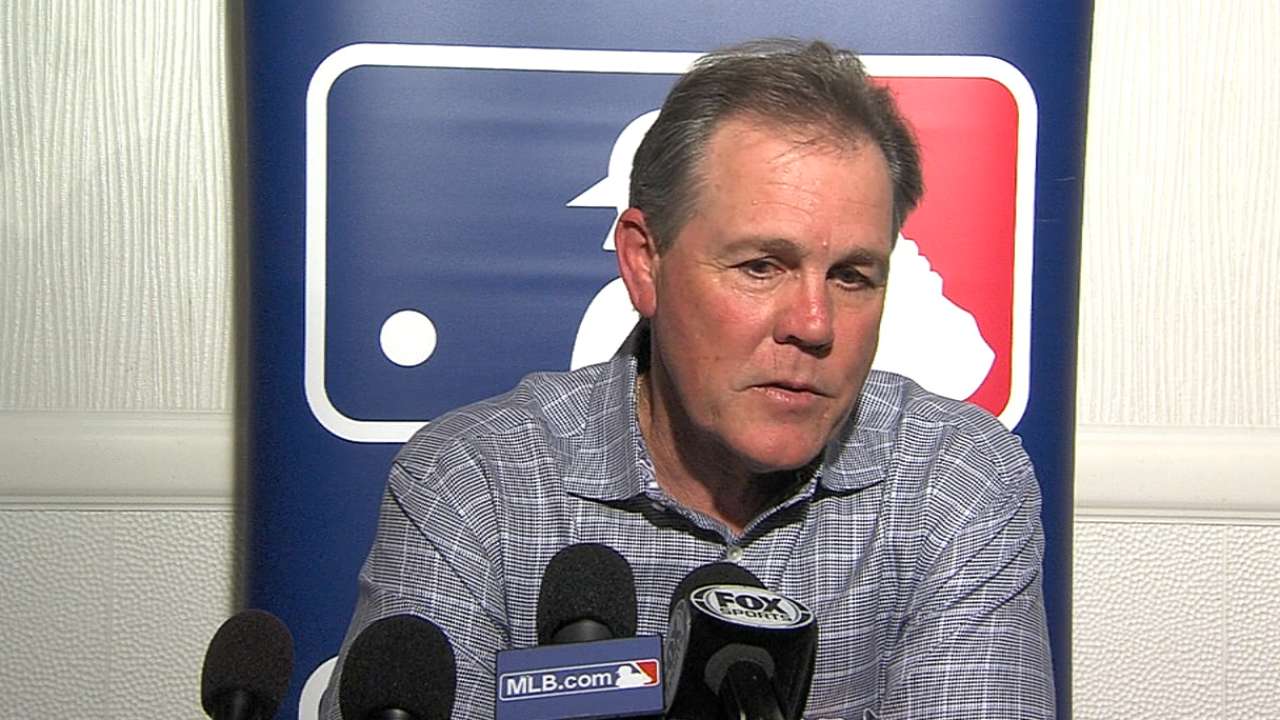 Yost learned about Perez and a whole lot more in October.
"I think I learned to be a little more flexible," he said. "There were times when Wak [bench coach Don Wakamatsu] would come up in a game and suggest something, and I'd say, 'I'm not going to do that. I'm not doing that. Are you crazy?' I'd look at him, and turn to [coach] Pedro [Grifol], and say, 'Would you do this?' And Pedro would say, 'Yes, I'd do that.' ... And I'd go, 'Let's do it.' And I've never been like that before.
"I really used my coaches and their experience and their intuition, and knowledge, and it paid off huge. It paid off huge for the entire organization."
Yost also used his intuition regarding an old-school baseball strategy of bunting that often got him skewered by new-age, new-media analysts and critics.
"A lot of times people will scream and yell at me for bunting, but I guarantee you, of the bunts that we put on, a third of them I put on and two -thirds the guys were bunting on their own, trying to find ways to win a ballgame. Because they wanted to win a ballgame. They wanted to get that runner to the next base so that somebody could drive in. ... Our guys enjoyed playing that style of baseball and it was very successful."
"Again, I've been called a dunce, an idiot, everything else. ... And it just doesn't bother me. I'm really comfortable with who I am. I know who I am. I'm not the smartest dude on the face of the earth. I never claimed be to. Never professed to be. But I'm really comfortable with who I am."
Yost expects to be comfortable once again with a team ready to contend for the AL pennant and more.
"To come as close as we did to winning a world championship, the slimmest of margins, one run in Game 7, I kept thinking after a week or 10 days I'll be able to reflect back and feel really good about it," Yost said.
"But five, six weeks, and hasn't happened. There's still that hole of we were that close to winning a world championship, which was our ultimate goal, to bring the world championship back to Kansas City, and we didn't accomplish it.
"That goal moves on to next year."
Doug Miller is a reporter for MLB.com. Follow him on Twitter @DougMillerMLB. This story was not subject to the approval of Major League Baseball or its clubs.