White Sox make moves with immediate impact
Deals for Samardzija, Robertson highlight Day 1 of Winter Meetings
SAN DIEGO -- Little doubt existed that the White Sox prime goals for the 2014 Winter Meetings stood as finding a right-handed starter to supplement their left-handed-dominant rotation and adding bullpen help.
The White Sox actually were the subject of rumors before the Winter Meetings officially began Monday morning. USA Today reported that the South Siders became frontrunners to acquire Jeff Samardzija after serious talks between the two clubs took place. A late-night deal with the A's reportedly was made to send Samardzija to Chicago in exchange for infielder Marcus Semien, right-hander Chris Bassitt and a prospect. The New York Post reported that the White Sox had serious interest in free-agent closer David Robertson, who agreed to a four-year deal late Monday night.
Samardzija doesn't necessarily fit the organization's mantra espoused over the past couple of years of making moves geared toward long-term, sustained success, with the right-hander one year away from free agency and looking as if he will test the market.
---
Winter Meetings action
Day 4: Dec. 11
Transaction
Official?
OF Matt Kemp
C Tim Federowicz
Traded to Padres
No
C Yasmani Grandal
RHP Joe Wieland
RHP Zach Eflin
Traded to Dodgers
No
OF Yoenis Cespedes
RHP Alex Wilson
Traded to Tigers
Yes
RHP Rick Porcello
Traded to Red Sox
Yes
RHP Ervin Santana
Four-year deal with Twins
No
LHP Mat Latos
Traded to Marlins
No
RHP Anthony DeSclafani
C Chad Wallach
Traded to Reds
No
RHP Justin Masterson
One-year deal with Red Sox
No
RHP Alfredo Simon
Traded to Tigers
Yes
RHP Jonathon Crawford
IF Eugenio Suarez
Traded to Reds
Yes
LHP Ross Detwiler
Traded to Rangers
No
OF John Mayberry Jr.
One-year deal with Mets
No
RHP Andre Rienzo
Traded to Marlins
Yes
LHP Dan Jennings
Traded to White Sox
Yes
Robertson goes against the club's past mode of operation of developing its own closers, such as Bobby Jenks, Sergio Santos and Addison Reed, as well as not shelling out significant years and money to a ninth-inning option. That fact rings especially true with in-house options such as Jake Petricka, Zach Putnam and even hard-throwing Minor Leaguer Frank Montas already in place.
But with the White Sox optimistic about contending in 2015, as well as many years beyond, both moves make sense. It doesn't hurt the cause that the White Sox have approximately $65 million committed to payroll before their five arbitration-eligible players are settled.
So the opportunity existed for the White Sox to make an immediate impact.
"We do a couple of things that we are here to do and we'll see what happens," said White Sox executive vice president Ken Williams of the White Sox chances to jump from 73 wins in '14 to playoff contender in '15. "We'll see what happens."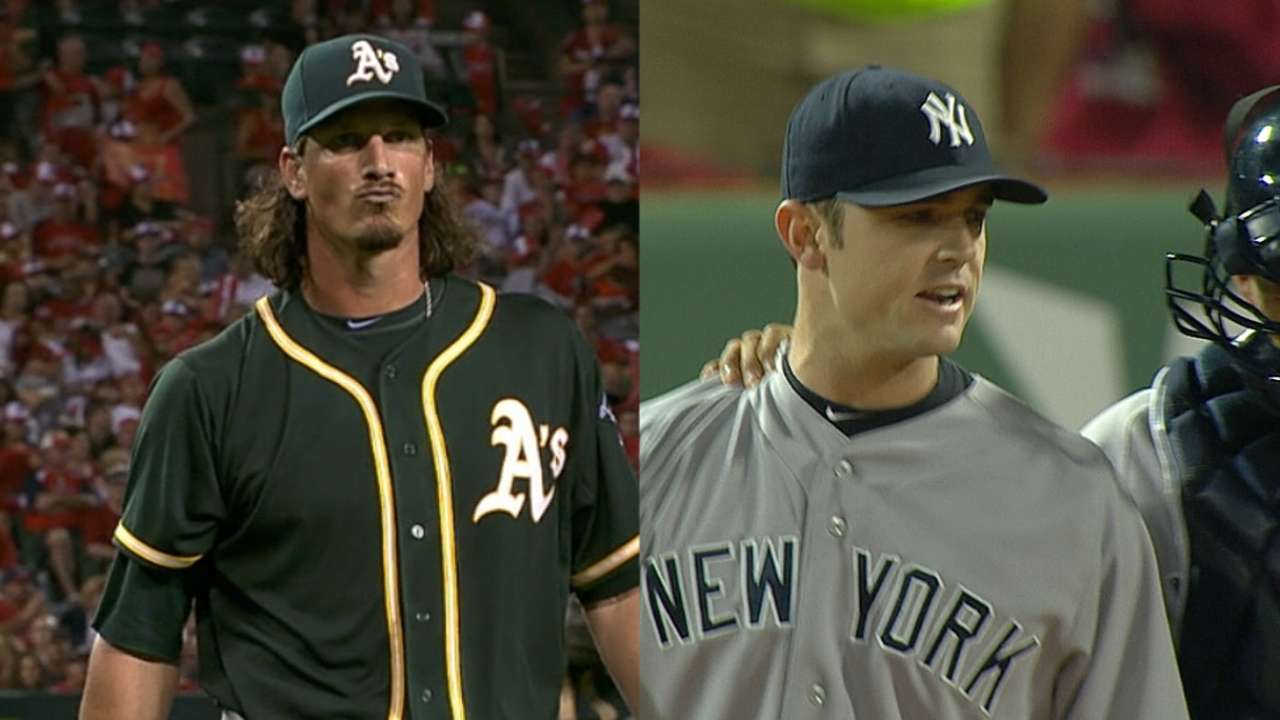 "We've got a lot of conversations ongoing on multiple fronts right now," said White Sox general manager Rick Hahn before news of the Samardzija and Robertson deals broke. "Some are frankly a little farther along than others and we are in a couple of scenarios where we could get within a phone call or two of getting something done. That said, we've been in that position before and will be again where you get really close but it doesn't quite come to fruition. It's important we stay diligent and aggressive on numerous fronts until we get to the point that we're able to convert on one of our higher priority targets."
Hahn wasn't about to talk about specific players. He did address topics related in a roundabout way to Samardzija and Robertson, or for that matter, any other high-end reliever or right-handed starter he is discussing.
Yes, the White Sox could acquire that right-handed starter via trade. Yes, they could move a position player off the Major League roster, with shortstop Alexei Ramirez garnering a great deal of interest, in order to upgrade other areas of that same roster. And yes, the White Sox farm system has grown strong enough, with enough prospects approaching big league ready, that they have the internal options to fill in traded vacancies.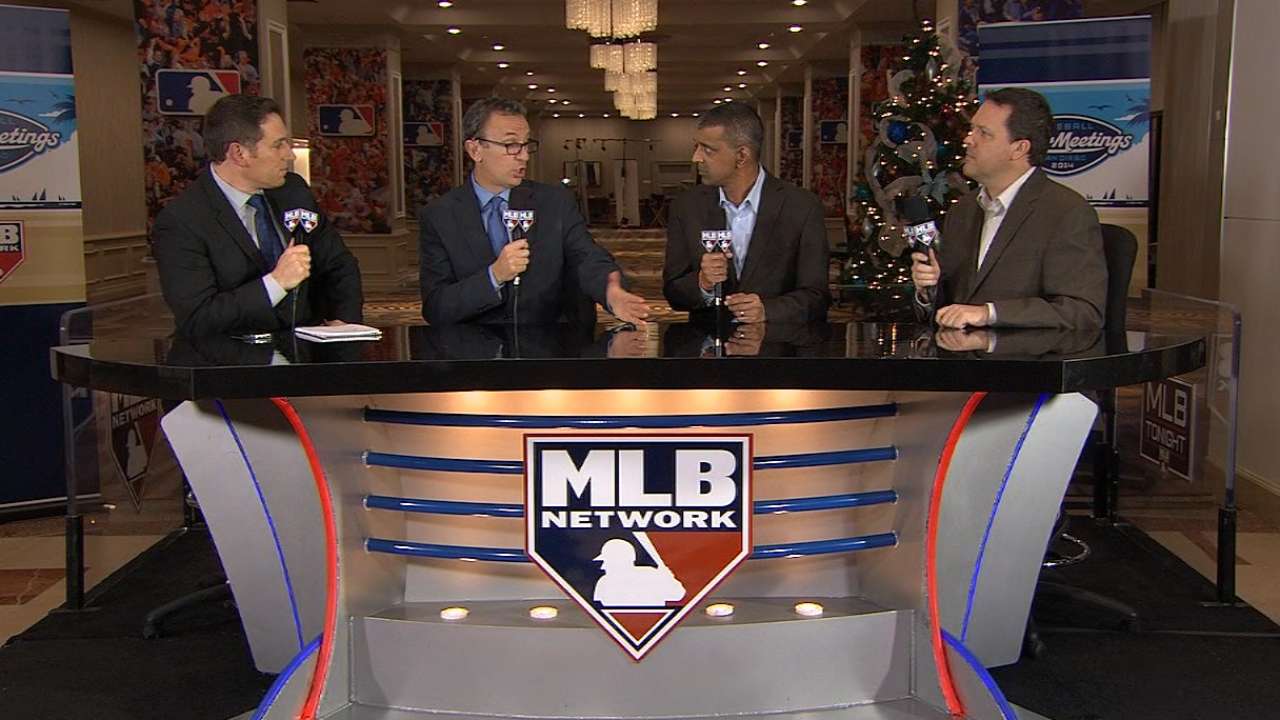 "As opportunities arise that you know are certainly going to improve you in the short term and potentially allow you the opportunity to still contend in the long term, you still have to look at it," Hahn said. "It's a cost-benefit thing in the end.
"How long is the control you're acquiring? What are you giving up to get that control? And what's the likelihood you're going to be able to extend that control beyond the short period you acquired? It's more art than science, but at the end of the day, if it puts us in a better position to contend for '15 and reasonably '16 and '17, then you have to seriously consider it."
The message to be delivered by these moves is the White Sox want to contend now and then do so perennially.
"Whether it's a big name or an expensive piece in the rotation, the bullpen or a position player standpoint, I think it would send that type of message," Hahn said. "We're very cognizant of the fact that it's nice to make headlines in December.
"None of it is going to matter if we're not winning in June or July or certainly September. So while doing something big or splashy now might resonate with the fans and show that we mean business, the results on the field will truly be what dictates whether we got it right and whether we've answered what they asked for from us."
Scott Merkin is a reporter for MLB.com. Read his blog, Merk's Works, and follow him on Twitter @scottmerkin. This story was not subject to the approval of Major League Baseball or its clubs.