Survivor Banister stands up in fight vs. cancer
Rangers manager shares his story; club participates in charity auction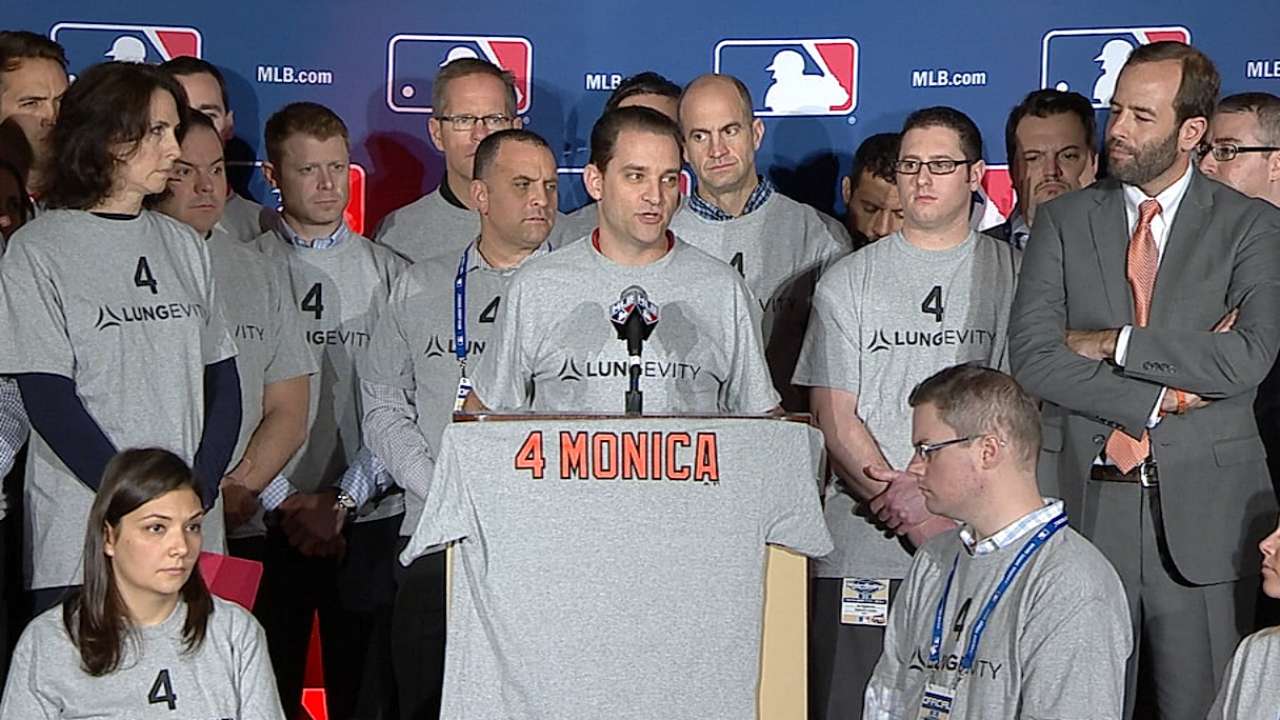 SAN DIEGO -- Stand Up To Cancer is a significant cause for Major League Baseball. It is the same for Rangers manager Jeff Banister, who is a cancer survivor.
Banister has never been shy about sharing his story. Since being hired by the Rangers, he has a far more visible platform to tell that story, and he plans on using it.
"Absolutely," Banister said. "I think all of us need to take the time to spread the word. I can probably look around here and not find one single person who hasn't been affected in one way or another within one or two family members or someone that we know. Not just me, but I have a grandmother that died of brain cancer. I have a mother-in-law that's had breast cancer. I have an aunt who's had stomach cancer.
"So, yeah, I think we all should stand up and make it our own initiative to make sure that everybody knows."
Banister was diagnosed with bone cancer in his leg in high school. He had to undergo four months of chemotherapy and seven operations. But he was able to beat the disease and went on to be a star baseball player in high school and college before being drafted by the Pirates.
"I believe that positive thinking, positive atmosphere helps beat cancer. It doesn't get rid of it, but it helps," Banister said. "Because the body gets riddled, and beaten up, and destroyed enough just trying to kill the disease, let alone get cured.
"So I believe that we can do our own due diligence and make sure that the people that we know that are affected, that we try to make each day as positive as we can for them."
Major League Baseball announced its latest initiative in the fight against cancer on Monday at the Winter Meetings.
Money raised during this week's Winter Meetings charity auction will be donated to LUNGevity, the largest national lung cancer-focused nonprofit, in memory of the late Baltimore Orioles public relations director Monica Barlow. This time last year, Barlow was one of several dozens of baseball representatives up on the stage during a news conference revealing the auction items. A couple of months later, in February, she passed after a long, valiant battle with lung cancer.
This year's fundraiser is dedicated to her.
Barlow and her family were enthusiastic supporters of LUNGevity, and the MLB family will set out to continue her efforts. The auction, presented by Major League Baseball, MLB Advanced Media, MLB Network and the 30 clubs, will be live on MLB.com until Thursday at 10 p.m. CT. The Rangers auction items are lunch with Derek Holland, dinner with Eric Nadel and an opportunity to take a lineup card up to home plate accompanied by Banister. The lineup card will be made out by a cancer survivor who strongly believes in the cause.
T.R. Sullivan is a reporter for MLB.com. Read his blog, Postcards from Elysian Fields, and follow him on Twitter @Sullivan_Ranger. This story was not subject to the approval of Major League Baseball or its clubs.