Collins knows 2015 is a make-or-break season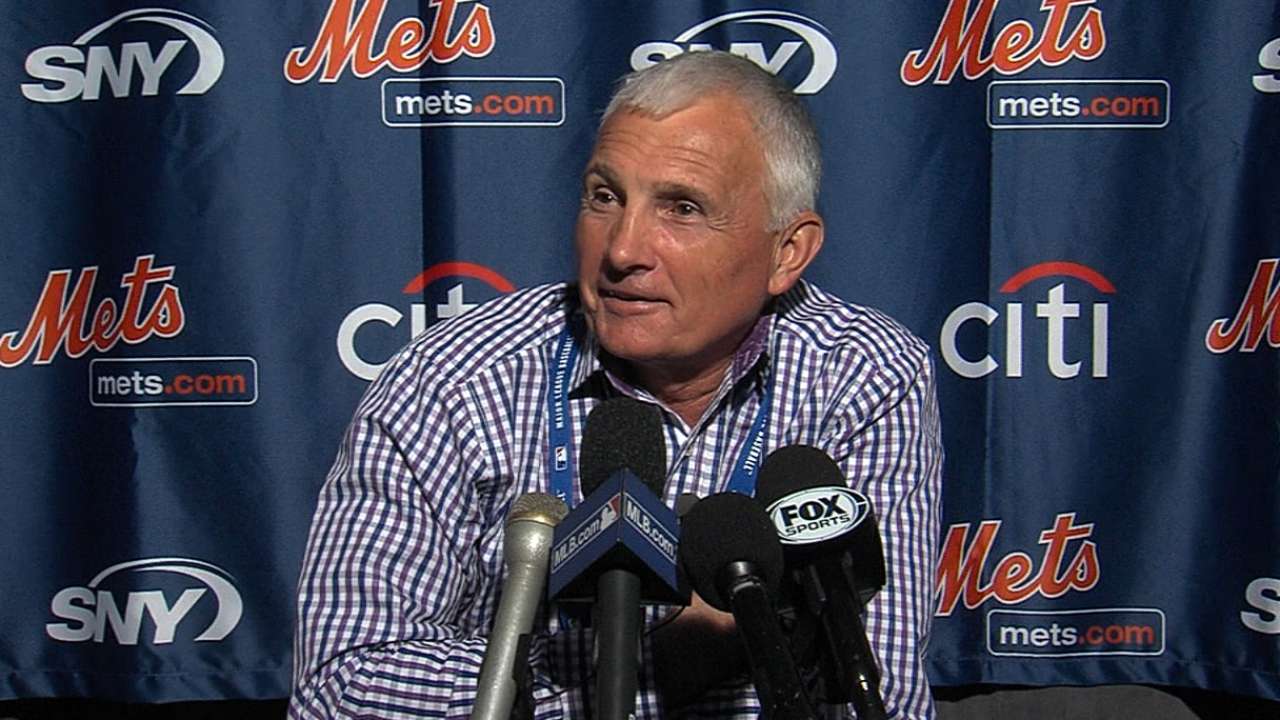 SAN DIEGO -- Terry Collins understands that the time for bashfulness has passed. Even if the Mets make only incremental upgrades to their roster from now until Spring Training, they expect to win next summer. And so Collins knows that 2015 may very well make or break him as a manager.
"It's time," Collins said on Monday after arriving at the Winter Meetings. "I've done nothing for the last four years but preach to our fan base to be patient, and I've been trying to be patient. Well, I think we've got the pieces. It's time to step up."
In choosing to leave the 2016 option on Collins' contract un-exercised heading into the winter, the Mets did nothing to guarantee his job security after four straight losing seasons at the helm. Though general manager Sandy Alderson has lauded Collins' work, and though the Mets have exceeded expectations in many ways throughout Collins' tenure, Collins understands that continued losing will not be acceptable.
Therefore it will be his challenge, despite a relatively unchanged roster, to generate the dozen or so extra wins the Mets will need to make the playoffs. He is relying on major contributions from starting pitcher Matt Harvey, third baseman David Wright and closer Bobby Parnell, all of whom battled major injuries in 2014. Health from that trio, combined with production from newly acquired outfielder Michael Cuddyer, are his weapons.
"We feel we've put, in my opinion, three major pieces [in place] with Bobby, Matt and David coming back off a rough year," Collins said. "I just think there are a lot of positives, and we've shown that we can compete. We can sit here right now and break down seven wins we should have had last year which would have all of a sudden made this a whole different season. So I think we're that close."
Additional roster changes will help, even if they are likely to be minor. The Mets are still searching for a shortstop upgrade over Wilmer Flores, despite telling fans that Flores (or even Ruben Tejada) could man the position in 2015. They hope to add a left-handed reliever and a right-handed bench bat before spring.
But the bulk of improvement must come from within. Collins understands that. He embraces it. And he knows -- regardless of what the roster looks like -- that this may be his last chance to make it happen.
"So what? So you put yourself in the hot seat," Collins said and then laughed. "At my age there is a lot of numbness down there anyway."
Anthony DiComo is a reporter for MLB.com. Follow him on Twitter @AnthonyDicomo. This story was not subject to the approval of Major League Baseball or its clubs.