Gillick talks Phillies' rebuild, support for Amaro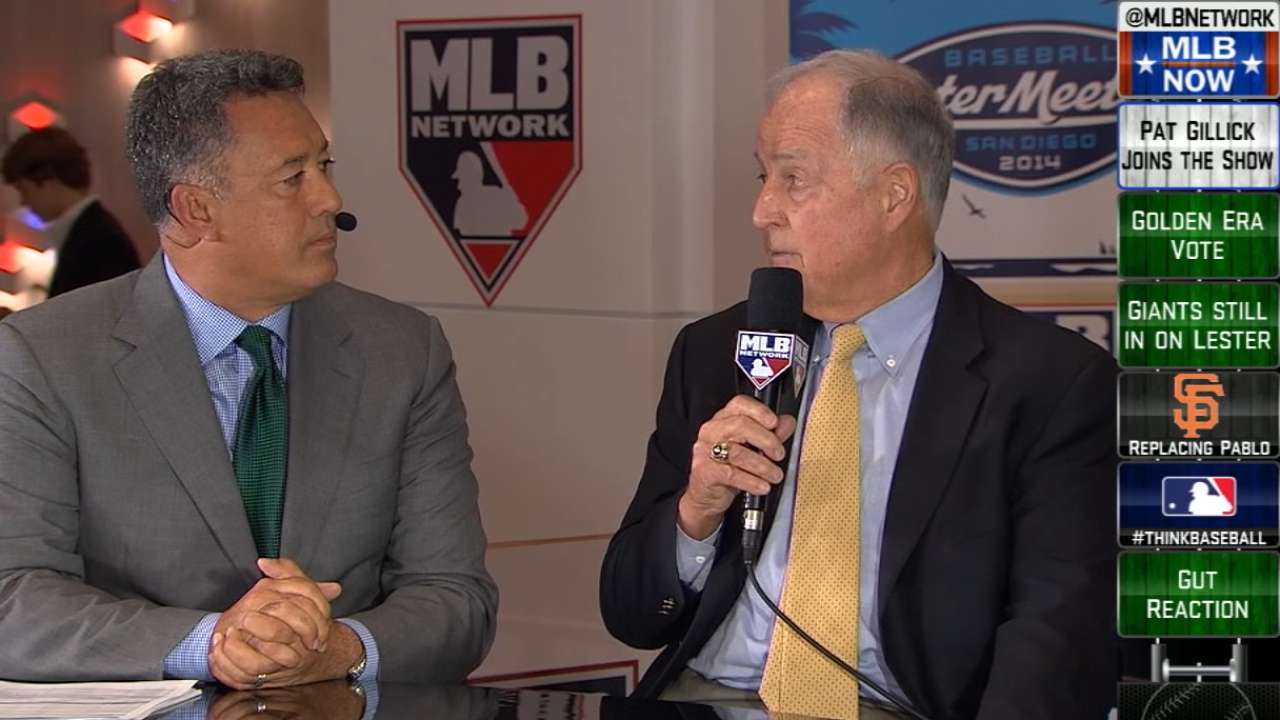 SAN DIEGO -- The Phillies would love to reset their roster with the simple press of a button, but they have to invent that magic button first.
Expect a slow, long rebuild instead.
"It's challenging," Phillies interim president Pat Gillick said Monday morning at the Winter Meetings. "It isn't really like you implode something. You have to kind of disassemble piece by piece. This isn't [boom]. You have to try to get where you want to be, but you do it in a patient, methodical way. You try to do it as much as you can in a planned fashion piece by piece. You know it can't happen like that all the time, but that's what your desire is, your challenge is."
The Phillies are saddled with a collection of expensive and aging players that have suffered consecutive 89-loss seasons. This past season, they finished last in the National League East for the first time since 2000, despite a franchise-record payroll of more than $180 million.
Gillick has said the Phillies likely will not contend again until 2017 at the earliest. That begs the question: Can general manager Ruben Amaro Jr. survive that long? He is entering the final year of his contract, and criticism of his job performance has reached a boiling point in Philadelphia.
"Yeah," Gillick said. "I've got his back."
But why?
"Because I've got confidence in him," Gillick said. "He didn't all of a sudden get dumber. People don't want to hear this, but there were five years from 2007-11 [with success], and the last year in 2011, we won 102 games. He didn't all of a sudden get stupid the last three years. There were just a lot of factors to factor in there. And it isn't what you've done in the past, it's what are you doing for us now. And we haven't done anything the last three years. But as far as him getting a brain cramp or something, it hasn't happened. I have confidence in him. I've got his back."
That said, Gillick said to his knowledge there have been no discussions between the Phillies and Amaro about a contract extension, which is something that would seem to benefit a GM faced with a difficult rebuilding process.
Gillick has been working closely with Amaro this offseason, although he downplayed his role and influence Monday. But he certainly is involved, just like team president David Montgomery was involved before he took a medical leave of absence in August.
The Phillies pursued Cuban outfielder Yasmany Tomas for much of the offseason, but he ultimately signed a $68.5 million contract with the D-backs. The Phillies saw Tomas multiple times as he worked out at the team's facility in the Dominican Republic.
In the end, Tomas' agent Jay Alou told The Philadelphia Inquirer the Phillies never made a formal offer. There are indications Gillick might not have been comfortable spending that much money on an unproven talent like Tomas.
Gillick declined to say if he ended the organization's pursuit.
"I don't really want to delve into that area," he said. "I think that's a question for [Amaro]."
But Gillick has said the buck stops with him. In other words, he can say no to Amaro as he chooses.
"I could say that or I could say I'll talk to our ownership and have him represent why we should pay this guy $65 million," Gillick said. "Let me say this, I control the purse strings up to a certain point. But when you get to $65-$75 million, that's a decision to be made not only by the general manager, but by whoever's the acting president, and it's by ownership, because it's a commitment they're taking on. It's different than acquiring a player that's making two years at $12 million or something like that."
There is increasing buzz the Phillies will trade ace Cole Hamels -- the Dodgers could be favorites, with the Red Sox and Cubs also possibilities -- but that remains to be seen. Also on the trade block are Marlon Byrd, Ryan Howard, Carlos Ruiz, Jonathan Papelbon and Antonio Bastardo. The Phillies would trade veteran infielders Jimmy Rollins and Chase Utley, but both have complete no-trade rights.
Multiple reports have the Phillies making unrealistic demands for their players, while sources inside the organization said that is not true.
Gillick offered an explanation for the team's lack of progress. So far this offseason, the Phillies have only re-signed Grady Sizemore and Jerome Williams, leaving their 2014 roster essentially unchanged.
"I think teams are reluctant to give up talent," Gillick said. "I don't think they shortchange [the Phillies]. I think they like some of our people. They don't like all of them, but they like some of them. It's just the fact that there aren't that many clubs that have that much depth that they can afford to give up the talent that you should get for the guy."
Is there a chance the team looks exactly the same come Opening Day in April?
"There's always a chance," Gillick said. "Yeah."
Gillick disagreed when asked if that would be considered a failure.
"No," Gillick said. "You know what? It would be disappointing, but you've got to grind on. You can never let yourself get frustrated or disappointed. You've got to use your head to be imaginative, be creative, and you've got to try to grind on."
Todd Zolecki is a reporter for MLB.com. This story was not subject to the approval of Major League Baseball or its clubs.