O's honor Barlow in MLB.com Auction for LUNGevity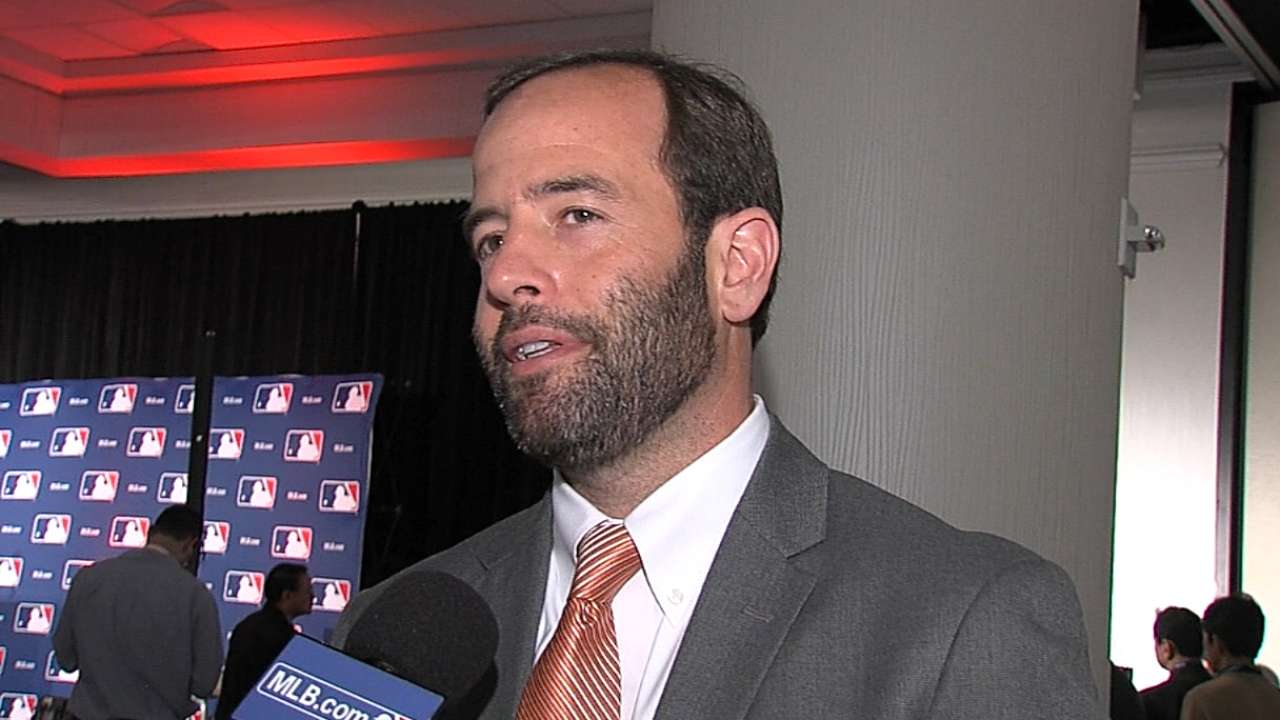 SAN DIEGO -- Monica Barlow would have been livid that she was the center of attention Monday afternoon, though she might have taken solace in the fact that members of every Major League Baseball public relations department were wearing the Orioles' orange and black.
For the third year in a row, MLB PR has partnered to raise money and awareness for cancer research through unique experiences involving current and former players. This year, though, it's incredibly personal for the Orioles, who lost Barlow to Stage IV lung cancer in February. The passing of Barlow, the former director of Baltimore's PR, was felt throughout the baseball community and it was an easy choice for MLB to partner with LUNGevity -- the largest national lung cancer-focused non-profit -- for this year's charitable MLB.com Auction.
"You realize how much baseball impacts so many people's lives and you see baseball taking on the onus of giving back to it," said Orioles manager Buck Showalter, who was surrounded on stage by PR members wearing shirts emblazoned with orange 4 MONICA script on the back. "Think about every life Monica impacted in her short time and now she's able to impact so many other people. That would mean a lot to her. She wouldn't be happy about the attention, as you all well know.
"But [her passing] seems to be growing the attention that's been given to it. Though it was painful for all of us, it makes me feel better -- a little better -- about our loss. But, I'm still [upset] about it."
Barlow, a non-smoker who passed away at the age of 36, was training for a half-marathon when she noticed a persistent cough. Her husband, Ben, who also spoke Monday, encouraged her to get it checked out. Like so many lung cancer diagnoses, the disease was already advanced. At first, Barlow didn't want anyone to know she was sick and was fearful people would expect less of her. But as time went on, she started to see how her public job could help fellow lung cancer patients and Barlow became an advocate for LUNGevity and their fundraising efforts.
"Hopefully even in a terrible situation like this, it's allowed us to make some good come out of it somehow," Ben Barlow said upon taking the podium. "I applaud MLB, I applaud everybody here on the stage here today for taking that even a step further after Monica's passing. And really using tragic events like this to do as much as possible to make sure that no one's feels the way my family does, or Tony Gwynn's family does or so many people's families do right now. Thank you, MLB."
The Orioles' auction items include meeting Showalter and bringing out the lineup card with him before a game and shortstop J.J. Hardy teaching Little Leaguers infield at Camden Yards. There are worthwhile experiences from every MLB team available on the MLB.com Auction, with bids continuing until Thursday at 11 p.m. ET.
"LUNGevity, the Orioles and the Major League Baseball family were heartbroken to lose one of our own this year, but Monica Barlow's legacy will live on in the research that is funded and the new treatments that are being developed," said Andrea Ferris, president and chairman of LUNGevity Foundation. "We are honored that Major League Baseball has chosen LUNGevity Foundation as the beneficiary for the Winter Meetings philanthropic auction.
"One cannot underestimate the impact that MLB's support can have on lung cancer and we look forward to working closely with them and the 30 clubs in the future. Their generosity and the generosity of those who support the auction will increase LUNGevity's ability to invest in innovative scientific research that has the potential to reshape outcomes for people living with lung cancer."
Brittany Ghiroli is a reporter for MLB.com. Read her blog, Britt's Bird Watch, and follow her on Facebook and Twitter @britt_ghiroli. This story was not subject to the approval of Major League Baseball or its clubs.