Tribe lands versatile Moss from A's for prospect Wendle
Slugger could see time in outfield, at first base or designated hitter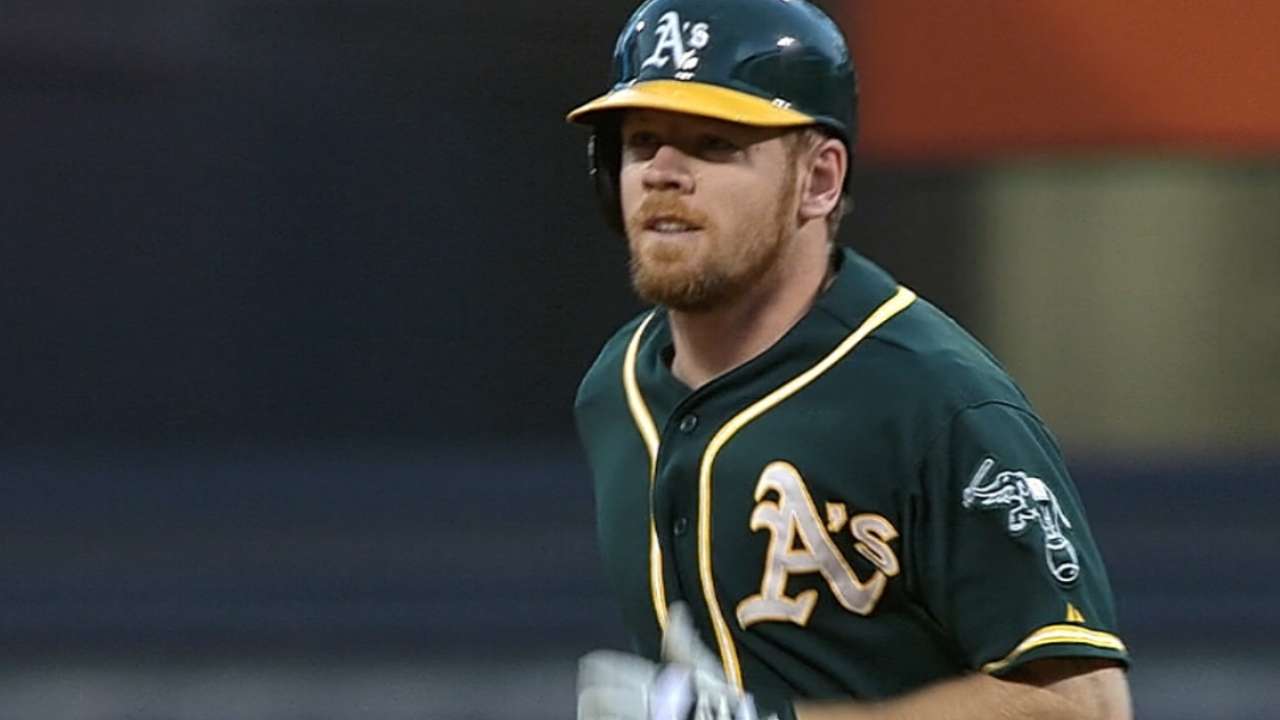 SAN DIEGO -- The Indians entered this offseason with the goal of adding an impact bat to the heart of their lineup. On Monday, the first day of the Winter Meetings, Cleveland met that goal by acquiring slugger Brandon Moss in a trade with the A's.
Reports had swirled for days that the Tribe was on the cusp of reeling in Moss -- one of baseball's premier left-handed power hitters -- but the talks continued until members of both clubs convened in San Diego and completed the deal.
In exchange for Moss, the Indians sent Double-A infield prospect Joe Wendle to Oakland. To make room on the 40-man roster, they designated right-hander Bryan Price for assignment.
"The thing we wanted to do was get a bat that impacted our lineup," general manager Chris Antonetti said. "Brandon has a track record of being a very productive middle-of-the-order hitter, especially when he has been healthy. We'll look for ways to fit him into the lineup, and it gives [manager Terry Francona] a number of different options."
Moss is plenty familiar with the way Francona operates, having played under him during parts of the 2007-08 seasons with the Red Sox. It took Moss until the last three seasons in Oakland, however, to establish himself as one of the Majors' best lefty power threats, helping the A's make the postseason each year and earning a trip to the All-Star Game in '14.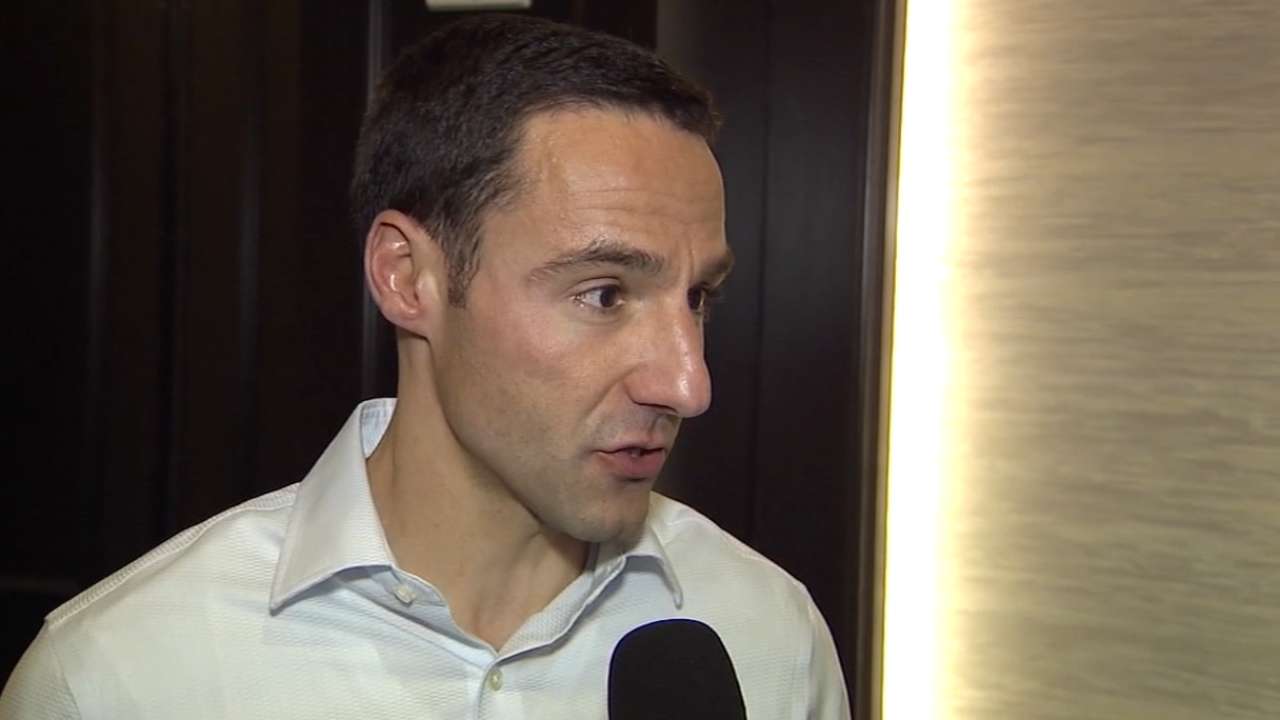 Joining a new team can be stressful for a player, but Moss said that having a history with Francona instantly increases his comfort level.
"Knowing the guys that are in that clubhouse, and knowing Tito," Moss said, "I'm really excited to get in there and to be a part of it. I know how he does things and the way he runs a clubhouse, the way he runs a team. And watching those guys, they just look like they're having fun."
Moss will be stepping into the middle of a lineup led by the promising trio of Michael Brantley, Yan Gomes and Carlos Santana. Moss is excited about the depth in Cleveland's lineup and the fact that the team has Corey Kluber, the American League's reigning Cy Young Award winner, leading the pitching staff.
"I know that young pitching staff. I've faced them. They've got some great arms," Moss said. "And that lineup -- I think it's a great lineup. You can go around the field. There's quality bats everywhere. There's a great core group of guys. ... It's a team with a lot of talent and a lot of capability, and it's going to be exciting."
The 31-year-old Moss can play both corner outfield positions, help at first base and slot into the designated hitter role, providing the kind of versatility that Cleveland covets. The addition of Moss does create a kind of logjam, though, making it possible that the team will continue exploring the trade market to address other needs.
Antonetti said there's another option.
"We could go to camp the way we are and open the season with the team we have," he said. "This gives us a lot of versatility and depth. We'll see what other opportunities present themselves."
The Indians have veteran Nick Swisher, who is coming off August surgery on both knees, slotted in as the regular DH and owed $30 million through 2016. Cleveland also has veteran outfielder David Murphy (under contract for $6 million in '15) and utility man Ryan Raburn (owed $2.5 million for '15) on the roster for depth in the corner outfield spots.
Cleveland has spent time this winter gauging the market for Swisher, but his recent injury history and large contract make moving him a tall task.
"We expect him to be a big part of the team," Antonetti said. "His focus is on getting healthy for the start of Spring Training. The one thing we know about Nick is he is a productive player when healthy and offers versatility to play the outfield and first base."
Antonetti noted that although the Indians will continue to look for ways to upgrade the offense, the focus will shift to adding depth to the rotation.
Last season the 31-year-old Moss turned in a .234/.334/.438 slash line to go along with 25 home runs and 81 RBIs in 147 games. In the AL Wild Card Game against the Royals, he had two home runs and five RBIs for a historic showing in Oakland's extra-innings loss. He made the All-Star team with a strong first half but faded over the final two months of the season, batting .162 with a .575 OPS in that span.
One factor behind his second-half issues was that he was playing with an injured right hip.
"The hip was probably 90 percent of the problem," Moss said. "It started bothering me in early May, and then I just kind of dealt with it, because it was just tight. But as the season wore on, other things started flaring up, and it started to have some actual pain."
Moss underwent surgery on the hip in October, and the expectation is that he will be able to resume running drills by January, putting him on target to be ready for the beginning of the season. The team does not expect that a trip to the disabled list will be necessary come Opening Day.
In 2013, Moss hit .256 with 30 home runs, 87 RBIs and an .859 OPS in 145 games for the A's, who signed him as a free agent prior to the 2012 season. In his first year with Oakland, he hit 21 homers and posted a .954 OPS in only 84 games. He has a .248/.326/.460 slash line in parts of eight Major League seasons with Boston, Pittsburgh, Philadelphia and Oakland.
From 2012 to 2014, Moss' rate of one home run per 15.93 at-bats ranked ninth in the Majors among the 159 batters with at least 1,300 plate appearances. With 76 home runs, he is one of 30 batters to belt at least 70 in that time period, but he has the fewest plate appearances among that select group.
Moss knows that his power numbers could improve with the move to Cleveland, too. Last season he turned in a .265/.364/.467 slash line on the road. compared with .197/.299/.404 at home. Progressive Field also plays favorably for left-handed hitters.
"I'll be honest," he said, "other than it being our home stadium -- I love the fans there -- I hated playing at the Coliseum. It killed me as a hitter. ... You don't get rewarded for fly balls unless you absolutely crush the ball. It's just a tough place to play, so I'm really excited about playing in a park where I've had some success. I've always enjoyed playing there."
Jordan Bastian is a reporter for MLB.com. Read his blog, Major League Bastian, and follow him on Twitter @MLBastian. This story was not subject to the approval of Major League Baseball or its clubs.