No one elected to Hall of Fame by Golden Era Committee
Oliva, Allen fall one vote shy; Kaat misses by two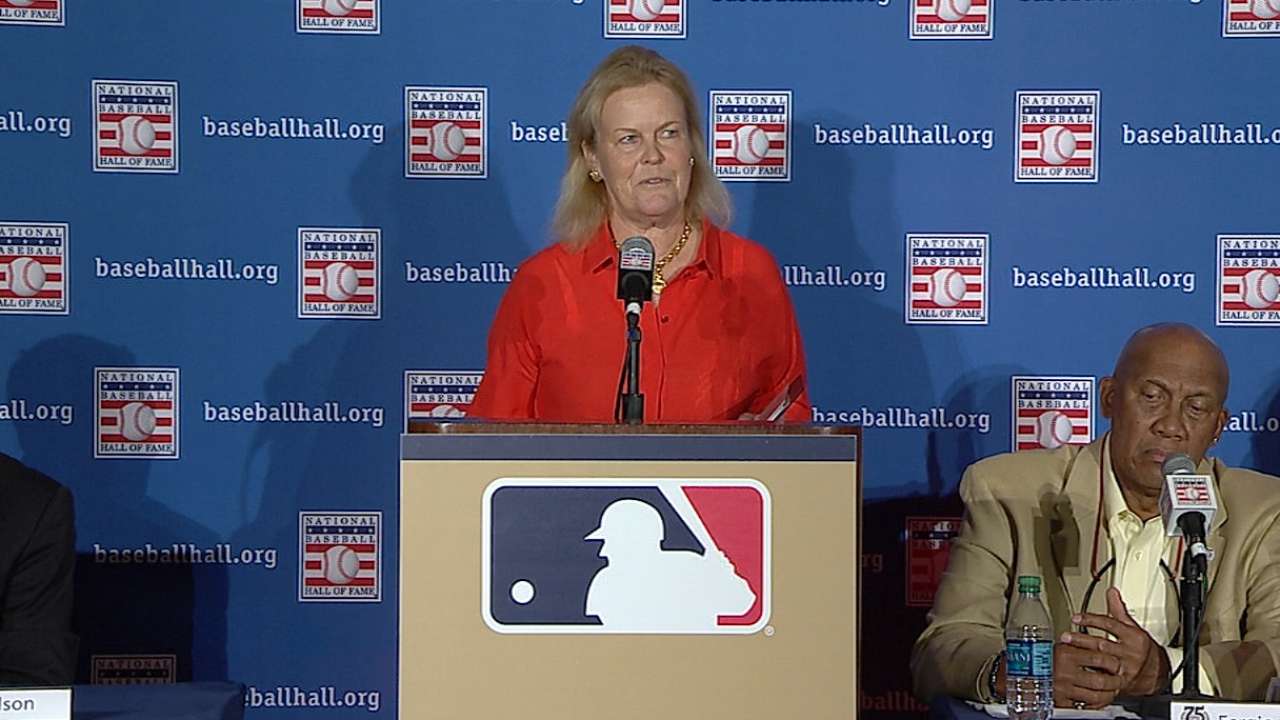 SAN DIEGO -- No one was elected to the Baseball Hall of Fame on Monday by the museum's Golden Era Committee. Tony Oliva and Dick Allen came the closest, each receiving 11 of 16 votes, one shy of the 75 percent needed for election.
Jim Kaat received 10 votes, followed by Maury Wills with nine and Minnie Minoso with eight. The remainder of the candidates -- Gil Hodges, Ken Boyer, Billy Pierce, Luis Tiant and the late executive Bob Howsam -- each received three or fewer votes.
"The results today are a reminder that election to the Hall of Fame is incredibly difficult and the highest honor an individual can receive in baseball," Hall of Fame chairman Jane Forbes Clark said in revealing the results of the voting at the Winter Meetings.
Kaat was on the ballot for the second time and received exactly the same number of votes as in 2011, the last time the Golden Era Committee met to consider players, managers, executives and umpires whose careers were prominent form 1947-72.
Hodges and Oliva have been on various Veterans' Committee ballots six times and Hodges' support tumbled. He received nine votes and Oliva eight in 2011. All the players on the ballot had been rejected 15 times by eligible members of the Baseball Writers' Association of America. Hodges and Jack Morris are the only players no longer eligible for the writers ballot who at some point received 60 percent of the vote and are not in the Hall. Hodges reached that figure three times and Morris had 61.5 percent earlier this year, his last year on the BBWAA ballot.
Allen was on the Golden Era ballot for the first time, along with Wills, Pierce and Howsam.
Jim Bunning, the Hall of Fame pitcher and former U.S. Senator who was on the committee, played with Allen in Philadelphia and was asked if he was disappointed his former teammate didn't get in.
"Absolutely," Bunning said. "To get 11 out of 16 votes in your first consideration, I suspect that he'd be on the next Golden Era ballot. Unfortunately, I don't make the rules. I'm just a member of the committee."
Since the Hall rotates the Pre-Integration, Expansion Era and Golden Era Committees, Allen won't get his next shot for another three years. When the committee met most recently in 2011, late Cubs third baseman Ron Santo was elected. Like this time around, Boyer and Tiant received fewer than three votes each.
"It was disappointing," said Ferguson Jenkins, a former teammate of Santo's and one of seven Hall of Fame players on the committee. "It's something that you can't foresee. With only 16 voters it's kind of tough. It's really unfortunate. Dick, it was only his first time on the ballot."
Next up will be the Jan. 6 announcement of those elected from the recently released writers ballot released late last month. Hall of Fame Induction Weekend is scheduled to be held July 25-26 in Cooperstown, N.Y. Pitchers Randy Johnson, John Smoltz and Pedro Martinez are considered the first-time candidates with the best chance of making it. Houston's Craig Biggio missed the cut on last year's ballot by only two votes.
Last year, the Expansion Era Committee judging candidates whose careers were largely from 1972 to the present, elected a trio of managers in Joe Torre, Bobby Cox and Tony La Russa. They were inducted in July, along with 300-win pitchers Greg Maddux and Tom Glavine and slugger Frank Thomas, all elected by the Baseball Writers' Association of America in their first times on that ballot, creating one of the most heralded Hall of Fame classes in history.
Because of the process, that won't happen again in 2015. It should be noted that since the current iteration of Veterans Committees was adopted in 2010, only two players have been elected -- Santo and Deacon White, a 19th-century catcher who was picked by the Pre-1947 Integration Committee two years ago along with umpire Hank O'Day and Yankees owner Jacob Ruppert. That year, the BBWAA failed to elect anyone on its ballot.
"It's tough on players. Only one percent of the 18,000 players who have played in the Major Leagues is in the Hall of Fame," Clark said. "The process is meant to be tough on players."
Allen was a seven-time All-Star who played primarily for the Phillies and White Sox from 1963-77. He was National League Rookie of the Year while playing with Bunning on the 1964 Phillies and American League Most Valuable Player and home run champion in 1972, when he hit 37 homers for the White Sox and led the Majors with a .420 on-base percentage, .603 slugging percentage and 1.023 OPS. He led his league in OPS four times, the highest figure being 1.027 for the Phillies in 1966.
Kaat, a left-hander, pitched in 25 Major League seasons, winning 283 games and recording double-digit victory totals in 15 consecutive seasons from 1962-76. He won a career-high 25 games for the Twins in 1966 and was a 16-time Gold Glove winner. He is one of only three pitchers with that many career victories who are not in the Hall. Roger Clemens (354) and Tommy John (288) are the others.
Oliva was a .313 hitter from 1962-72 for the Twins, with whom he spent his entire 15-year career, and led the AL in hits five times from 1964-70. He was a three-time AL batting champion and an eight-time All-Star, and was twice runner-up for the AL MVP Award.
All should be back on the Golden Era ballot in 2017. About 200 candidates were considered for this year's ballot by a BBWAA historical committee. Each member of the 16-person voting committee can vote for a maximum of four people on their individual ballots, meaning there are only 64 votes to divvy up.
"It was a very, very difficult decision for each and every member of the committee in this process," said Hall of Fame executive Pat Gillick, a member of the committee. "I think there were very, very healthy conversations on each candidate -- the pros and and cons - and most of the conversation yesterday was on the very, very positive of these candidates. It's just unfortunate that one or two didn't get in. I am disappointed, but again it points out how very, very difficult it is to earn a plaque in Cooperstown."
Barry M. Bloom is a national reporter for MLB.com and writes an MLBlog, Boomskie on Baseball. Follow @boomskie on Twitter. This story was not subject to the approval of Major League Baseball or its clubs.