Daniels ready to begin talks at Winter Meetings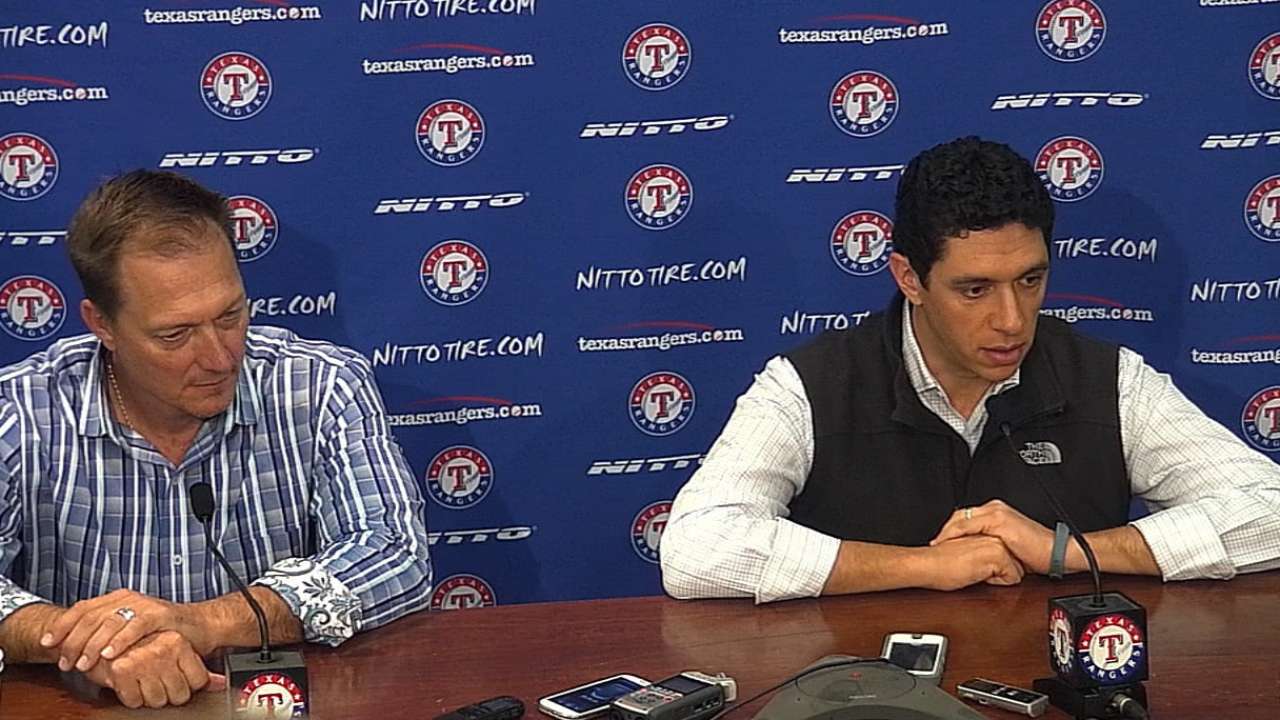 SAN DIEGO -- The Rangers are in San Diego for the Winter Meetings. Now what?
They trade for a starting pitcher. They find another catcher. They make a big move that nobody expected. They do nothing.
All are possible, even standing pat. That has been known to happen, because the reality is the Winter Meetings are just another step in the offseason process. E-mail and text messages alone are enough for general managers and agents to stay in contact 24/7 without having to sneak through the hallways of a hotel. But it does allow general manager Jon Daniels to meet face-to-face with agents and officials from other clubs, and that certainly has the potential to push forward a number of deals.
When the Rangers depart on Thursday, there will still be over two more months before pitchers and catchers to report. That leaves plenty of time for Texas to complete its offseason shopping. But the Winter Meetings is an event in itself.
The Rangers have middle infield depth, from veteran Elvis Andrus to rookie Luis Sardinas and prospect Hanser Alberto, but that may not be enough to land the starting pitcher that they covet. To get a true impact starting pitcher, Texas will likely either dip deep into its farm system or show a willingness to spend serious money in the free-agent market.
To this point, the Rangers have expressed reluctance to do either, but they are not in San Diego to sit on the beach, feed the elephants at the zoo or inspect the Pacific Fleet anchored nearby.
Whether it be actual deals, more rehashing of the Rangers winter plans or some juicy Trot Coffey-like rumors springing to life in the hotel lobby, the Winter Meetings still command the attention of any baseball fan who has had enough of the Baylor-TCU college football playoff debate.
Rangers manager Jeff Banister will also make his national debut with his press availability on Monday. All Major League managers spend some time with the media during the Winter Meetings along with the daily press briefings held by each general manager.
All this in addition to tweets and comments at the end of each MLB.com story, allowing fans to express their opinion about what should or should not happen this week.
So tune in, log on and come aboard. The baseball fleet has arrived in San Diego.
T.R. Sullivan is a reporter for MLB.com. Read his blog, Postcards from Elysian Fields, and follow him on Twitter @Sullivan_Ranger. This story was not subject to the approval of Major League Baseball or its clubs.