MLB.com Columnist
Alyson Footer
Top female leaders in MLB advise job-seekers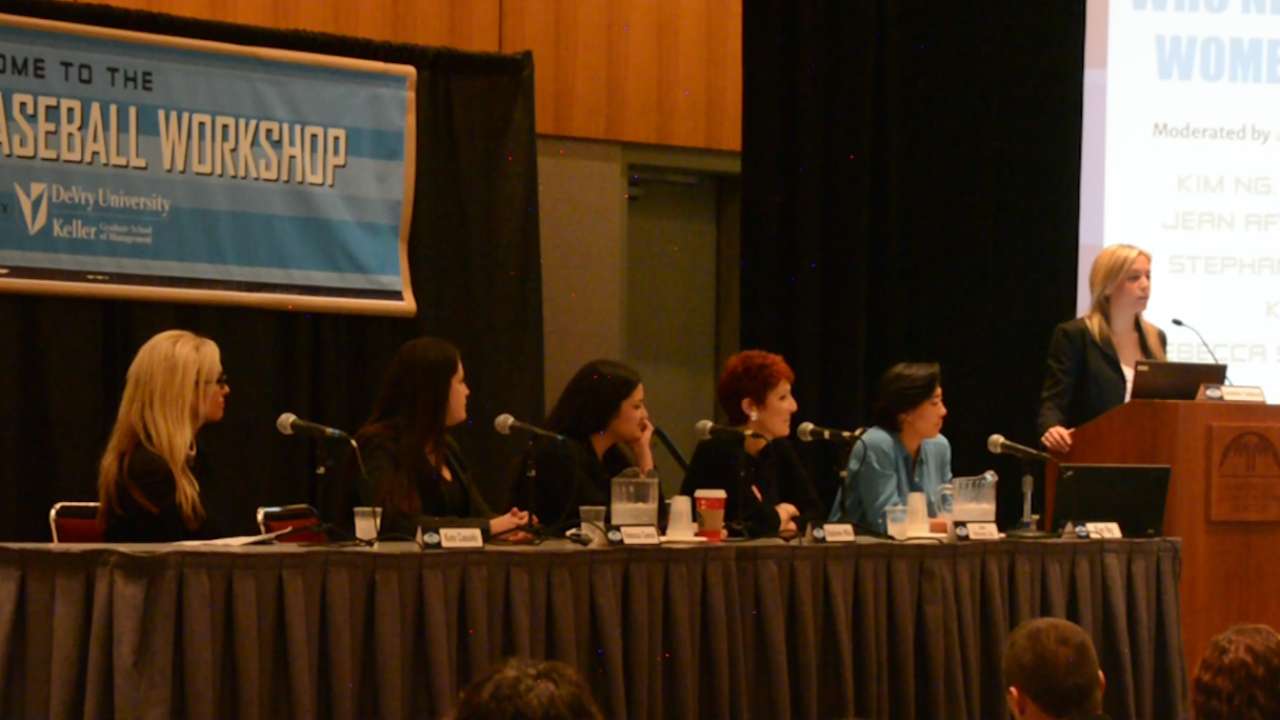 SAN DIEGO -- It's one thing when a professor or a career advisor or a parent gives the old "work hard, pay your dues" speech that we've all heard while transitioning from college life to the real world.
It's quite another when some of the most accomplished people working in the very profession you're trying to break into say it.
A packed room filled mostly with job seekers Sunday morning received earfuls of advice from a group of high-ranking executives working in Major League Baseball, most of whom started at the proverbial bottom and worked their way up the ladder. It was a Winter Meetings roundtable panel discussion, titled "Who Needs A League of Their Own? Women at the Top of their Game," featuring five women of all different ages and different stages of their careers.
While gender issues were dissected, the overlying message was the same for men and women: if you're going to make it in this business, you need to have a loud voice, thick skin and a willingness to work longer and harder than the competition.
And you need to find a way to stand out from the pack.
Given the breadth of their experience, these women should know. Arguably the most recognizable of the five panelists was Kim Ng, currently working as the senior vice president of baseball operations for Major League Baseball. She has also served as assistant general manager of the Yankees and Dodgers. Ng was joined by Jean Afterman, senior vice president and assistant general manager of the New York Yankees; Stephanie Wilka, international operations specialist for the Houston Astros; Kate Cassidy, associate counsel for the Texas Rangers, and Rebecca Seesel, international operations for Major League Baseball.
There is no magic formula for breaking into the baseball business, as Ng articulated with a simple lesson about submitting a resume. (Take note: cover letters addressed to "Mr. Kim Ng" go directly in the trash.)
"Your cover letters and your resume, they're our first impression," Ng said. "And you've had however many days, weeks, months you've had access to a number of people look at it. To show me something that's sloppy, when you've had all that time to work on it, we'll kind of have an idea of how your work is going to be."
Ng estimated she receives hundreds of resumes every year, and she looks for that special something that separates a candidate from the others.
"Energy. Enthusiasm," Ng said. "If there's one special project you've done … you might not always have the most work experience or the best work experience. But if you've done something interesting, tell me about it in some interesting way."
And it doesn't have to be about sports. In fact, sometimes it's good to steer away from that topic.
"I won't hire anybody that starts off their cover letter with, "I'm the biggest Yankee fan," Afterman said. "I won't hire anybody where the first thing they want to tell me is that they're a Yankee fan. I probably wouldn't hire you if you are the biggest Yankee fan, because it affects your objectivity, and you're clearly not there to do the job, you're there to watch games and meet Derek Jeter."
Afterman also suggested "brevity" when seeking employment.
"Short cover letters and resumes," she said. "We all have short attention spans. Hit me with your best shot in your letter."
As most club executives can attest, internships are the best way to gain entry into the baseball industry. Making the most of those internships is what can make or break a career.
No task is too small. Making photocopies for your boss? Make those the most efficient, neatly compiled photocopies of your life. Handing out clips packets? Do it with enthusiasm. People are watching, always.
"The impression I get when you walk into my office and put down the clips, it's actually pretty big," Ng said. "That tells me a lot about a person."
Whether it's seeking an internship or full-time work, there is a strategy to finding someone who will listen to the sales pitch. Seesel recalled researching the front office listings on every team's website to target people who may take an interest in her.
"I found people whose backgrounds were similar to mine," she said. Having obtained her MBA, Seesel looked for people who also had taken that path and had similar interests. It was worth the gamble -- that method resulted in her landing a key internship.
When addressing job-seekers, Wilka challenges them to "show me what your work is going to look like."
"Identify an issue and solve the problem for me," she said. "I want to know how you think and what your work is going to look like when you show up the first day on the job.
"And just know you have to be extraordinary. It's pretty competitive."
And for that reason, the entitled need not apply.
"I once hired a guy because I said to him, 'You know, this job, it's not glamorous, it's not sexy. It's a lot of petty things, tasks you have to get done,'" Ng said. "He said, 'Filing, copying -- I'm your guy.' I said, 'You're hired.' That tells you what he's willing to do. He went to a great school, but nothing is beneath him. Those are the people you want in the trenches with you."
Alyson Footer is a national correspondent for MLB.com. Follow her on Twitter @alysonfooter. This story was not subject to the approval of Major League Baseball or its clubs.