Kershaw adds three GIBBYs to 2014 award collection
Starting Pitcher of the Year also named Most Valuable Major Leaguer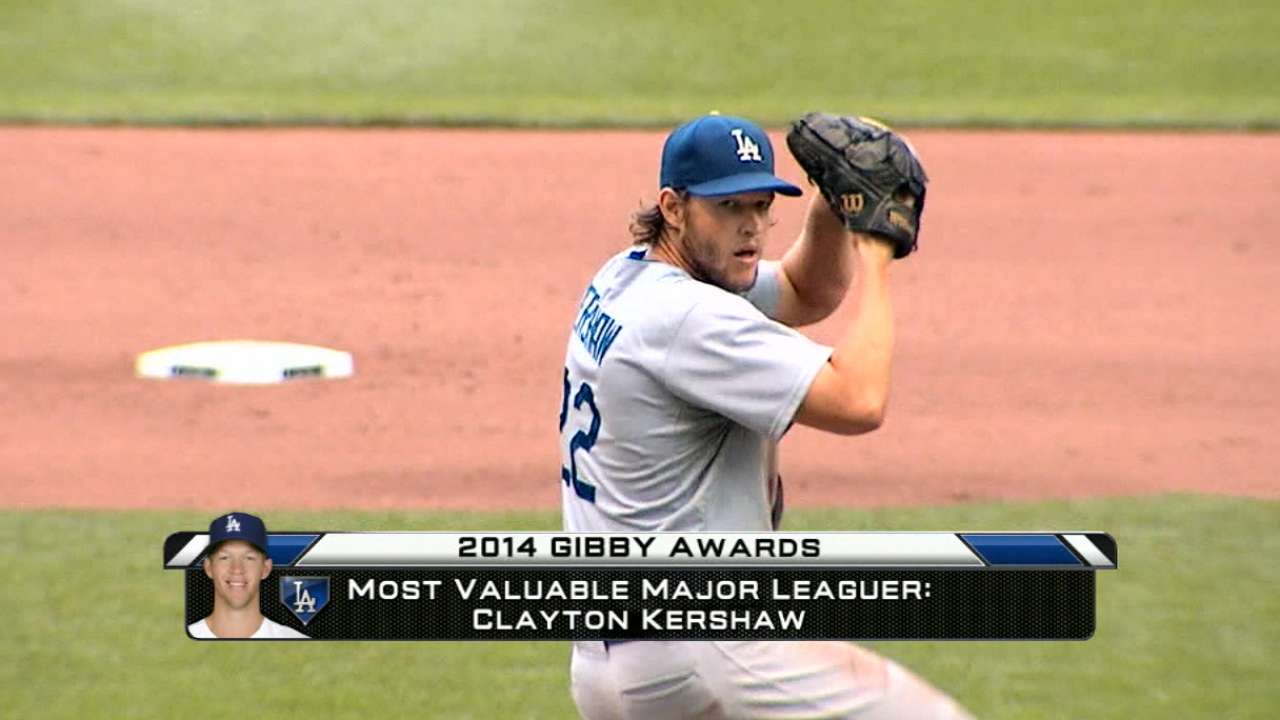 LOS ANGELES -- There's only one word to describe the awards season for Dodgers ace Clayton Kershaw: Great.
On Saturday, Kershaw added to his staggering haul of offseason honors by winning three MLB.com Greatness in Baseball Yearly Awards (GIBBYs), topped by the premier GIBBY, Most Valuable Major Leaguer.
In addition to Most Valuable Major Leaguer, Kershaw won GIBBYs for Starting Pitcher of the Year and Pitching Performance of the Year (Kerfection, his 15-strikeout no-hitter against Colorado).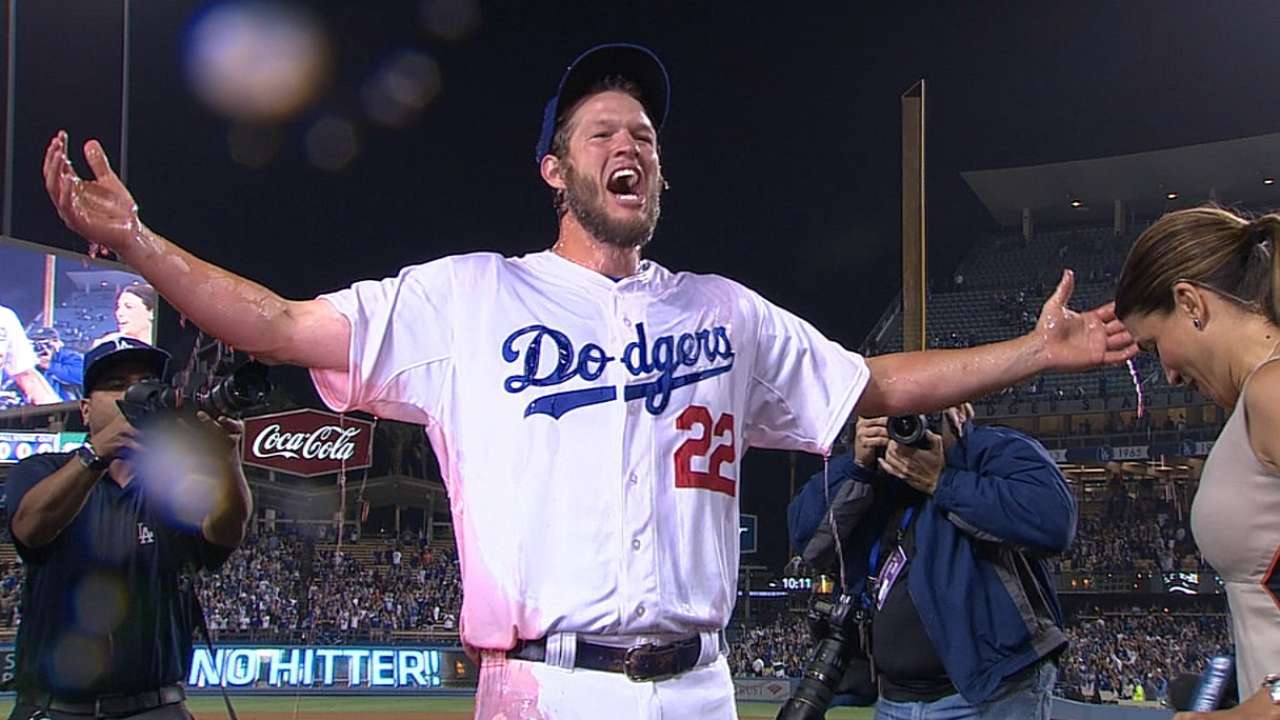 Winners were announced live during an awards show on MLB Network and MLB.com on Saturday night.
Major League Baseball's A-listers won 2014 GIBBY trophies based on votes by broadcasters, reporters, front-office personnel, MLB alumni, fans at MLB.com and the Society for American Baseball Research.
This year's GIBBY Awards feature winners in 25 categories. Individual honors went to the Most Valuable Major Leaguer, in addition to the year's best starting pitcher, everyday player, closer, setup man, rookie, breakout everyday player, breakout pitcher, bounceback player, defensive player, manager, executive and postseason MVP.
GIBBY trophies also were awarded for the year's top regular-season play, outfield throw, storyline, hitting performance, pitching performance, oddity, walk-off, Cut4 Topic, regular-season moment, postseason storyline, postseason walk-off and postseason play.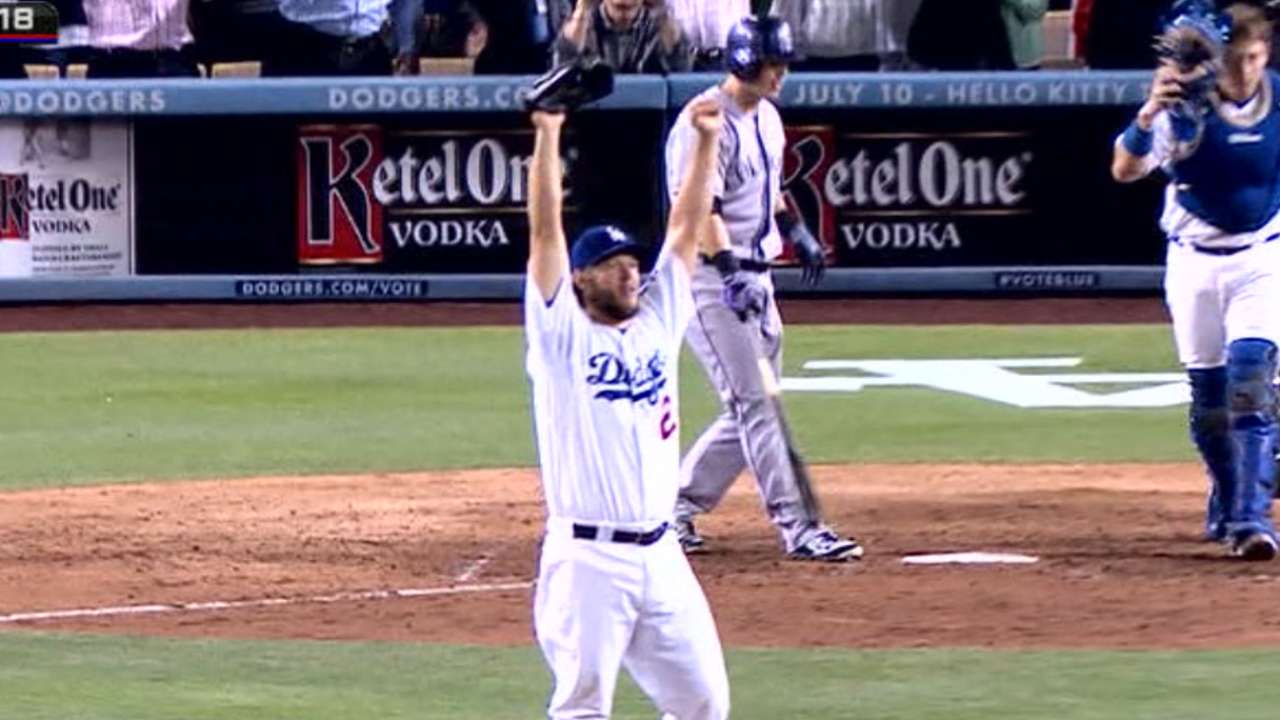 In the past several seasons, fans have cast millions of votes across the GIBBY categories, none of which is restricted to individual league affiliation. That's how you know the GIBBYs consider the best of the best.
All 30 clubs were represented among the award candidates, which is a testament to the competitive balance around the game. All GIBBY winners were announced live during an awards show on the MLB Network and MLB.com.
In balloting for Most Valuable Major Leaguer, Kershaw received 35 percent of the vote, edging runner-up Madison Bumgarner (34.4 percent) of the Giants and Mike Trout (30.6 percent) of the Angels.
The Most Valuable Major Leaguer criteria included performances from the regular season and postseason. That set up the hotly contested duel between Kershaw (who won his third National League Cy Young Award and an MVP Award for a remarkable regular season, but lost twice in the postseason) and Bumgarner (who was fourth in NL Cy Young voting, but went 4-1 in the postseason and won MVP Awards in the NL Championship Series and World Series).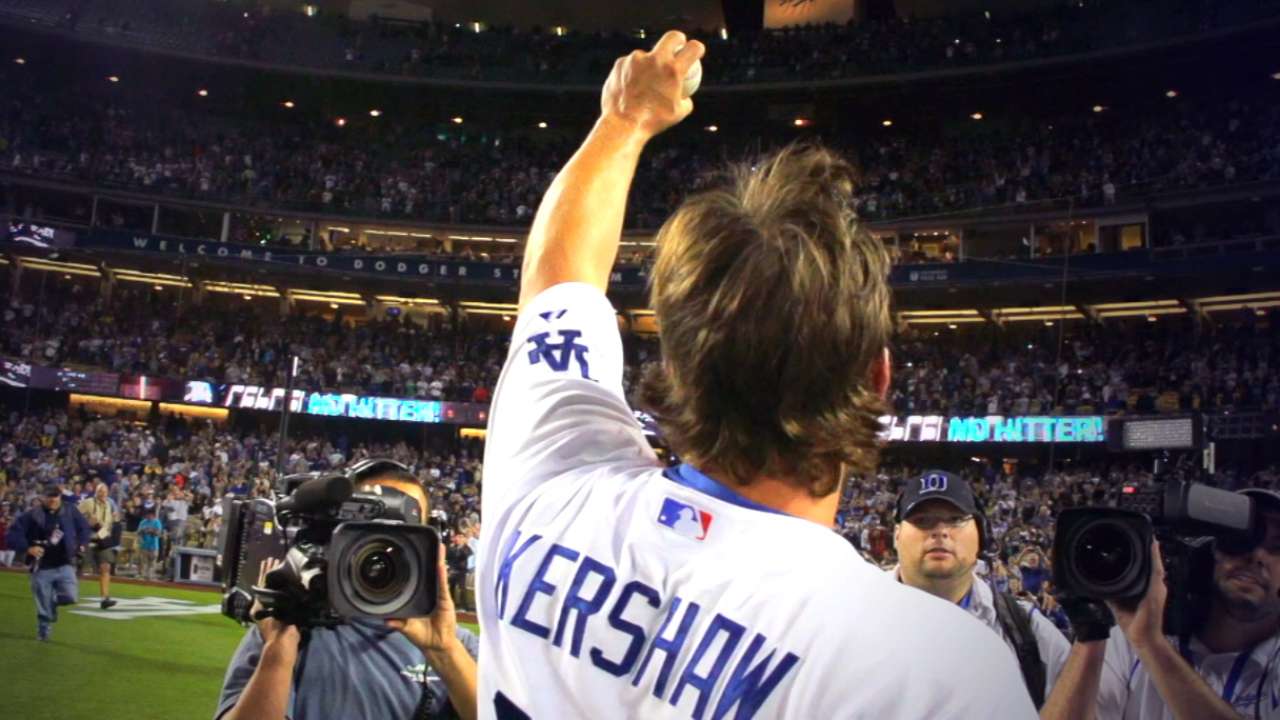 The 26-year-old Kershaw became the youngest three-time winner of the Cy Young Award, this one unanimously, and became the first NL pitcher in 46 years to also win the MVP Award by going 21-3 with a 1.77 ERA. He is the first Dodgers pitcher to win a Cy Young Award and MVP Award since Sandy Koufax, a feat that has been accomplished 11 times, most recently by Detroit's Justin Verlander in 2011. Roger Clemens in 1986 and Vida Blue in '71 are the only other starting pitchers to win the MVP Award since Bob Gibson and Denny McLain did in '68, after which MLB lowered the mound.
Using Wins Above Replacement as calculated by Baseball-Reference.com, Kershaw led the league at 8.0. On Fangraphs.com, Kershaw's 7.2 WAR led the NL and was third in Major League Baseball behind Trout's 7.8 and Corey Kluber's 7.3.
Kershaw spent nearly six weeks on the disabled list after opening the season with a win in Australia. Because he missed those starts and won so many after returning, Kershaw joined Boston's Pedro Martinez in 1999 as the only pitchers since World War II with 20 wins accomplished in fewer than 30 starts.
Of all the traditional stats that support Kershaw's Most Valuable Major leaguer status is his club's 23-4 record in his 27 starts. The Dodgers finished 94-68, so they were 19 games above .500 in his starts and seven games above .500 in everybody else's.
Kershaw became the first pitcher to win four consecutive MLB ERA titles, his ERA marking a career-best. His 21 wins was a career high, and his .875 winning percentage topped the Majors and was the second-highest mark ever by a Dodgers player (minimum 20 starts) behind only Preacher Roe (22-3, 1951).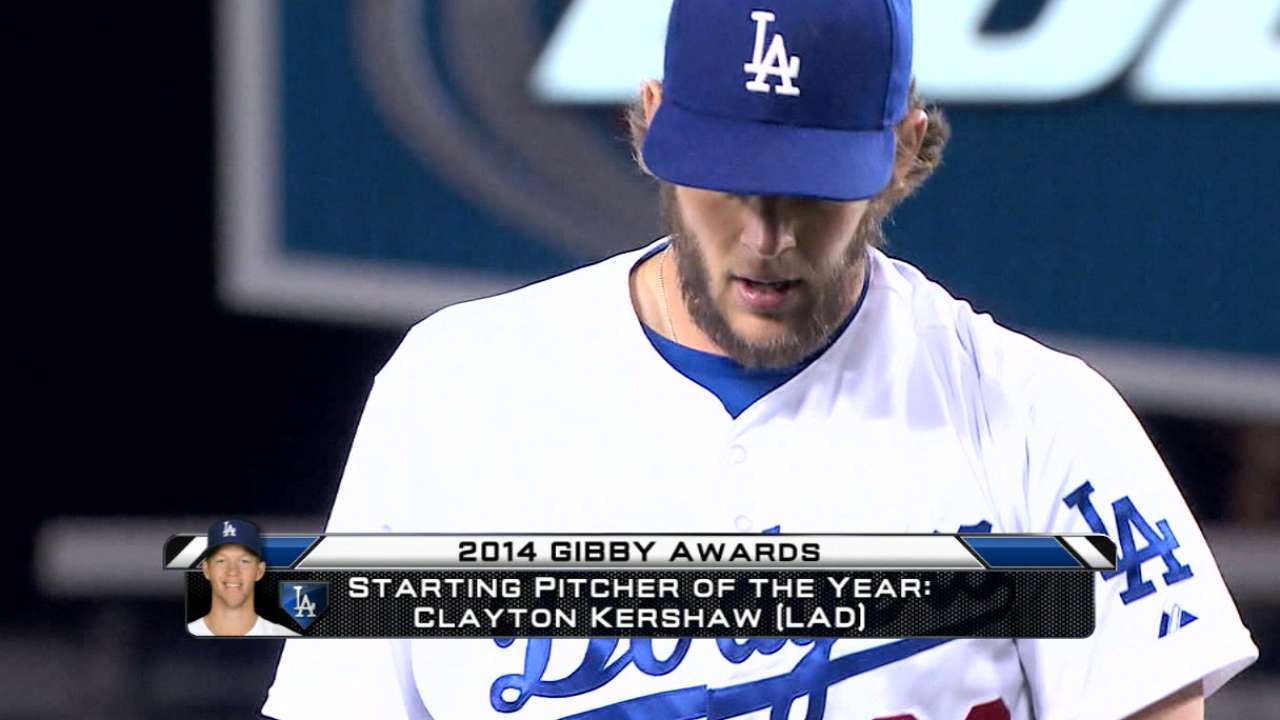 Kershaw was selected to his fourth consecutive All-Star Game and also led the Majors with a 0.86 WHIP and six complete games, while ranking among the NL leaders in strikeouts (239, third), opponents' batting average (.196, second), shutouts (two, tied for third) and strikeout-to-walk ratio (7.71). The Dodgers went 23-4 in his 27 starts.
Kershaw's 1.77 ERA is the lowest mark by an MLB starter since Martinez posted a 1.74 ERA with Boston in 2000 and the lowest ERA for a National Leaguer since Maddux's 1.63 mark with Atlanta in 1995. It's the lowest mark by a pitcher with at least 220 innings since Dwight Gooden's 1.53 ERA in '85 with the Mets and the fourth-lowest single-season ERA by an NL lefty in the live-ball era (best since Koufax's 1.73 ERA in '66).
In addition to the GIBBYs, the BBWAA NL MVP Award and NL Cy Young Award, Kershaw won Players Choice awards (voted by his peers) for Major League Player of the Year, NL Outstanding Pitcher and Marvin Miller Man of the Year. He was named winner of the Warren Spahn Award for best left-handed pitcher in baseball. Kershaw won the Dodgers' Roy Campanella Award and was the club nominee for the Roberto Clemente Award.
Ken Gurnick is a reporter for MLB.com. This story was not subject to the approval of Major League Baseball or its clubs.