Jeter's walk-off Stadium moment earns two GIBBYs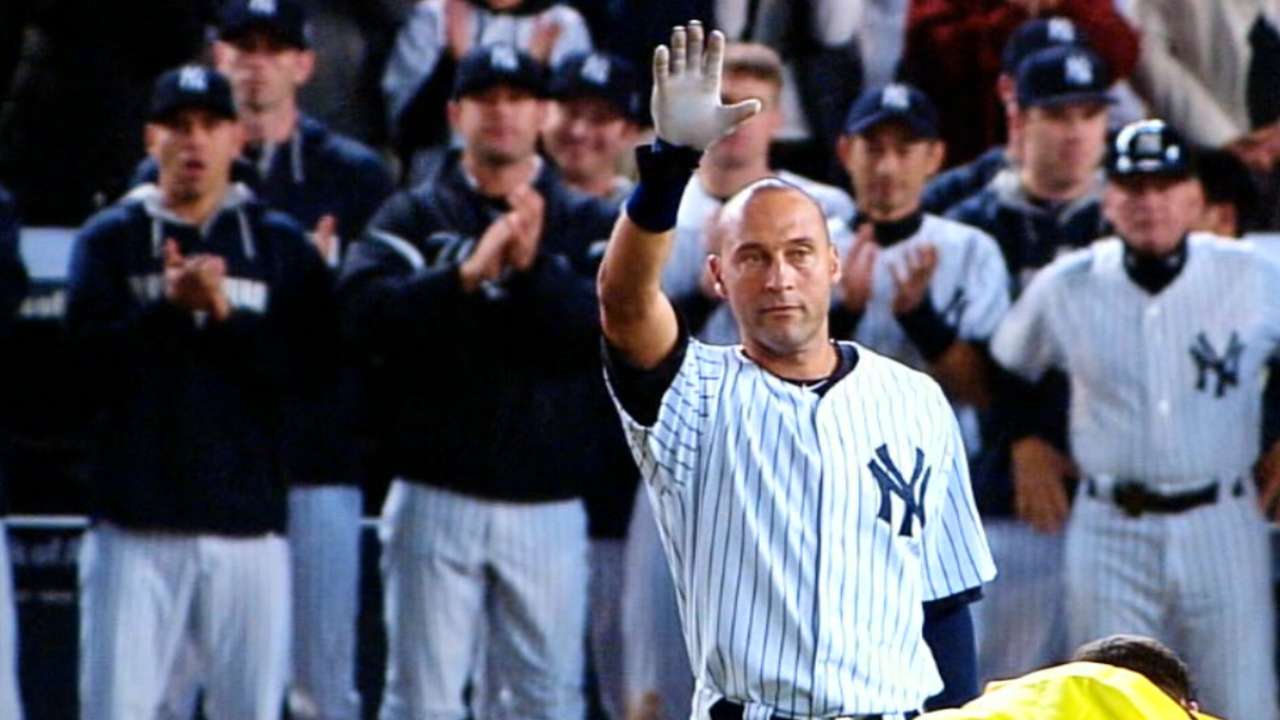 NEW YORK -- No one who was in the Bronx on the evening of Sept. 25 will ever forget Derek Jeter's final Yankee Stadium at-bat, and the captain's farewell moment in pinstripes has been fittingly recognized in MLB.com's 2014 Greatest In Baseball Yearly (GIBBY) Award voting.
Jeter's eyes had welled with tears while playing shortstop for the last time, but those emotions morphed into elation in the bottom of the ninth inning, slashing his trademark inside-out single to right field and lifting the Yankees to a 6-5 victory over the Orioles.
Winners were announced live during an awards show on MLB Network and MLB.com on Saturday night. The "2 Good to Be True" highlight was selected as the Moment of the Year, and it was also recognized as the Walk-Off of the Year.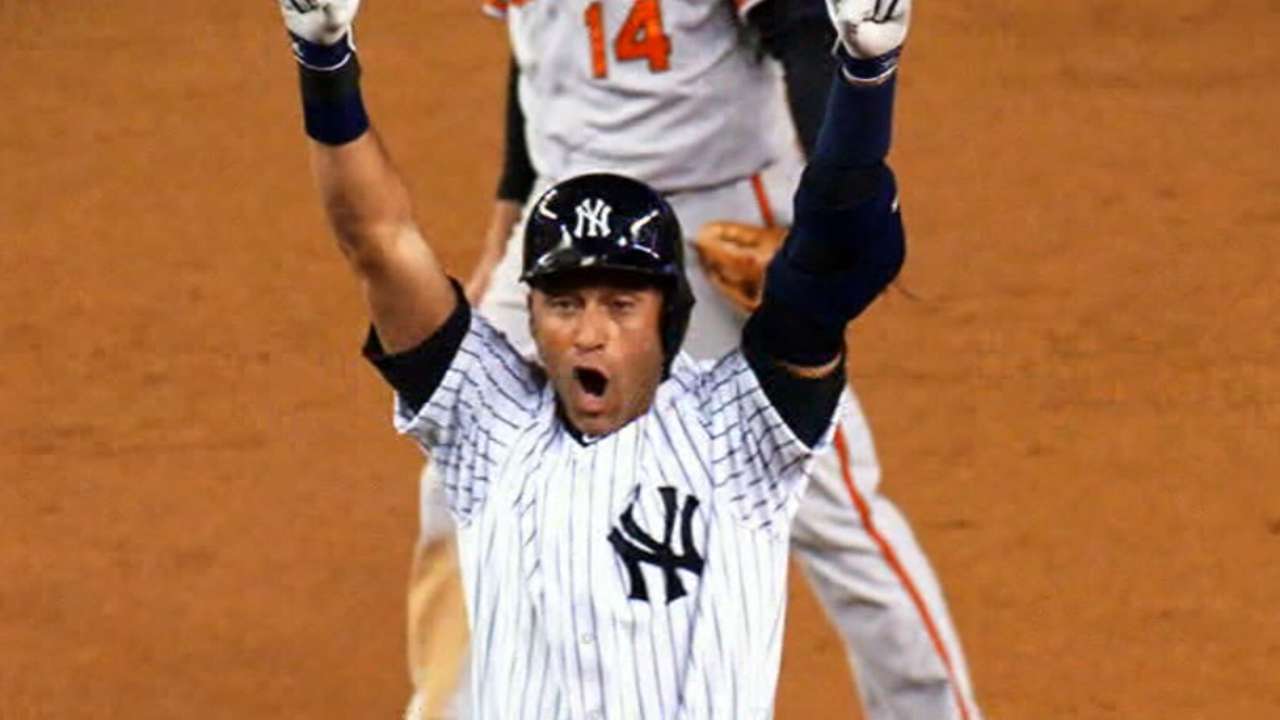 "This is all I've ever wanted to do, and not too many people get an opportunity to do it," Jeter said that night. "It was above and beyond anything I'd ever dreamt of. I've lived a dream."
Jeter finished that night 2-for-5 with a double, three RBIs and a run scored, capping the evening with his hit off Baltimore's Evan Meek to drive in pinch-runner Antoan Richardson. Jeter was lauded on the field by teammates past and present while being showered with deafening cheers from fans in the stands.
"I wouldn't have believed it myself," Jeter said. "Everyone dreams of hitting a home run in the World Series or getting a game-winning hit, but no -- I mean, I was happy with a broken bat and a run scored, I was happy with that being the end. But I'll take this one."
Major League Baseball's A-listers won 2014 GIBBY trophies based on votes by broadcasters, reporters, front-office personnel, MLB alumni, fans at MLB.com and the Society for American Baseball Research.
This year's GIBBY Awards feature winners in 25 categories. Individual honors went to the Most Valuable Major Leaguer, in addition to the year's best starting pitcher, everyday player, closer, setup man, rookie, breakout everyday player, breakout pitcher, bounceback player, defensive player, manager, executive and postseason MVP.
GIBBY trophies also were awarded for the year's top regular-season play, outfield throw, storyline, hitting performance, pitching performance, oddity, walk-off, Cut4 Topic, regular-season moment, postseason storyline, postseason walk-off and postseason play.
In the past several seasons, fans have cast millions of votes across the GIBBY categories, none of which is restricted to individual league affiliation. That's how you know the GIBBYs consider the best of the best.
All 30 clubs were represented among the award candidates, which is a testament to the competitive balance around the game.
Bryan Hoch is a reporter for MLB.com. Follow him on Twitter @bryanhoch and read his MLBlog, Bombers Beat. This story was not subject to the approval of Major League Baseball or its clubs.