Inbox: What's next on Mariners' offseason agenda?
Beat reporter Greg Johns responds to questions from fans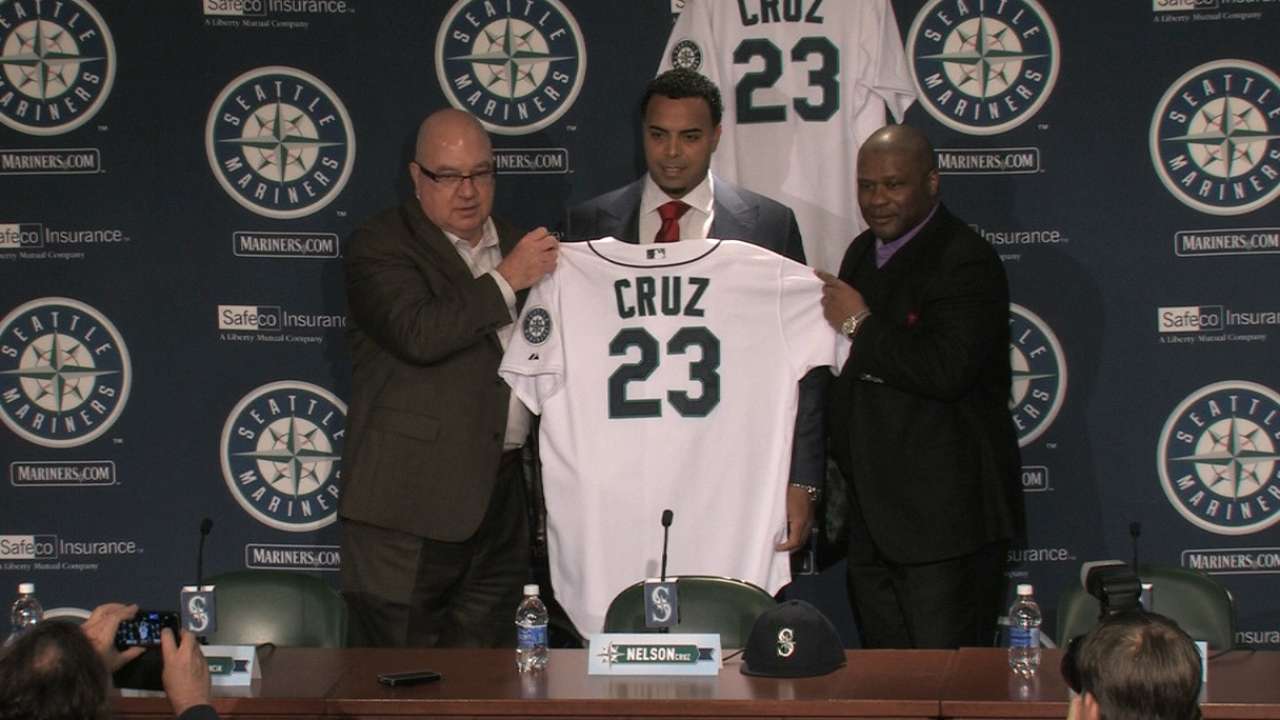 Here's the latest in our Reader Inbox series before the Winter Meetings open Monday in San Diego. You can click here to submit a question of your own.
What's next for the Mariners? Do you think they're more likely to get Justin Upton or Matt Kemp?
-- Corey R., Bellevue, Wash.
Seattle's clear remaining need is for a right fielder, preferably a right-handed hitter or switch hitter. But I don't see the Mariners giving up a top pitching prospect like Taijuan Walker to get one year of Upton, who'll be a free agent in 2016. Signing Nelson Cruz took some of the urgency out of that pursuit and general manager Jack Zduriencik was pretty adamant Thursday about wanting to keep his current group of pitchers intact and adding to his club -- not subtracting.
Kemp is more intriguing because he comes with five years of team control, but he'll cost a fortune both in trade return and in his remaining contract. I think it's more likely they try to sign one of the remaining outfielders in free agency, with Melky Cabrera and Alex Rios the top two remaining targets.
It's worth noting that the switch-hitting Cabrera is long-time friends with Robinson Cano, going back to their days coming up together in the Yankees organization. And since Seattle has already given up its first-round Draft pick as compensation for Cruz, Cabrera would only cost them a second-round pick despite also having a qualifying offer.
If the Mariners are willing to pay most of Kemp's contract, what kind of prospect would they give up? Maybe package either Chris Taylor or Brad Miller?
-- Alex T., Springfield, Mass.
There's a misconception out there that the Dodgers are just looking to dump Kemp's salary and someone like the Mariners could sweep in and grab him if they take on the $107 million and five years remaining on his contract. The Dodgers are indeed talking about moving Kemp, but they'll want a huge return in top-level prospects and/or proven Major League talent, even if a team takes on his salary.
Kemp had a huge second half last season and his $21 million annual salary isn't out of line with other players of his stature, assuming he's fully healthy again. You're likely talking about Taijuan Walker and Taylor or Miller, as well as a quality reliever -- or some kind of package like that. Andre Ethier or Carl Crawford would come cheaper, but Kemp's price tag will be steep.
Why did the Mariners play D.J. Peterson at third base in the Arizona Fall League? Why not get him time at first base, where he might be able to compete for a spot this season?
-- Ed H., Centralia, Wash.
Chris Gwynn, the Mariners' Minor League director, says Peterson has played enough first base in college and his pro career that he could move there easily enough if and when the time is right. But they wanted to keep developing him at third as much as possible in case he's ever needed there. It's important to have organizational depth at every position. Kyle Seager just signed a seven-year deal, but if Seager were to get hurt, the Mariners would need someone to step in and that's a harder position to learn than first base.
Have the Mariners given up on trying to bring back Chris Young?
-- Nathan S., Seattle, Wash.
Young remains available on the free-agent market, but that door probably shut in Seattle when the Mariners acquired J.A. Happ from the Blue Jays. Zduriencik was looking for one veteran starter to supplement his returning rotation and Happ assumes that spot, barring further trades.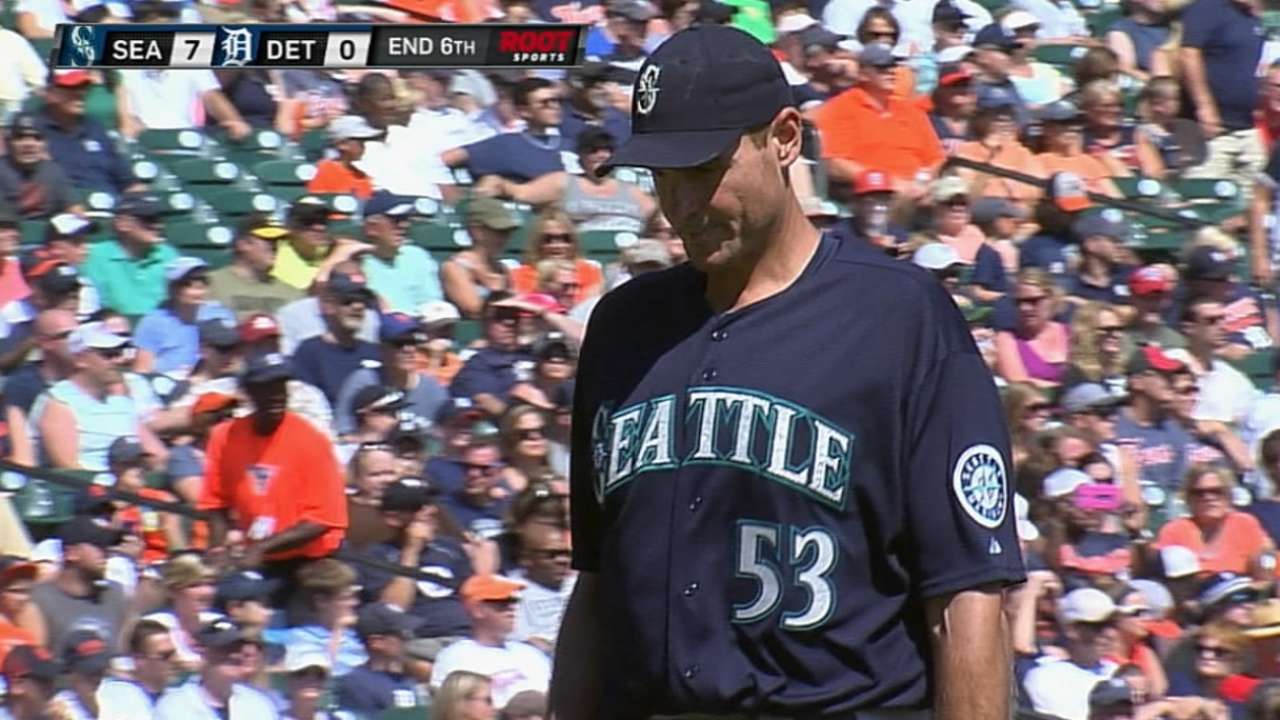 Did the Mariners recant their position on not getting anyone that has been found positive for steroids when they signed Cruz?
-- Ronald J., Salem, Ore.
I keep hearing people say the Mariners had some policy against anyone who'd been suspended for PEDs, but that was never the case. The Mariners traded for Michael Morse in 2013 and he'd been suspended earlier in his career for PEDs. Jesus Montero was suspended for PED use in '13, but he remains part of the organization. What is true is that the Mariners -- like all MLB teams -- certainly had internal debates about Cruz's contract value as he hit free agency last year coming off a 50-game suspension. Would he be the same player? Would he perform well outside of hitter-friendly Arlington?
The Mariners weren't the only team with those questions, which is why Cruz wound up signing a one-year, $8 million deal with Baltimore after Spring Training was already underway. He certainly put concerns to rest by leading the Majors with 40 homers and having the best year of his career. It's clearly easier to feel OK about offering a large long-term contract now than a year ago.
Are the Mariners interested in Jon Lester?
-- Zach R., Fircrest, Wash.
Lester is looking for something in the six-year, $150 million range and, like all the big-ticket free agent pitchers on the market, he isn't on Seattle's radar. The Mariners still have Felix Hernandez for five more years at $128 million. They owe Cano another nine years at $216 million. They just inked Kyle Seager for $100 million and Cruz for $57 million. While they're definitely increasing their payroll, they do have to choose their spots. The Mariners like their pitching. They want to add offense, and you can be pretty certain that any remaining money and moves will go toward that effort.
What can we expect from Danny Hultzen in 2015?
-- James, Seattle, Wash.
After spending all last season rehabbing from shoulder surgery and then making three appearances on the mound in instructional league games in Arizona, Hultzen is taking the winter off and is expected to be ready for the start of Spring Training. That said, the club is keeping expectations low as the 2011 first-round Draft pick has totaled just 35 innings of Minor League action in the last two years due to his shoulder issues. He's definitely expected to pitch this coming year, but almost certainly will begin the year in the Minors and then see how things develop while keeping a conservative innings limit.
Greg Johns is a reporter for MLB.com. Follow him on Twitter @GregJohnsMLB as well as his Mariners Musings blog. This story was not subject to the approval of Major League Baseball or its clubs.