Finding a left fielder of utmost importance to Reds
Club kicks off Redsfest at Duke Energy Center as players look ahead to 2015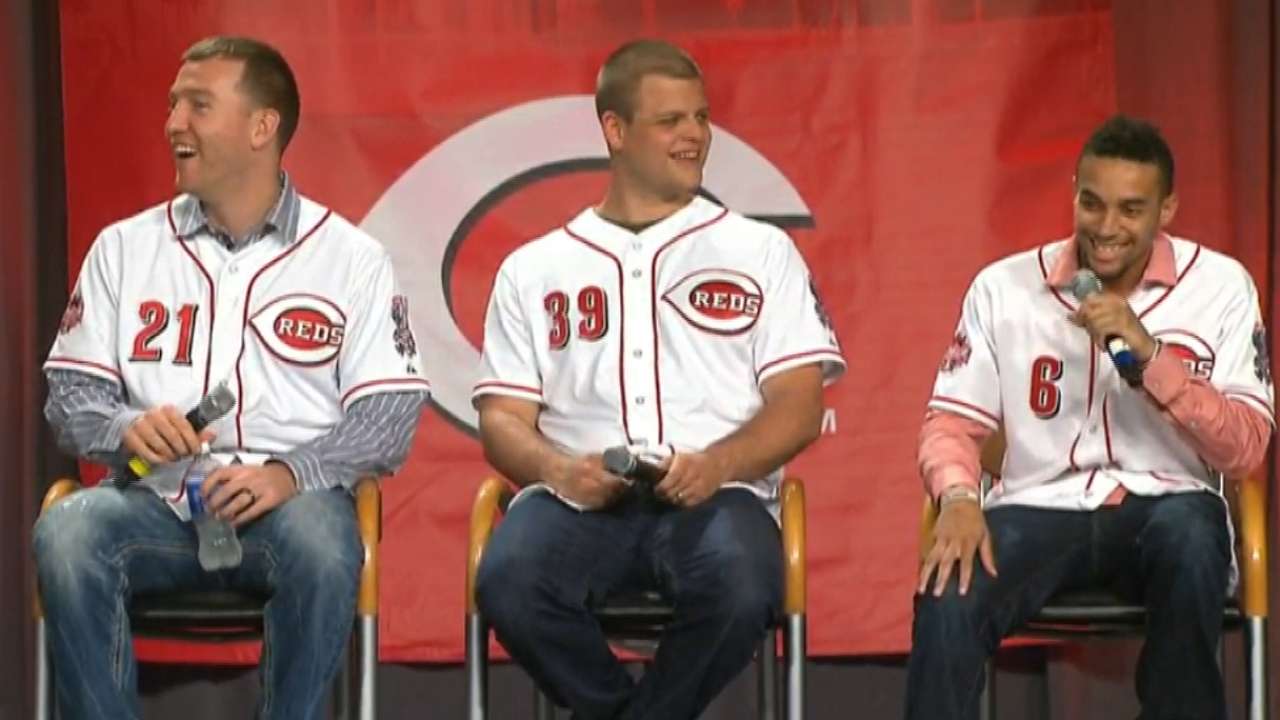 CINCINNATI -- On the Redsfest main stage Friday night, over 80 Reds players from past and present were introduced to an enthusiastic crowd at the Duke Energy Center. But there was one player missing who doesn't even have a name because no one knows just yet who exactly it will be.
The Reds still need a starting left fielder. Finding one is general manager Walt Jocketty's top priority during an offseason that's already nearing the halfway point. Expect his search to continue next week at the Winter Meetings in San Diego. Just like the media and fans, Reds players can only watch for developments and rumors.
"We need a left fielder. It's the elephant in the room," Reds third baseman Todd Frazier said. "We need that guy. We need a guy with power. We need a guy that's ready to go and play for such a great organization and knows when he's coming in, he's ready to fight and win games."
Jocketty made adding offense a top goal after the Reds often struggled at the plate during a 76-win 2014 season. Cincinnati was near the bottom in several categories and ranked 29th out of 30 clubs in team batting and on-base percentage.
Reds manager Bryan Price has been kept in the loop, when needed, about developments.
"Walt and I talk when something significant is actually happening," Price said. "There's a discussion, someone approaches us about one of our players or there's a free agent. We haven't had a ton of discussions. We'll see where it goes. I think there will be some roster turnover out of necessity."
The club's previous veteran left fielder, Ryan Ludwick, struggled last season and was beset by a shoulder injury in 2013. Ludwick, a free agent, will not be brought back. Chris Heisey, who played all three outfield spots, was traded to the Dodgers for Minor League pitcher Matt Magill on Tuesday.
Skip Schumaker, Donald Lutz and Jason Bourgeois still remain among the team's outfield group, but an everyday outfielder is still wanted.
"I would love it," right fielder Jay Bruce said of adding someone for the other corner-outfield spot. "I think everyone would love it. I think Walt would love it. I can't speak for him. Regularity in the lineup and on the team is a huge plus. I think that everyone is working diligently on the front-office side of things in order to add that piece. I don't know how they manage the payroll and how they have to look at the budget, but the goal is to have that lineup we can put out there every day and something you know you can put on the field and be confident."
The Reds have payroll limitations with $81 million already committed to 10 players under contract and will likely begin the season at well over $100 million. One of their top prospects, Jesse Winker, is probably a year away from being ready for the Majors.
Jocketty has been looking at mid-range free agents like Nori Aoki, Michael Morse and others. The club has also not ruled out making a trade, especially since it has four starting pitchers a year away from free agency in Johnny Cueto, Mat Latos, Mike Leake and Alfredo Simon.
Price hopes his rotation remains intact, but he's also realistic.
"I'd take these starting five pitchers any day of the week. You wouldn't find a guy who was any more excited to have these five returning starters healthy and ready to go," Price said. "Starting pitching is not an area where I feel we need to improve. That being said, we are challenged.
"I think the bottom line is we have to work with what we have to work with. I don't know if we're capable of giving everybody what it will take to, No. 1, keep them here and do what we want, payroll-wise."
Bruce realizes finding power hitters is difficult, especially given the market.
"Power is a premium," he said. "Pitching is as good as it's ever been. Hitting is as hard as it's ever been. There are a lot of different ways to provide value. I think Walt and those guys are looking for that every day and seeing what they can put out there."
There is a feeling that the Reds would have been contenders last season had the club not been decimated by injuries to Joey Votto, Brandon Phillips, Latos, Bruce, Homer Bailey and others. Those players are expected to be healthy next season.
"I believe in what we've got. I believe in our guys," catcher Brayan Pena said. "Right now, we've got a great team. If we stayed healthy -- look at our lineup. How many All-Stars do we have? I think we're fine. Whoever gets the opportunity to play left field will do a good job. I'm watching it. I'm paying attention to it 24/7 because this is my club. ... I believe there is a lot of talent out there. Whatever decision our front office makes, I will agree with whatever path we go. The only thing I wouldn't like is if they traded me."
Mark Sheldon is a reporter for MLB.com. Read his blog, Mark My Word, and follow him on Twitter @m_sheldon. This story was not subject to the approval of Major League Baseball or its clubs.