Bruce not concerned with rumors, committed to Reds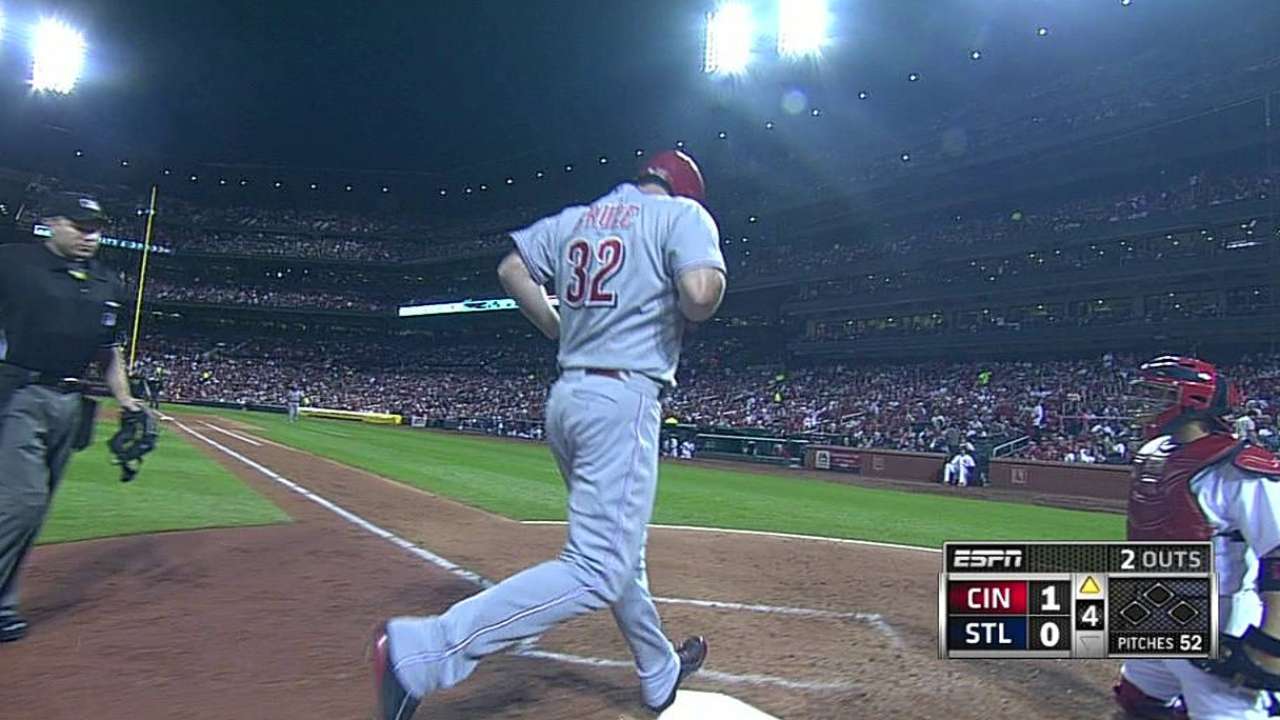 CINCINNATI -- Trying to fully rehabilitate his surgically repaired left knee and put the worst season of his Major League career behind him, this was already shaping up to be a different kind of offseason for Reds right fielder Jay Bruce.
Then Bruce became the subject of trade rumors over the past few weeks. Although he's been a member of the organization since he was a first-round Draft pick in 2005 and is a core player in the lineup, he was not upset about hearing he could be moved.
Bruce also spoke with Reds general manager Walt Jocketty on Thursday and understood the situation.
"You learn not to be surprised by anything. Also, it's all talk until it's not," Bruce said. "That's something you can't think too much about, honestly. Walt and I have spoken, and he just said nothing but great things. I'm very happy to be here and I want to be a Cincinnati Red. I don't want to go anywhere. But they have to do their due diligence and I don't blame them for doing that. We're trying to be the best team we can be. Changes happen sometimes. That's the way it is. I believe I'm a very big part of this team and I will be a big part of bringing a championship back.
"There is always a chance for anyone to get traded. That is the thing with the best teams. They're always listening for ways to make the team better. If they think a move like that can make them better, then I can't blame them for that. I think he wants me to be here. I want to be here. Until I'm not here, I'm here."
Bruce, 27, batted .217/.281/.373 with 18 home runs and 66 RBIs in 137 games last season. He needed arthroscopic surgery to repair torn meniscus cartilage in his left knee in May, but missed only two weeks while on the disabled list.
When Bruce returned to the lineup, he lacked power and his numbers eventually plummeted in the second half. After taking a little time off, he began therapy in October and has been pleased with his progress.
"I feel right on track. I don't think this is going to be an issue anymore," Bruce said. "Really, what I needed was a little rest. I think I got that. I'm back working out and training and getting ready for next year. I hope to never speak about my knee again."
Bruce has two years and $24.5 million remaining on his contract. Despite the rumors, trading him now doesn't make a ton a sense for a Reds team trying to get back into the playoff chase. They need offense -- Bruce hit 30 or more homers each season from 2011-13 -- and moving him now would be selling low.
"Last year was obviously miserable for me, miserable for the team," Bruce said. "I don't take that for granted. I take a lot of pride in returning to form and being better than I ever have been. I've always said that I'm not trying to be the player I have been. I'm trying to be the best version of myself. I have a lot of work to do. I look forward to applying some of that work and getting there this year."
Bruce feels that both he and the club have some unfinished business.
"I'm not here to just play for the Reds. I'm here to win a championship and bring a World Series back to Cincinnati," Bruce said. "That's something I take a lot of pride in. I look forward to getting back on that track this year and doing that."
Mark Sheldon is a reporter for MLB.com. Read his blog, Mark My Word, and follow him on Twitter @m_sheldon. This story was not subject to the approval of Major League Baseball or its clubs.