MLB.com Columnist
Phil Rogers
Trade rumors, aces headline Winter Meetings storylines
A possible Kemp trade and free agents Lester, Scherzer among Hot Stove intrigue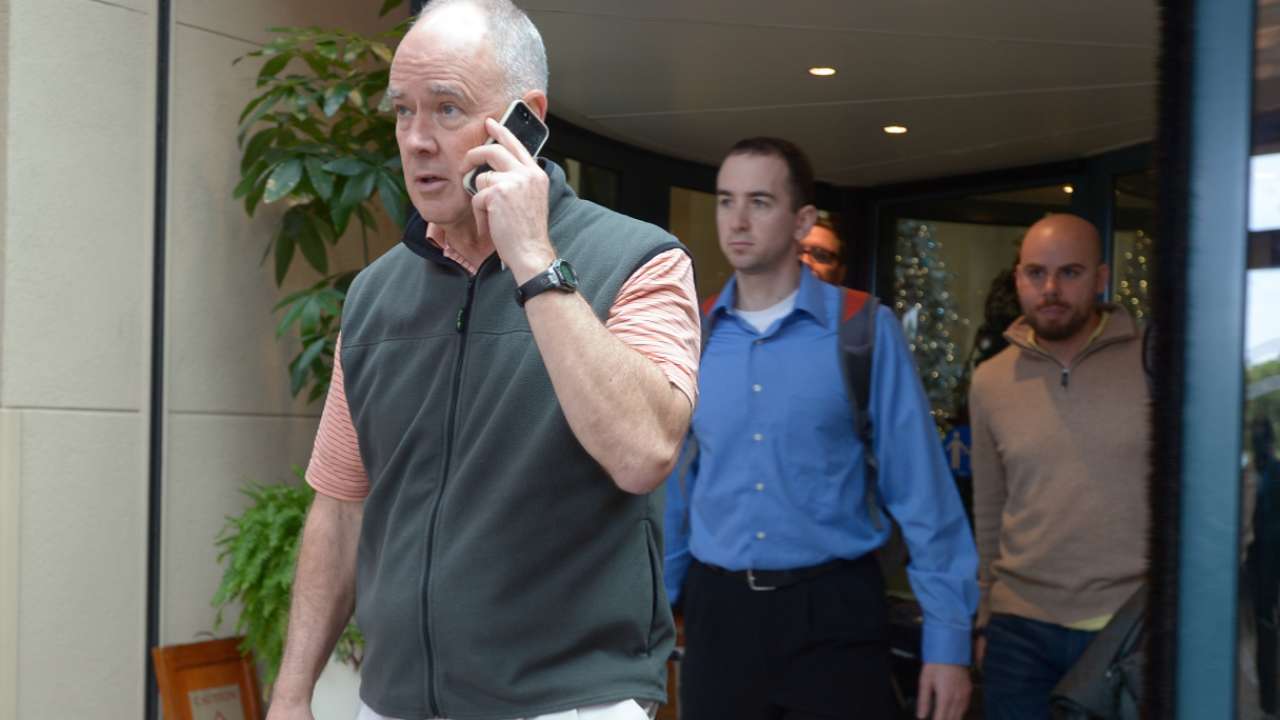 Maybe it doesn't mean that much. But on those occasions when the Winter Meetings are held in a city that has its own Major League team, there's a different dynamic.
It doesn't happen in Nashville. It doesn't happen at Disney World, in New Orleans or in Las Vegas. But when these meetings are held in a place like Dallas or Boston, they bring extra attention -- and possibly an even heightened sense of urgency -- to the home team.
That's worth remembering as the baseball world shifts west to San Diego for the Winter Meetings. Executives of all 30 teams begin gathering there this weekend and will stick around until Thursday, although new general manager A.J. Preller and others from the Padres won't have far to go when everyone else goes home.
It's only 1.3 miles -- a five-minute drive -- from the hotel to the Padres' offices at Petco Park. Think about that, for a minute.
You're Preller or Mike Dee, the Padres' president and CEO who chose Preller to replace Josh Byrnes as general manager with the franchise an afterthought in the National League West. Everyone else in your office, possibly including executive chairman Ron Fowler, is roughly 15 blocks away, waiting for you to work your magic on the roster. You're going to feel the need to perform, aren't you?
So here's one of many significant developments we should expect within the next week -- a Matt Kemp trade or other headline-capturing moves from the Padres. They started the Hot Stove season with ambitious, if unsuccessful, pursuits of free agents Pablo Sandoval and Yasmany Tomas. But to this point, their biggest moves have been signing reliable infielder Clint Barmes and non-tendering Everth Cabrera, who since his turn as an All-Star in 2013 has had his reputation damaged by a PED suspension and DUI charges.
At this point, Kemp is the biggest fish that Preller is known to be trying to land. But with revenues high across MLB and general managers more willing than ever to discuss deals involving their best players, almost anything seems possible for the Padres and most teams.
Every general manager who comes to San Diego will be working as hard as Preller to improve his team, if not under as much hometown pressure. It's been a busy month in baseball but the top free-agent arms remain on the market, leaving the second tier in a holding pattern, and there have been an unusual amount of conversations about the group of starting pitchers who are one year away from free agency -- guys like Jordan Zimmermann, David Price, Jeff Samardzija and Mat Latos, among others.
Ten of the top free-agent hitters have gotten their new deals, ranging from Torii Hunter's one-year, $10.5 million deal with the Twins to the $95 million and $88 million deals that Sandoval and Hanley Ramirez signed with the Red Sox. That puts the still-unsigned Melky Cabrera in a strong position and shifts the focus to the best hitters available in trades, like the Braves' Justin Upton, the Red Sox's Yoenis Cespedes and Allen Craig and the Dodgers' Kemp, Carl Crawford and Andre Ethier.
This could be a crazy, crazy week. But experienced GMs know that hype before the meetings doesn't always result in deals. That's why Cubs president of baseball operations Theo Epstein expects less activity than those of us who are reporting and speculating about it.
Epstein forecasts "a typical Winter Meetings," meaning lots of false rumors and waiting for transactions that are completed later in December, if they come together at all.
"The ratio of talk to action will be about 50 to one," Epstein said.
Given the volume of talk this offseason, a 50-to-1 ratio would still mean a level of activity that rewards fans for checking the Internet early and often.
What should you expect? Here's 14 of the most interesting storylines, and how they're likely to be resolved:
1. Jon Lester strikes it rich
With the Cubs, Giants and Red Sox chasing him, it appeared that Lester might sign before the Winter Meetings. But the Dodgers are now engaged, along with possibly the Cardinals and another mystery team or two. If the Dodgers really want Lester, they'll probably get him because other teams won't give the 30-year-old lefty a seventh or eighth year. But Andrew Friedman was hired to bring order to Mark Walter's organization, not just continue wild spending. My guess is he doesn't hand his agents, Sam and Seth Levinson, a blank check, in which case Lester will sign with the Cubs, where he can have as much impact in the second half of his career as he did in the first half in Boston.
2.The American League champion Royals deal from their position of strength by trading one of their top three relievers for prospects
That would allow them to have a legitimate chance to re-sign James Shields or add a second-tier starter on a short-term basis, keeping Brandon Finnegan in the bullpen for 2015. If they do make Greg Holland, Wade Davis or Kelvin Herrera available, there will be a lot of interest.
3. The Astros make a splash
Jeff Luhnow paid heavily for Scott Feldman a year ago and the move worked out great, with Feldman the leader of a young, promising rotation. That should empower Luhnow to make the high offer to a free agent or two this winter, with Melky Cabrera and Chase Headley among the possibilities.
4. The markets for Max Scherzer and Shields begin to be defined
Perhaps because Scott Boras seemed certain to take his time playing the Scherzer card, Lester is getting showcase treatment. The focus will shift quickly once he signs. My guess is the bidding for Scherzer will top what we've seen with Lester, and in the end, he'll sign a huge contract with the Yankees, Red Sox, Nationals or Cardinals. Oh, and don't be stunned if the White Sox make a serious attempt to get him. Shields will be also be the subject of intense interest (see item No. 6, below). He should be of interest to the Cubs if they miss on Lester and could be a good addition for at least a dozen other teams.
5. Teams motivated to pay heavily for one-year rentals
In addition to Zimmermann, Price, Samardzija and Latos, there have been trade talks involving Johnny Cueto, Mike Leake, Rick Porcello and Doug Fister. All are one year away from free agency and capable of being key pieces for contenders in 2015. Once the top free-agent arms go off the board, there will be a blockbuster or two with these guys. The most likely guys to be dealt are the Reds' veterans, with Latos or Leake being dangled for a power hitter. The best match is between the Reds and Red Sox -- perhaps Latos for Cespedes.
6. An unlikely suitor for big-ticket arms
The White Sox are as hungry to win as their crosstown rival and, like the Cubs, they have the flexibility to swim in the deep end of the pitching pool. Because Jose Abreu, Chris Sale and the underrated Jose Quintana are under control for 16 combined seasons at an average annual value (AAV) of $9.36 million, the Sox could afford to add a $20 million starter and stick with a rotation of him, Sale, Quintana and 2015 rookie Carlos Rodon through 2019. General manager Rick Hahn says he isn't too concerned about a newcomer earning more than the team's foundation guys, based on recent conversations with Sale, Quintana and Abreu. Samardzija is a good fit (although he seems intent on going onto the free-agent market next winter) but even Scherzer could be in play.
7. Buck Showalter issuing an APB for hitters
Having lost Nelson Cruz and Nick Markakis, the Orioles need to restock in the outfield. The Braves' Evan Gattis is a good fit, and some people think he'll be the guy traded, not Justin Upton. While Dave Stewart insists that Mark Trumbo is untouchable, he's such a good fit that you wonder if Dan Duquette won't still put together a package to pry him away from the D-backs, who have an outfield surplus after signing Tomas.
8. The next big move by the Blue Jays
Don't expect Alex Anthopoulos to stop after the many moves he's made so far, the biggest being adding Josh Donaldson, Russell Martin and outfielder Michael Saunders. Toronto still needs a No. 1 starter and could get that guy -- at least for 2015 -- by reaching into a stable of young pitching that includes Marcus Stroman, Aaron Sanchez, Daniel Norris and Roberto Osuna.
9. The Red Sox chasing every big pitcher on the market
If they can't get Lester back, they're going to have to get very busy adding frontline pitching to a rotation that currently has only one pitcher (Clay Buchholz) who threw 102-plus innings last year. General manager Ben Cherington has a wealth of outfielders and intriguing young players like Mookie Betts to shop if he can't find what he needs on the free-agent market. He could be forced to pay heavily for the Phillies' Cole Hamels or one of the Reds' starters.
10. The real Yankees will appear
Sure, Brian Cashman was productive in the days leading up to the Meetings. He not only acquired his Derek Jeter replacement in Didi Gregorius -- remember Phil Bengtson? -- he also made Andrew Miller the highest-paid reliever with one career save. But the Yankees weren't the highest bidders on Miller. You'd think that will change if they get involved with chasing Scherzer or Shields.
11. The Marlins look outward
It will be a happy holiday season for Giancarlo Stanton, but he agreed to backload his $325 million contract for a reason. Like everyone else in Miami, he's eager to see what GM Dan Jennings will do to help the Marlins chase a postseason spot. Jennings is looking to upgrade at first base and possibly second base, and as strong as the young rotation is, it wouldn't hurt to add experience. The Marlins are a good match for Headley, which would allow Casey McGehee to move to first base, but may bide their time in San Diego as they wait for the market to settle.
12. Talk that may not be cheap
Having bet on his health when Epstein signed him to a contract with the Red Sox, John Lackey, the Cardinals' No. 2 starter, is due to pitch for the minimum salary in 2015. GM John Mozeliak has said the unique contract was part of the appeal when he sent Joe Kelly and Craig to the Red Sox last summer, but recently acknowledged he'll discuss the situation -- and maybe a possible extension -- with Lackey's agent, Steve Hilliard, in San Diego.
13. The Mets need a shortstop, as you might have heard
Yes, they're still a good fit with the Cubs, who have Starlin Castro under control through 2020, but Epstein is setting a high price for his veterans, even surplus infielder Luis Valbuena. There's an intriguing option for the Mets and A's in Japanese ironman Takashi Toritani, who is represented by Boras, but it remains to be seen how seriously he's being taken.
14. About those satellite trucks from the San Diego stations
We're back to where we started. Everyone loves catching prospect Austin Hedges, who has become the guy that the Padres want handling their pitchers even if they don't know he can hit. That makes Yasmani Grandal available, and he could be the key piece in a trade for Kemp, who by the way is not a charity case. He hit 17 of his 25 homers after the All-Star break in 2014, with his .971 OPS in line with the numbers from his great 2011 season. The Dodgers don't want to deal Kemp, but they've got to clean up the overcrowded outfield. This is the deal in which they can do it, provided the Padres don't expect the Dodgers to pay too much of the $107 million remaining on his contract.
Phil Rogers is a columnist for MLB.com. This story was not subject to the approval of Major League Baseball or its clubs.