Papi shows softer side with children's charity
Red Sox slugger's fund finances heart surgery for kids in need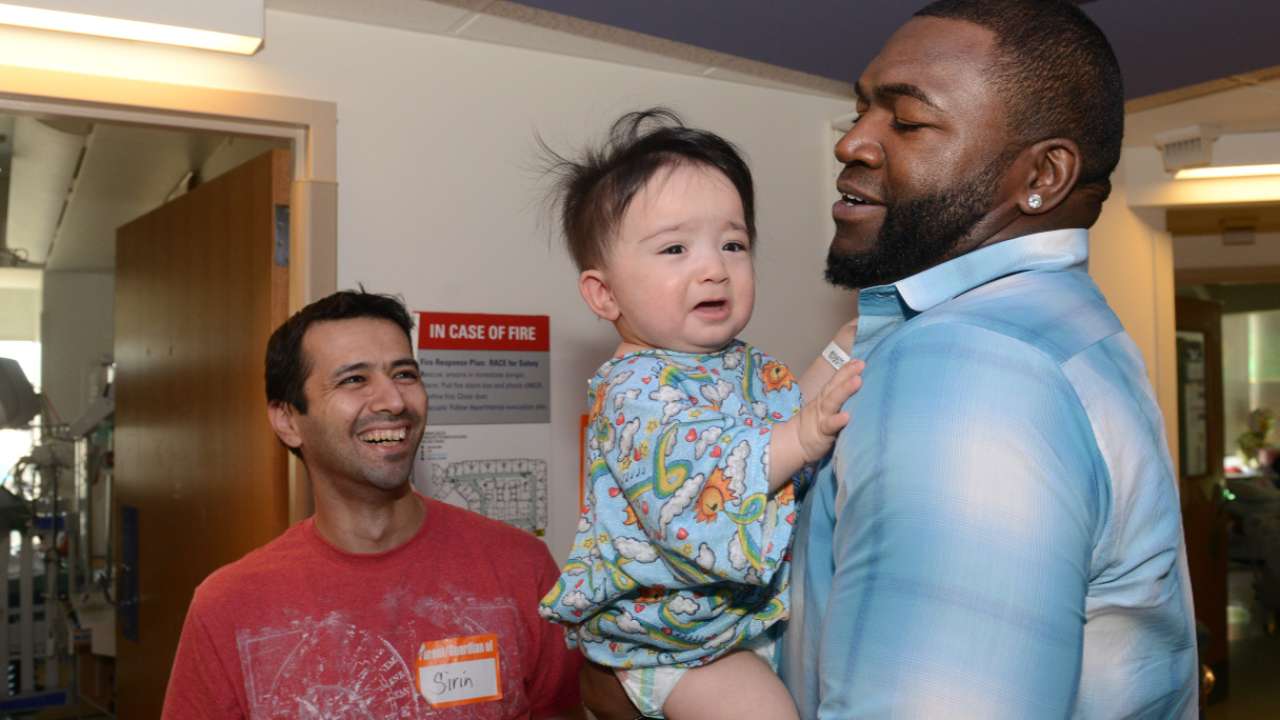 BOSTON -- To get to where David Ortiz is this weekend -- hosting his seventh annual Celebrity Golf Classic in Punta Cana in the Dominican Republic -- there was a sobering reality that came from a hospital visit roughly nine years ago.
Ortiz had visited some kids who had just undergone open heart surgery and before he even walked out of that hospital in the Dominican Republic, he knew that it was time to take his off-field game to another level.
Always a charitable type of person, Ortiz knew it was crucial that he put together something more tangible. He knew that the survival of some children might depend on it.
Soon thereafter, he would start the David Ortiz Children's Fund, which is committed to financing heart surgery for kids in need.
"I remember walking into the room at the hospital and they had a couple of kids, they just had their surgeries done at the time, but the whole surgery situation was a little delicate because the financial statement was pretty bad at the time," Ortiz said by phone on Friday. "And I saw both of these kids, one of them was the same age that my son D'Angelo was at the time.
"It was something that kind of impacted me big time and I definitely made the decision to do something about it because they had a huge list of children waiting to get that surgery done too, and it seems like their only hope was myself at the time."
One of the reasons the star Red Sox slugger enjoys his annual charity tournament so much is that he knows full well what a difference it has made.
"Thanks to God, everything has been working out pretty good," Ortiz said. "We have over 400 children already with heart surgery done. We're doing some other things. We've opened some hospitals down here with a pediatric unit."
To date, the Ortiz Children's Fund has raised over $1.5 million to help families finance open heart surgeries for their children.
For Ortiz, the personal interaction he's had with some of the families has been more meaningful than the checks he's been able to sign.
"It's made me so proud and happy because I get to see a lot of those kids before the surgery and after and it's a totally different game," said Ortiz. "It seems like once they have the surgery done, they can have the normal kid life, which is something we all know is what it's all about. They can function better, they can move around.
"Remember, before this surgery, they get tired too fast. They change color. Their circulation, the blood coming through their heart, it's not functioning the right way. And a lot of these kids, they don't make it. Once you see what the difference is, it kind of motivates you to keep on going, keep on doing these events and raising money to continue getting the surgeries for the huge list we have of kids."
The auction, which runs through Saturday, includes many items a baseball fan would love, including jerseys autographed by stars of yesterday (Ted Williams) and today (Mike Trout). There is also a VIP tour before a Red Sox Spring Training game, tickets to the season opener at Fenway Park, the chance to watch three innings inside the Green Monster and, yes, a hitting lesson with Big Papi.
Ortiz is joined this weekend by teammates Will Middlebrooks, Hanley Ramirez and Pablo Sandoval, as well as Red Sox icon Pedro Martinez, and some other prominent players throughout the game such as Robinson Cano, Jose Bautista and Edwin Encarnacion.
"I always encourage people to come down here, especially at this time of year, where everything is kind of freezing up in the States. Beautiful weather, and the most important thing is a lot of support from people," said Ortiz. "People already know how important this is for children."
The chance to watch Ortiz swing a golf club is just one of many reasons to attend his tournament. Let's just say that it's a little more unpredictable than when he swings his lumber on a warm, summer night at Fenway Park.
"You know, I can drive the ball real well. I just don't know where it's going to land at," said Ortiz. "The course that we play at here, Punta Espada, it's one of the best courses in the country. We have a lot of good courses, but this one is one of the best all the way around because it's on the coast. You're playing, but it's like you're on the beach at the same time. It doesn't get any better."
With three World Series rings already in his possession, not to mention the specially-made World Series MVP ring that the Red Sox made for him, Ortiz is still hungry for more success.
Next season will be his 13th with the Red Sox and 19th overall. Some days, his body tells him as much.
"Everything is starting to hurt," chuckles Ortiz. "That's the game telling you that you're old, you have to hang it up at some point."
Don't worry, Red Sox fans. Ortiz isn't thinking of hanging it up just yet. He has one more year on his contract, and then club options for 2016 and '17.
"In my case, as long as I'm having fun and I'm doing what I'm supposed to, I think that's as long as you guys are going to see me on the baseball field," Ortiz said.
The work for next season started quite a while ago for No. 34.
"I keep on working out," said Ortiz. "I never stop. I do that all year round and it's because you're not getting any younger. In my case, I really start focusing on Spring Training in January. That's when I start hitting, and thinking about the things that I need to do to continue improving and stuff."
Ian Browne is a reporter for MLB.com. Read his blog, Brownie Points, and follow him on Twitter @IanMBrowne. This story was not subject to the approval of Major League Baseball or its clubs.