MLB.com Columnist
Terence Moore
Hunter's homecoming is latest in great baseball tradition
For years, ballplayers find way to end careers where they began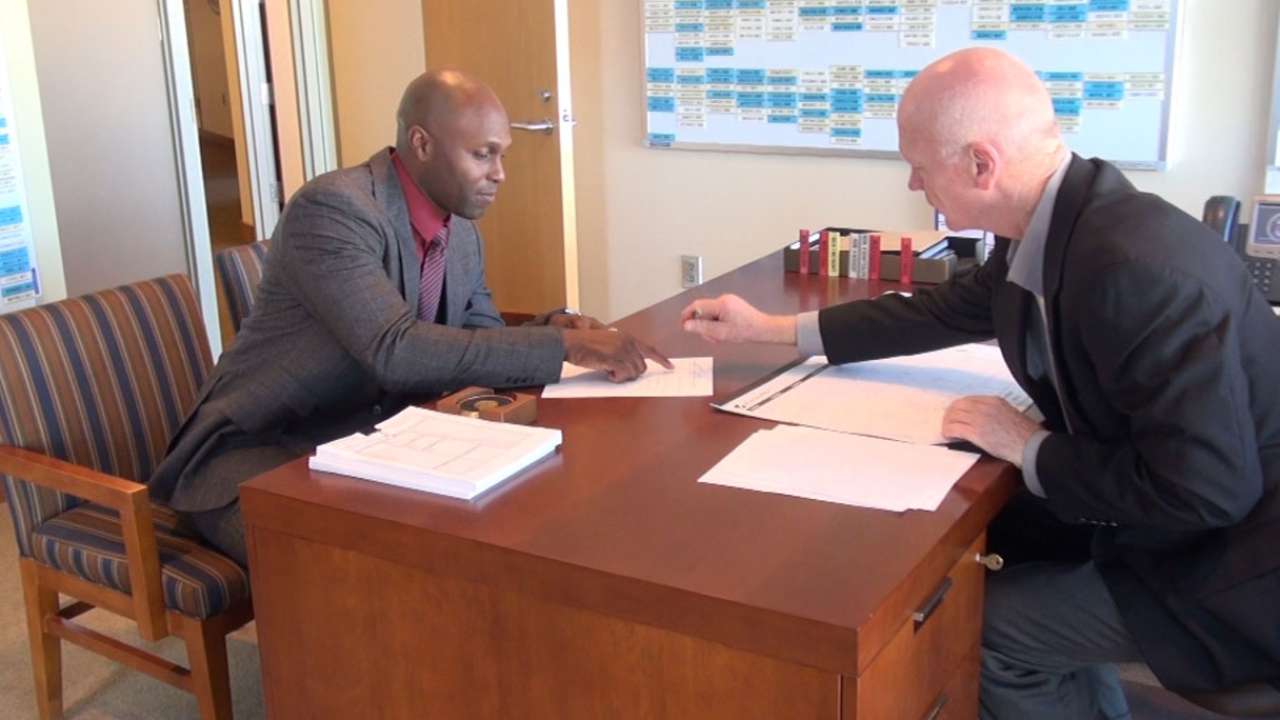 If you're into logic, Torii Hunter isn't your guy. That's because it didn't make sense for this 39-year-old outfielder to sign this week as a free agent with the Twins, especially since they are several line drives away from respectability. Remember, too, that he is rounding third base during his career, and he has yet to capture his first World Series championship ring.
This is a baseball thing, and this is a splendid thing.
To translate, when you study the history of the Major Leagues, Thomas Wolfe was wrong: You can go home again.
Well, such is the case for Hunter, who just spent nearly two decades making the transition from Twins player to Angels player to Tigers player to Twins player for a grand finale. He is the latest among many athletes along these lines. As for the others, their resumes differed from that of Hunter, but their reasons for going back to the future were the same.
Nostalgia comes to mind. So does appreciation, gratitude and just a sense that they owe something to those who gave them a chance to sprint toward greatness at an early age.
Did I say this is a baseball thing?
Yeah, I know. There is that National Basketball Association guy who can dribble, shoot, rebound and pass a little for the Cavaliers. LeBron James returned to Cleveland this season after a pit stop in Miami, where he won a couple of NBA championships. He followed the rarely traveled path in his league of Allen Iverson and Scottie Pippen, along with...
Actually, that's about it when it comes to noted NBA players who returned to finish their careers with their original teams.
In the National Hockey League, Chris Osgood was the goalie in Detroit along the way to three Stanley Cup trophies. Then he left, but he returned to end his 17 NHL seasons with the Red Wings. As for other players in the league who did their version of Osgood, I'm thinking. I'm sure there were a few others, and I emphasize the word "few."
Just like I'm sure there were a "few" other National Football League players who resembled Herschel Walker and Shannon Sharpe by returning to their original teams before retirement. The closest thing to those other players in the NFL came through a fad created by Roger Craig in the early 1990s. Craig signed a one-day contract to retire with the San Francisco 49ers, his original team. Years later, Donovan McNabb did something similar with the Philadelphia Eagles. Just recently, Champ Bailey did a one day deal with the Denver Broncos, and there have been many copycats in between.
I'm trying to think of NFL players who were more like Walker and Sharpe and less like Craig's gimmick.
I'm still thinking.
So this really is a baseball thing. Just ask long-time Giants fans, still sighing over their near miss with Willie McCovey.
To hear Giants fans tell it, there was no way their left-handed icon could finish his career wearing those mustard brown uniforms of the Padres or (even worse) retire across San Francisco Bay with the A's. He eventually spent the last four of his 22 Major League seasons with the Giants.
Speaking of the A's, they had their legend in Reggie Jackson. Despite all of his famous swings with the Yankees and standout moments with the Angels, he ended in Oakland, where Mr. October began. Elsewhere, Pete Rose and Tony Perez didn't find the Big Red Machine when they returned to Cincinnati, but they were hugged by their same grateful followers among Reds fans. The Braves brought back Phil Niekro and Tom Glavine. Somehow, Ferguson Jenkins had to finish with the Cubs, and he did.
Others who returned to their original clubs included Harold Baines with the White Sox, Orel Hershiser with the Dodgers, Andy Pettitte with the Yankees and Ken Griffey Jr. with the Mariners.
Now Hunter returns to the Twins.
Again, forget logic. If you can't, I understand.
Hunter was effective enough with the Tigers last season to hit .286 with 17 home runs and 83 RBIs. He also hasn't lost much on defense, which means he could have taken his skills to a team closer to October glory. Instead, he chose the rebuilding Twins, with new manager Paul Molitor and more prospects than veterans throughout their roster. During each of the past four seasons, they've averaged 96 losses, and they've finished out of first place in the American League Central by an average of 25 games.
It's just that Hunter's heart trumps logic. He spent the first 11 of his 18 seasons in the Major Leagues with the Twins as their most beloved player since Kirby Puckett. During that stretch, he set the foundation for a near Hall of Fame career that would produce five All-Star Games, nine Gold Glove Awards and two Silver Slugger Awards. He departed the Twins after the 2007 season for a five-year stint with the Angels before spending the last two with the Tigers.
Neither Anaheim nor Detroit was home for this native of Pine Bluff, Ark. He lives during the offseason in the Dallas area. Then there is Hunter's other home, which is his eternal baseball home with the Twins.
Good for him.
Good for everybody.
Terence Moore is a columnist for MLB.com. This story was not subject to the approval of Major League Baseball or its clubs.