MLB.com Columnist
Jonathan Mayo
Pipeline Inbox: Can Funkhouser move up the Draft board?
Jonathan Mayo responds to fans' questions about baseball's top prospects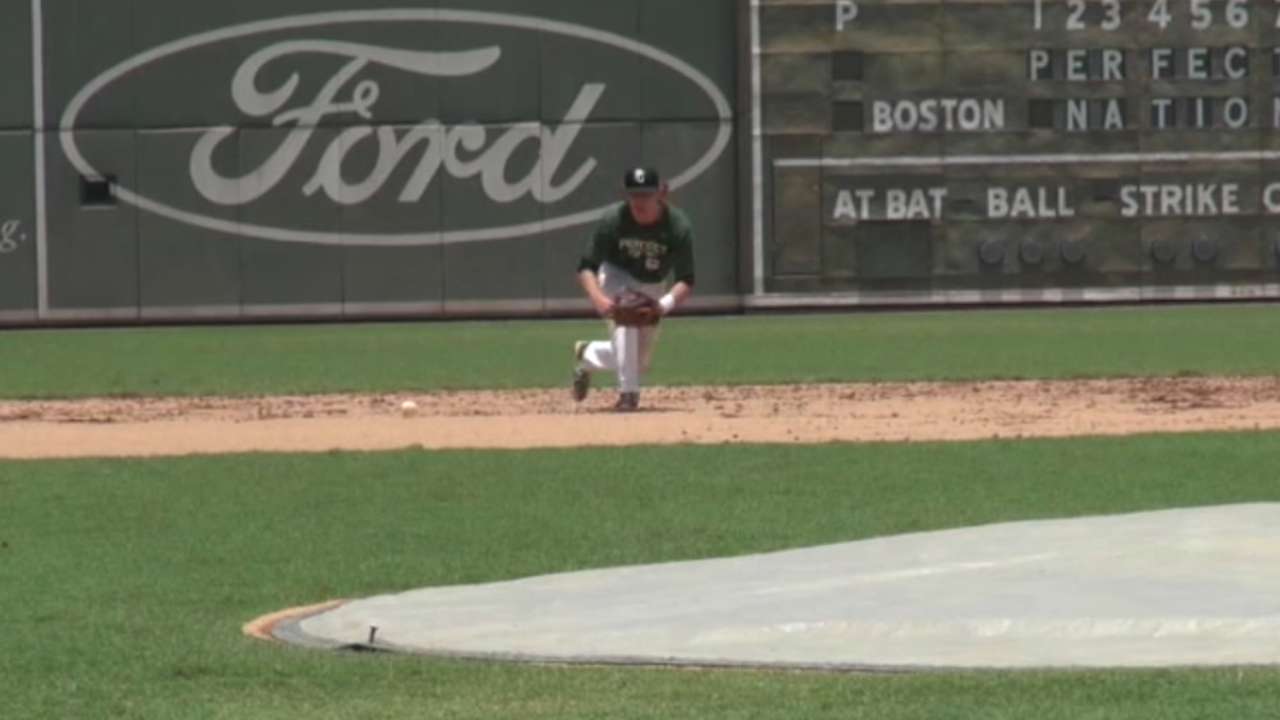 With the release of our Draft Top 50 prospects list, there's some good Draft talk going on, even if the event is still six months away. So this week's Inbox is dedicated to questions about the 2015 First-Year Player Draft.
Any chance Kyle Funkhouser could move even further up the Draft board if he has a strong 2015?
-- Glenn M., Edgewood, Ky.
Aside from having perhaps the most marketable name in the Draft class -- one Red Sox fan on Twitter is already dreaming of adding the Funk to the Stank (Teddy Stankiewicz) to the organization -- he does have the kind of upside where Glenn's question makes a lot of sense.
Funkhouser is currently ranked No. 6 on that Top 50 and that's not exactly a bad placement for the Louisville right-hander. When Jim Callis and I took a shot at an early top 10 picks projection, Jim had Funkhouser going No. 7 to the Red Sox; I had him at No. 8. In my comments, I noted that a strong junior season, on the heels of a great summer which capped off a solid sophomore campaign, could move him ahead of some of the other arms ranked ahead of him.
I still think Michael Matuella is the class of the college pitching crop if he stays healthy. But that might still be a big if for some. With the way Funkhouser threw last year and over the summer, I don't think it would shock anyone if he performed better than Walker Buehler or Nathan Kirby, the two other college pitchers ranked ahead of Funkhouser. He's bigger and more physical than Buehler, which might give him an edge with some teams who don't like undersized right-handers. A scenario where Matuella doesn't live up to expectations or is still dealing with some back issues and Funkhouser moves past Buehler and Kirby, making him the first college arm taken in the Draft, isn't completely unreasonable sounding.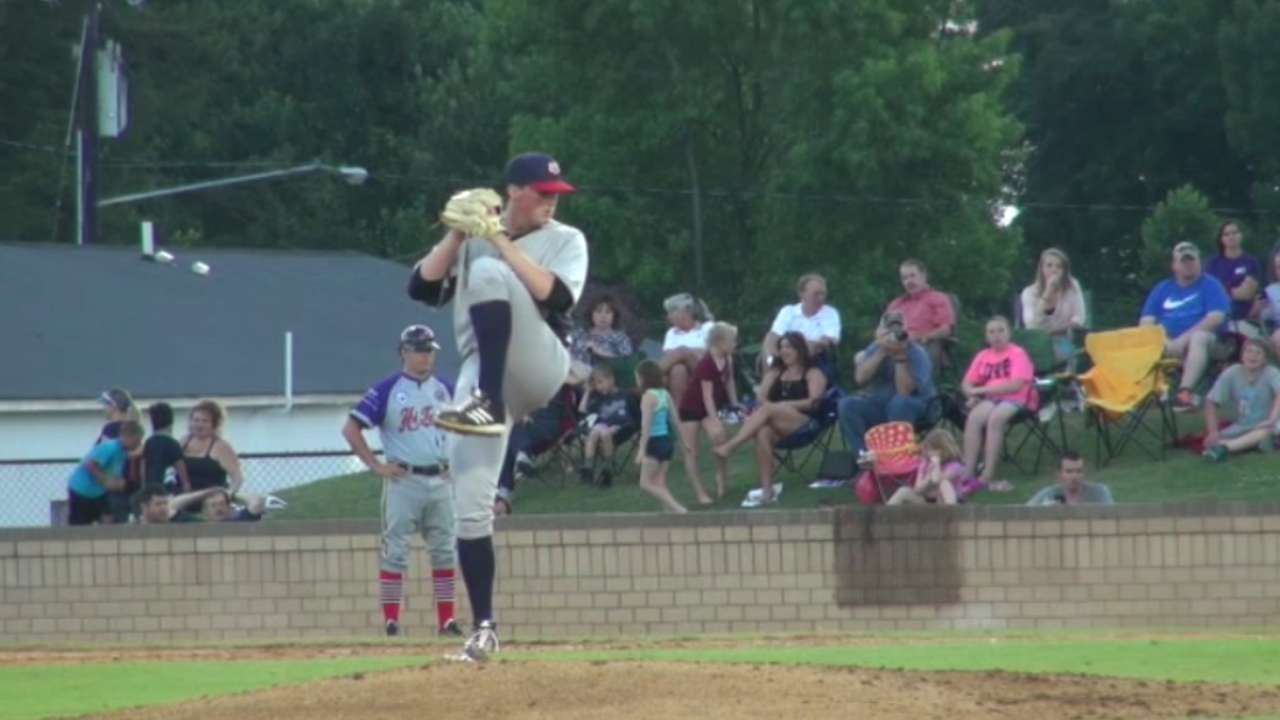 With the Rangers going on a hot streak in September to fall to pick No. 4, how big is the drop in talent from pick Nos. 1 to 4?
-- Christopher F., Austin, Texas
While I don't think there is any huge drop-off right at the top, I do think there is a clear top three, at least as we look at it right now. Brendan Rodgers, Matuella and Brady Aiken make up that trio.
The next set of three are the college pitchers mentioned in the previous question and we might be splitting hairs by trying to separate them out too much. (The top three have overall grades of 60; Buehler, Kirby and Funkhouser have 55s.).
By the time we get to June, some from that next set might move up, some in the top trio will invariably move down, and there are always some as-of-yet not ranked so highly guys who'll creep into that top five conversation. There usually is some separation at the very top, but I don't think it will be the kind of drop-off you fear, where that Rangers' hot streak cost them dearly in terms of impact talent.
The White Sox pick eighth. Where can you see them going?
-- Corey D., Mokena, Ill.
As I mentioned in that top 10 picks projection, figuring out which team will take which player in December is a bit premature. But there are certain ways you can look at and try to make an educated guess based on where things are now.
The strength of this Draft class is in pitching and the White Sox haven't shied away from college arms with their first pick in the past, taking Carlos Rodon last year and Chris Sale back in 2010. And, as the old adage goes, you can never have enough pitching. That's why I gave them Funkhouser at No. 8 in my projection.
Callis went the college position-player route with Dansby Swanson from Vanderbilt. The White Sox took Tim Anderson from the junior college ranks in 2013, but some feel he won't stay at shortstop. Swanson should stick there.
Finally, there's always the toolsy athlete route. Anderson fits that mold, so do Jared Mitchell, Courtney Hawkins and Keenyn Walker, all former White Sox top picks. The only player who really fits that description right now in that neck of the woods is Daz Cameron, but strong performances by other high school position players could vault them into top 10 consideration.
If Kyler Murray does get drafted, will he be a first-round pick?
-- Anthony A., Mission, Texas
Murray might be the most intriguing prospect in our Draft Top 50. We have him ranked No. 29 on the Top 50 and that might really be light based on his raw tools, athleticism and bloodlines. For those of you unfamiliar with him, he's also the top-rated dual-threat quarterback in the country, the only player ever to play in the Under Armour All-American Games in both football and baseball.
There is no question that Murray will get drafted by someone, at some point. Teams will be working to determine his signability -- he is committed to playing both sports at Texas A&M next year. How that question is answered will determine if a team is willing to take a shot at signing him.
Gone are the days where a team can draft a player like Murray and spend as much as it wants to sign him. But even within the confines of a team's pool, it can get creative and save money elsewhere to go over pick value to entice a talent like Murray to play baseball full-time. He doesn't necessarily have to go in the first round, but I have to think it will take first-round money to convince him to not head to the Aggies.
Jonathan Mayo is a reporter for MLBPipeline.com and writes a blog, B3. Follow @JonathanMayoB3 on Twitter. This story was not subject to the approval of Major League Baseball or its clubs.