Dempster retires with Cubs, joins front office
In new role, former pitcher will visit Minor League affiliates, evaluate Draft prospects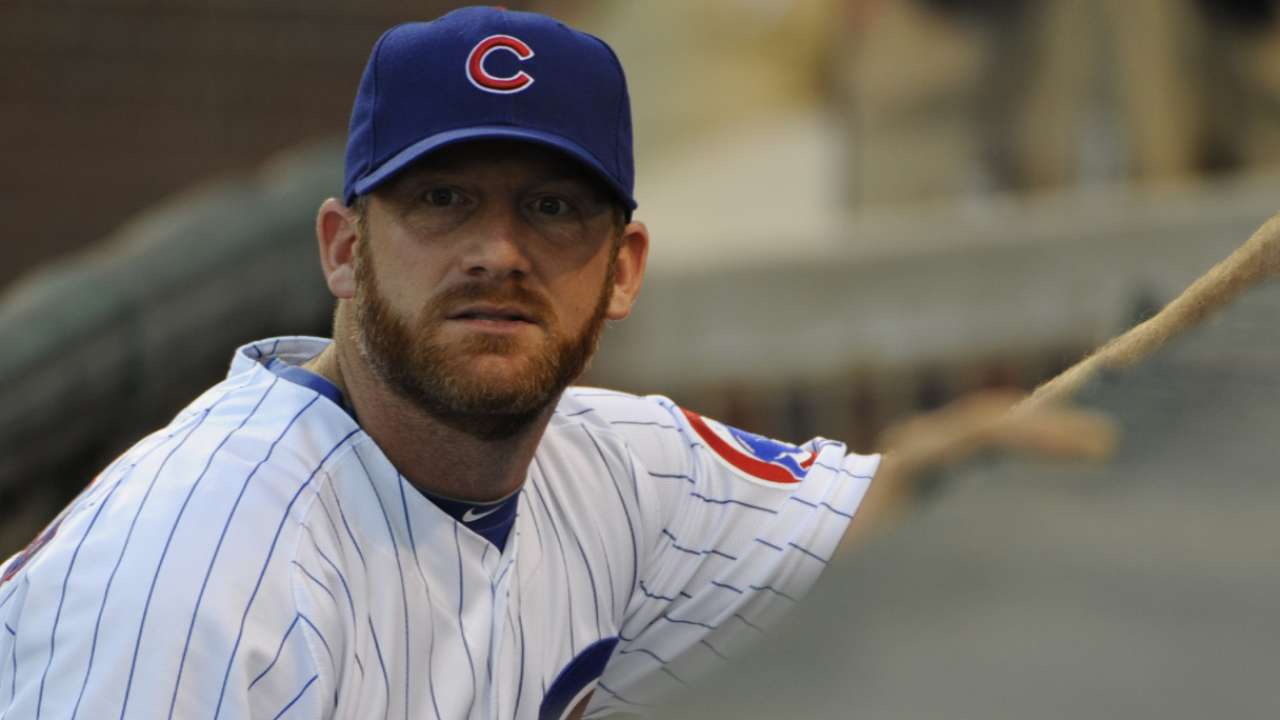 CHICAGO -- Ryan Dempster doesn't have an office yet at the Cubs' complex near Wrigley Field but he lives close enough to the ballpark that it will be no problem for him to come over whenever he's needed in his new role.
Dempster, 37, who did not pitch in 2014, officially announced his retirement as a player on Friday, but he also has a new job as a special assistant to Cubs president of baseball operations Theo Epstein and general manager Jed Hoyer.
Dempster left the game on a high note as part of the Red Sox's World Series championship team in 2013. He said it wasn't a tough decision to retire.
"I think just going through this past season and not missing it as much as I thought I would made the decision a lot easier," he said. "I had a great year off. I got to travel a lot, spend a ton of time with my kids -- things I never got to do -- and I got to go out on top and win a World Series. Now I can be on the other side in the front office and help get a World Series here to Chicago with the Cubs, because that's what I dreamt about as a player and that's what I want as a front-office member."
Dempster pitched for the Cubs from 2004-12, first as the closer and then as a starter. In his 16 seasons in the Major Leagues, he compiled a 132-133 career record and a 4.35 ERA in 579 games, including 351 starts.
His 132 career wins are the second most in Major League history by a player from Canada. The all-time leader is former Cubs great Ferguson Jenkins with 284.
On July 31, 2012, Dempster was traded to the Rangers for two Minor Leaguers, including Kyle Hendricks, who broke into the Cubs' rotation as a rookie last season and went 7-2 with a 2.46 ERA in 13 starts.
"When you leave an organization and go somewhere and get traded and you care so much about that place, like I do here, and to see one of those guys [you were traded for] come up and be an impact pitcher at the big league level, it makes you feel good," Dempster said of Hendricks. "It makes you feel like, 'Hey, we got something for me and made the organization better.'"
Dempster's new job requires him to help make the Cubs better. Dempster will spend time with the club during Spring Training, visit the Minor League affiliates during the season, evaluate amateur players leading up to the Draft and perform professional scouting assignments.
"Demp has a lot to offer," Epstein said. "He has a lot of insight into the game of baseball and into people. He's a lot of fun to be around, and most importantly, he cares about the Cubs and loves this organization. When he says he wants to make it better, it's coming from a genuine base.
"He can relate to current players, he can relate to young kids in the Minor Leagues, he can talk to front-office guys and scouts. He's going to be an asset for us, evaluating and helping players in their development and perspective."
Dempster said he'll continue to do some work for MLB Network -- which means he'll have a place to wear his outrageous sport coats -- as well as learn about the other side of the game.
"The nice part is this is my home here, I'm living here just a few blocks away and can always be around," he said. "I never thought I'd enjoy teaching and coaching until I coached a bunch of 8-year-olds. I'm looking forward to upping that age level to some 18- to 20-year-olds and contribute wherever I can and pass along some things that I learned along the way."
Carrie Muskat is a reporter for MLB.com. She writes a blog, Muskat Ramblings, and you can follow her on Twitter @CarrieMuskat. This story was not subject to the approval of Major League Baseball or its clubs.