Pierce thrilled to be part of Golden Era ballot
Lefty hopes to be inducted with fellow White Sox great Minoso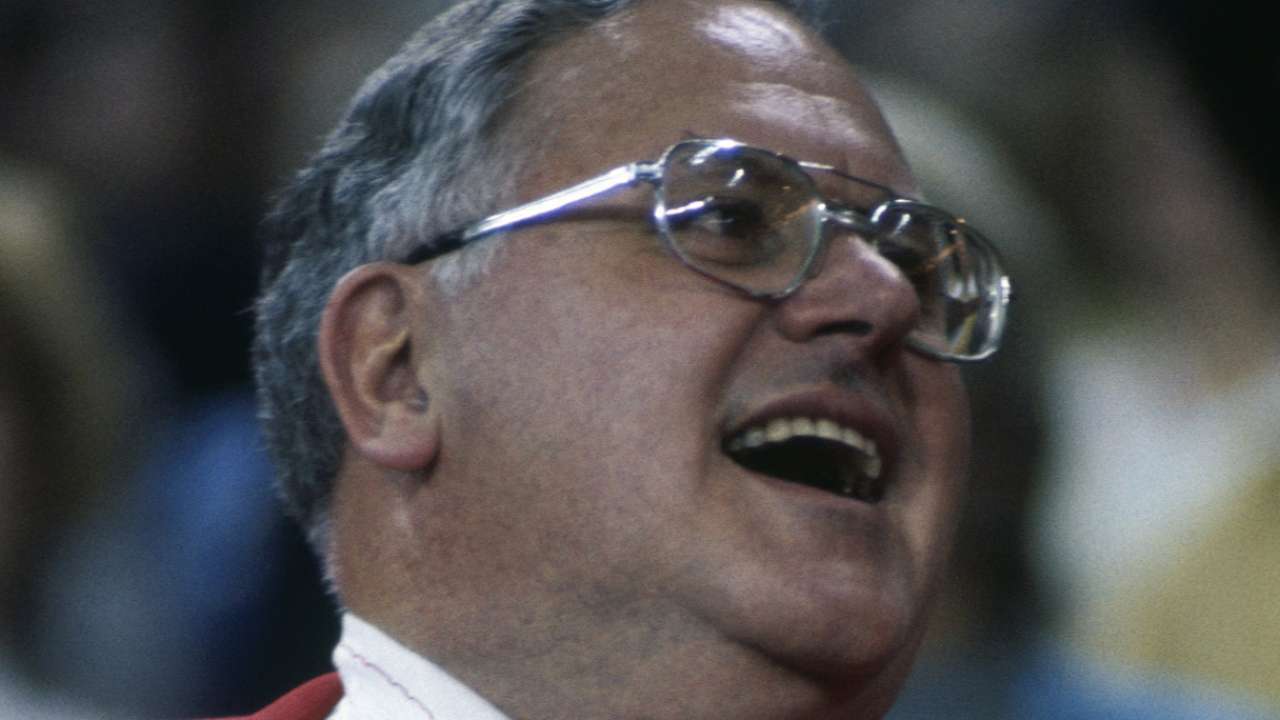 CHICAGO -- When Billy Pierce returned to San Francisco for the 50-year anniversary of the 1962 Giants reaching the World Series, he was paired with another of the organization's fairly prominent southpaws in Madison Bumgarner.
"I remember telling my wife that I had a very nice young fellow walking me up to home plate," said Pierce during a recent phone interview of his Bumgarner meeting. "I didn't get a chance to talk to him that much, but I was definitely pulling for him in the World Series."
Bumgarner pitched like a Hall of Famer during the Giants' run to their third World Series title in the past five seasons, allowing four earned runs over 36 2/3 innings combined during five games covering the National League Championship Series and the World Series. Bumgarner was named the Most Valuable Player in both of those series.
Pierce never won an MVP, in the playoffs or during his 18 big league seasons. In fact, he only had one top five finish, in 1956 with the White Sox. But it's his impressive body of work, a greatly underrated body of work at that, which has put the affable 87-year-old on the Golden Era ballot for Hall of Fame election.
Results from the vote on this 10-player ballot will be announced at 1 p.m. CT on Monday at a press conference from the Winter Meetings in San Diego. Any candidate who picks up at least 75 percent of ballots cast by the 16-person Golden Era Committee will be inducted into the Hall of Fame as part of the Class of 2015 during the weekend of July 24-27 in Cooperstown, N.Y.
These particular Golden Era candidates, focusing on the 1947-72 time period, have a distinctive White Sox feel. Minnie Minoso, Dick Allen, Jim Kaat and Ken Boyer all played for the South Siders at some point, along with Pierce.
Having been White Sox teammates with Minoso from 1951-57 and 1960-61 -- both currently serve as White Sox community relations representatives -- the prospect of going into the Hall of Fame together strikes Pierce as something fantastic. It also would be fantastic for the city of Chicago, in Pierce's mind.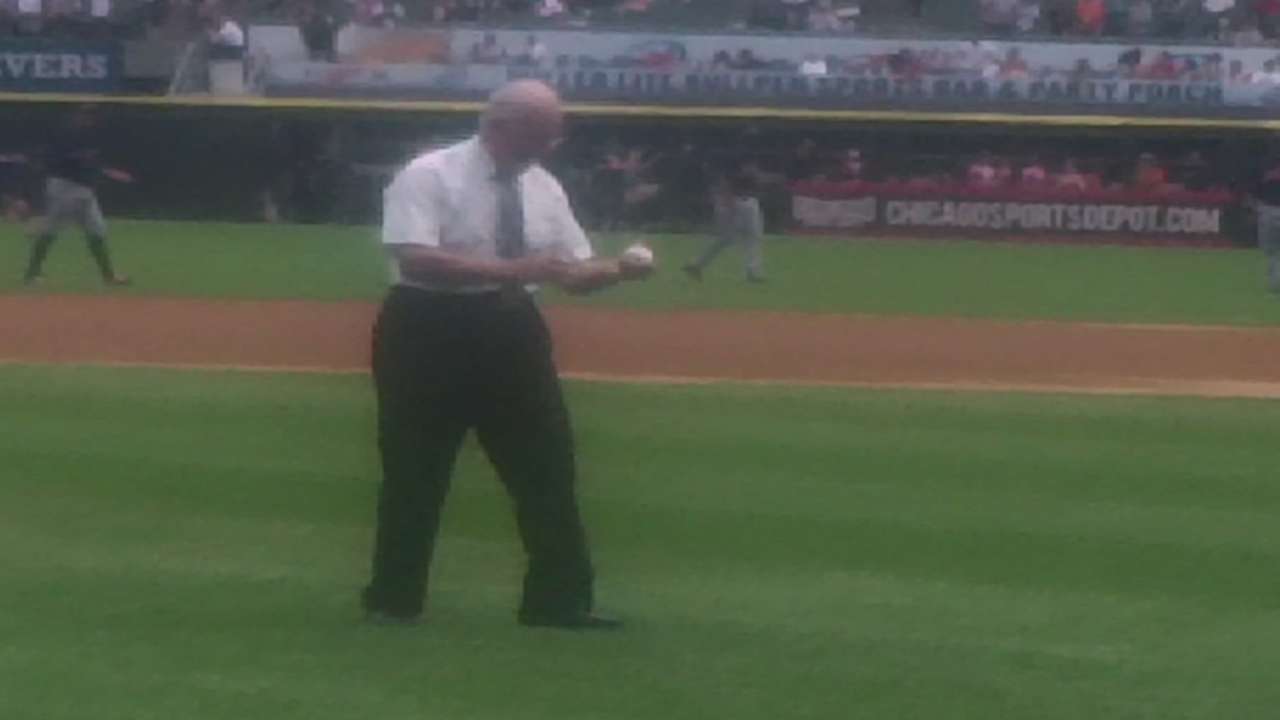 "Minnie being on the ballot the second time has a better chance than I do," said Pierce, who is joined on the Golden Era ballot by non-White Sox-connected candidates Gil Hodges, Bob Howsam, Tony Oliva, Luis Tiant and Maury Wills. "It's a big thrill, no question about it.
"Whether you make it or not, the world won't come to an end. It's just a thrill to be recognized. I thought of it for a while earlier, and the last two years I haven't thought about it. I just figured my time had passed and that was it."
Over his 18 big league seasons, of which 13 were played with the White Sox, Pierce posted 211 victories and a 3.27 ERA. He won 20 games in 1956 and '57 and finished with double-digit wins in 12 of his 14 seasons as a starter. He topped the American League with a 1.97 ERA in 1955, led the AL with 186 strikeouts in '53 and was No. 1 in complete games in '56 (21), '57 (16) and '58 (19).
Of the top 10 left-handers in career strikeouts at the time of his retirement, Pierce is the only one who has not been elected to the Hall: Warren Spahn (2,493), Rube Waddell (2,316), Lefty Grove (2,266), Eddie Plank (2,246), Pierce (1,999), Hal Newhouser (1,796), Whitey Ford (1,731), Sandy Koufax (1,697), Carl Hubbell (1,677) and Rube Marquard (1,593). Pierce was a seven-time All-Star and was No. 1 in bWAR for AL pitchers in 1953 (6.3) and '55 (6.9).
Statistics show Pierce stacks up favorably with the other top pitchers of his era, although that stature was not reflected in the BBWAA Hall of Fame voting. From 1970-74, Pierce never received more than 1.9 percent of the Hall of Fame vote. But his peers knew of Pierce's value.
"Just a real good competitor, like a bulldog on the mound," said former White Sox pitcher Gary Peters, who was teammates with Pierce in 1959-60. "He could throw hard and had a good work ethic. One of the best left-handers in the game."
"Well, a great pitcher and a great guy," said former White Sox outfielder Jim Landis, who played behind Pierce from 1957-61. "His control I thought was very, very good and he threw hard. I think he's one of those that could throw to weaknesses."
Landis described Pierce as a "great team man" and "one of the greatest people I've ever been around, to be honest." He also liked the fact that Pierce threw strikes and could bring his start in at two hours or less.
Much like Bumgarner's historic effort in Game 7 of the 2014 World Series, Pierce worked in relief. All three of his scoreless World Series appearances for the White Sox in 1959 came out of the bullpen, as did 153 of his 586 career trips to the mound. Pierce stood as a standout of his era, but he seems to have a good perspective as to the importance of that effort getting recognized on Monday.
"We have three happy children, five happy grandchildren and one brand new great granddaughter," said Pierce, who also has four World Series rings, including one from the 2005 White Sox. "Everybody is healthy. Everything is wonderful."
Scott Merkin is a reporter for MLB.com. Read his blog, Merk's Works, and follow him on Twitter @scottmerkin. This story was not subject to the approval of Major League Baseball or its clubs.