MLB.com Columnist
Billy Bean
Scott a true pro, on and off the field
Umpire put trust in others, who in turn provided support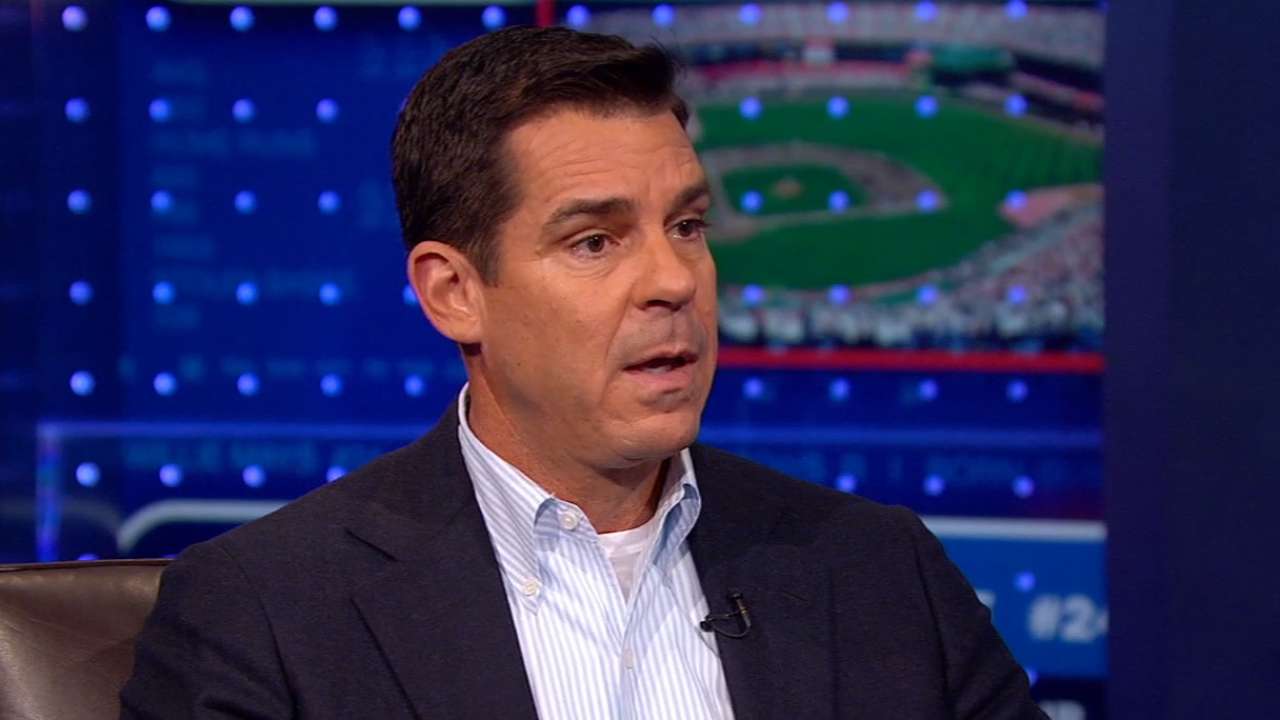 I was sitting in the cafeteria at MLB Network's headquarters on Tuesday when my phone started to blow up with texts and e-mails. Before I got through the first sentence of the first message, I started to smile. It was a day I had hoped for, but I had no idea if it would ever happen.
Two months ago, as the subject of an article in a trade publication called "Referee," Dale Scott, a 29-year veteran umpire in the Major Leagues, chose to submit a picture of him and his husband, Michael Rausch. The magazine has a small circulation and no online presence, so the piece went largely unnoticed until a reader sent the photo to Outsports.com, and the story that website published on Tuesday -- in which Scott came out -- prompted the flood of messages.
As a player, you get to know the umpires' names. You exchange pleasantries everyday on the field, until your inevitable disagreement on a call. You know each other, but you seldom become friends away from the ballpark. It's just the nature of sports.
Fourteen years ago, after seeing my coming-out story on TV, one of those men reached out to me. Aside from a few of my closest buddies, I had not received calls from anyone in baseball, so I wasn't sure what to expect. Dale introduced himself, and then shared a little about his personal life with me -- including his sexual orientation -- and in that moment, we became brothers because of our shared experience in the baseball world. My heart began pounding, and I quietly wished that we could have shared this moment three years earlier, before my retirement. It made me wonder if that might have changed things. Until then, I was certain I was the only one in the big leagues dealing with a double life.
At the time, I was living in Miami Beach. As our conversation ended, we promised during the upcoming season to try and meet for lunch prior to a Marlins game when he and his crew made the trip into town. Months later we met in Fort Lauderdale and we had much to say; there was an instant connection and trust. I wanted Dale to know how much it meant to me that he reached out, and I shared how difficult it was to get used to being away from the game and not being on the field.
At the time he still hadn't come out to even his closest colleagues, and I immediately imagined how difficult it must have been for Michael, who is now his husband. At that time, they had been together almost 15 years. To never be able to acknowledge the other half of your life puts an incredible amount of stress on a couple, especially when your job is in such a public forum. It implies that you love your job more than your partner, and it's not easy to find someone who is so generous and understanding to the one they love. I remember some very regrettable days when I quickly denied my relationship and put my partner Sam in some very uncomfortable situations.
Dale kept in touch over the years, and I always look for him when I watch a game, and give a virtual fist pump, proud of my friend for all his accomplishments and his continued discipline to do his job under stressful circumstances.
As the e-mails arrived on Tuesday, there was excitement about the news. Commissioner Selig released a quote to share his support, but I learned that almost everyone in the league office already knew about Dale and Michael. Some knew for more than 10 years. That was the best part: Most of his fellow umpires and employees at the Office of the Commissioner respected Dale's choice to keep his personal life private, and just as important, Dale felt comfortable to share his life with his peers. He felt support from his colleagues and some of the members of our office were empowered by his faith in them.
Most people assume that coming out means sitting behind a microphone and sharing with the entire world, but there are other -- and often healthier -- ways to navigate such a huge decision. Feeling supported and safe is a formula that I have seen work over and over. Whether you tell one person or two isn't important. It's about building a support group around you that allows you to be your best self.
It's obvious Dale has a tremendous life partner and great friends around him, and I envy his choice to trust those he loved. It has helped him carve out an amazing career. After next season, when Dale surpasses 30 years of service at the big league level, he will join a fraternity of just 17 umpires who have worked that long in the Major Leagues.
I'm certain that Dale is a bit overwhelmed by the attention over the past couple of days. But he's a true pro, who loves his family, his dogs and the Oregon Ducks. It's a lot to digest when you are thrust into the spotlight when you're not used to it.
He's said that he simply wants to be measured for his work on the field. His legacy is secure. It easy to see there was no agenda in his decision. He said there's no book to write. It was just the right time. He'll tell you he doesn't want to be known as a gay umpire, and he shouldn't be. I think he'll be remembered as a great role model who just happens to be gay.
Billy Bean is Major League Baseball's ambassador for inclusion. This story was not subject to the approval of Major League Baseball or its clubs.