Arroyo, D-backs present School Challenge grants
Club helps provide $5,000 to 30 mentorship, technology programs across state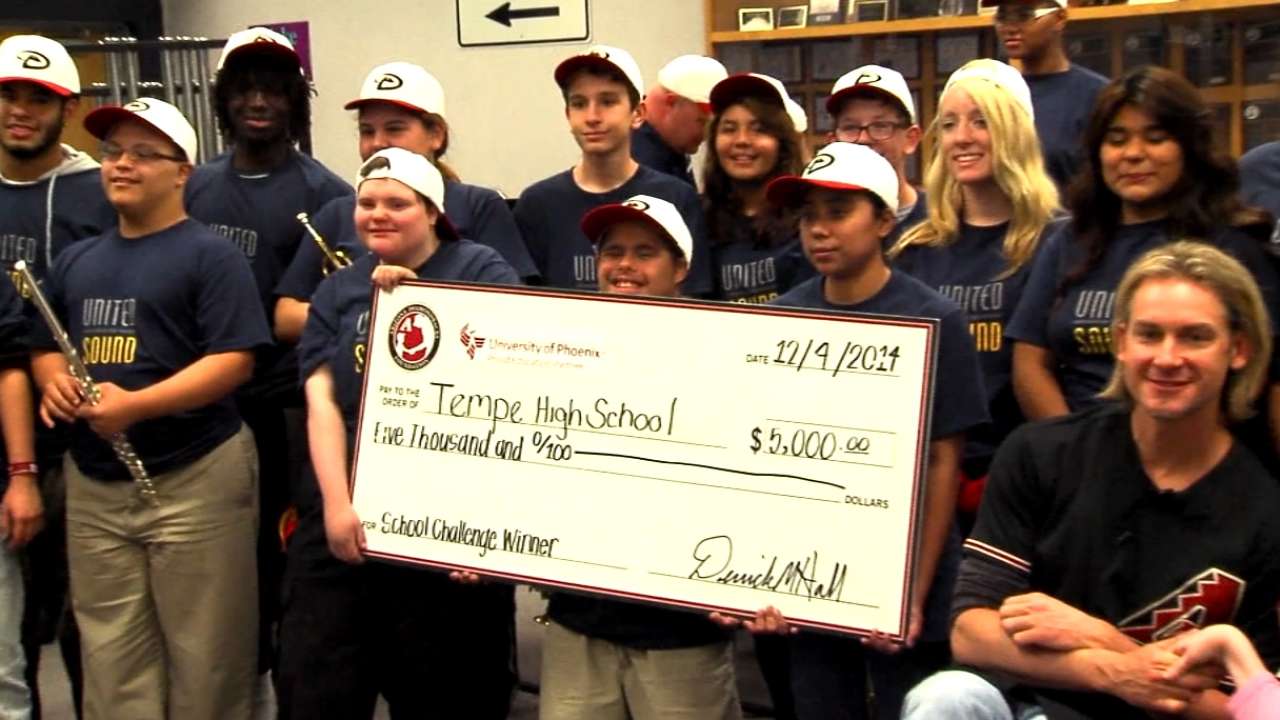 "Be You" was the message D-backs pitcher Bronson Arroyo sang to the students of the Unified Sound band program at Tempe High School after surprising them with a $5,000 D-backs and University of Phoenix School Challenge grant. The grant will fund the program, which brings together high school special needs students and mentors from the Tempe High School band to form a unique bond through music.
Arroyo brought along his guitar and sang his "Be You" song that he wrote a few years ago, prior to visiting an elementary school. He explained that he has always found it easier to write songs geared toward young people, because they require the writer to be more direct and relatable.
"Being a guy who loves music and gets to play every day, I realize it is a great outlet, especially for kids. [The Unified Sound program] is multifaceted, where the kids are getting an opportunity to interact with students that they might not have otherwise, and are able to serve as a mentor to others," said Arroyo.
The D-backs started the morning at Dr. Bernard Black Elementary School, where the entire student body gathered in the cafeteria for a surprise visit from Arroyo, J.J. Putz and mascot Baxter. The school's science, technology, engineering and math (STEM) specialist, Mike Henderson, applied for the grant, and he explained that the money will be used to purchase four robotics kits for the team to compete in the LEGO Robotics League.
"We found the opportunity with the D-backs, and it seemed like the perfect fit, given the D-backs' history, in that they went from an expansion team to performing at a high level very quickly. And we want to give our kids the same opportunity to succeed here," said Henderson.
Dr. Bernard Black Elementary and Tempe High were two of 30 schools to receive a grant, selected from among more than 400 applications from across the state of Arizona. The other winning school projects will use the grant money to satisfy an array of needs, ranging from a STEM drone project to a student reporting lab and desert pollinator garden to a dual-language kidcaster program. Each winning school will receive tickets to a 2015 D-backs game for the students and teachers to enjoy, where they will be honored and receive a check on the field.
The D-backs' vice president of corporate and community impact, Debbie Castaldo, explained that each applicant was required to submit 500 words explaining why a specific school needed the funding, and this year it was exceptionally challenging to narrow the applications down to just 30 winners.
"The joy and compassion these kids are experiencing today makes us so excited. There are inspiring teachers across the state of Arizona that make their best pitch for our School Challenge funding, and we couldn't be more thrilled to partner with University of Phoenix to fund programs like we saw today at Tempe and Bernard Black," said Castaldo.
The Arizona Diamondbacks Foundation and University of Phoenix have provided more than 100 schools with $5,000 grants for an overall monetary commitment of more than $500,000 since the School Challenge program launched in 2012.
Katie Krause is the manager of corporate communications for the Arizona Diamondbacks. This story was not subject to the approval of Major League Baseball or its clubs.