Fans can show love for Giants through auction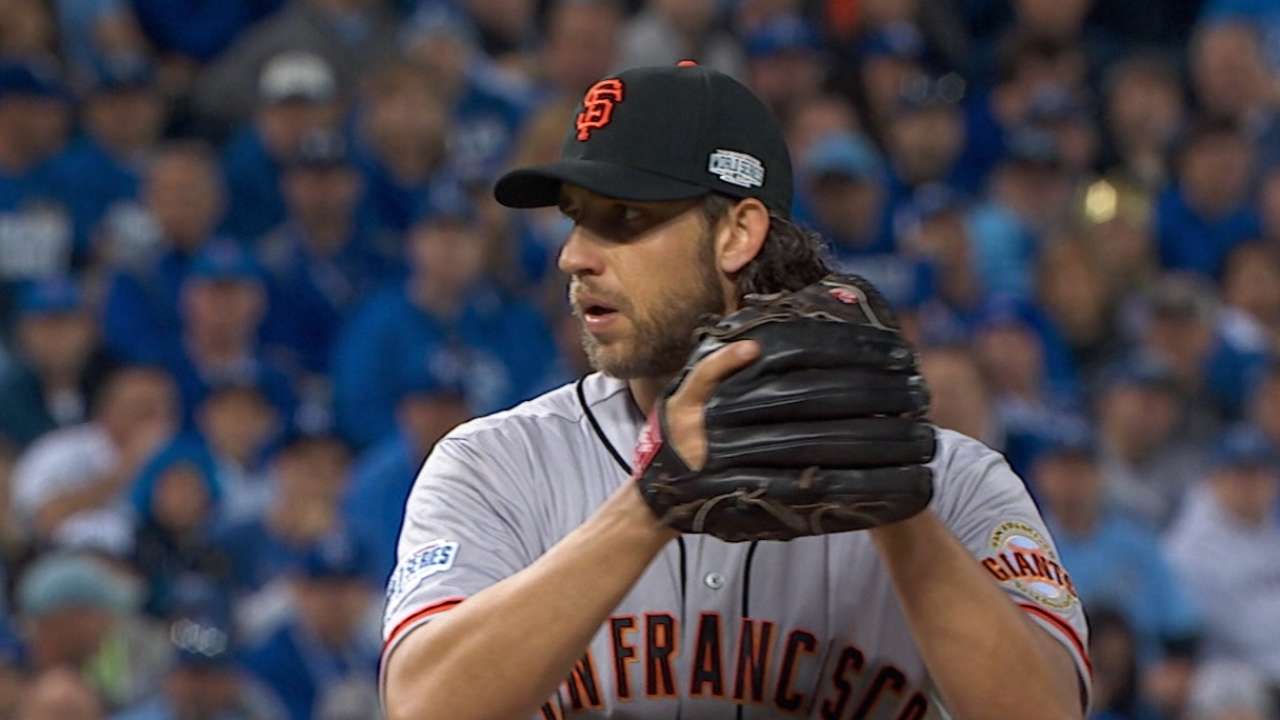 Bidding starts at $750 for the same No. 40 road jersey that Madison Bumgarner wore while baffling the Royals in the 115th World Series opener on Oct. 21, starting his historic run toward eventual Series MVP and the Giants toward their third world championship in a five-year span.
That mildly-perspired-upon jersey is one of 57 items the Giants used throughout their triumphant 2014 Fall Classic that are now listed at sfgiants.com/postseasonauction, and that includes a handful of items authenticated at the subsequent parade. The auction will close on Dec. 15 and delivery is expected two to four weeks after that, so if you're like everyone else in a holiday shopping mode, it could make for a suspenseful gift that just comes with a little wait.
Think back to the opener, when Bumgarner mixed in those 67-mph floaters and kept the Royals off balance. The cap he wore in that game is now at the Baseball Hall of Fame and Museum in Cooperstown, N.Y., in a special "Autumn Glory" display. It will be interesting to see how high the bidding goes for the actual jersey that was part of his ensemble.
There are 33 game-used Giants jerseys from the World Series, including tops worn by Buster Posey, Hunter Pence, Brandon Crawford, Sergio Romo and manager Bruce Bochy.
Crawford wore that No. 35 jersey in the final home game of a championship season, a 5-0 victory in Game 5 -- and he just happened to knock in three runs that night.
The auction includes bats, bases, K Boards (including ones that represented Bumgarner strikeouts), several empty bottles that once held Brut champagne, and orange-and-black banners that were hung through downtown San Francisco for the parade.
In addition, Giants fans can find a larger collection than ever of #ChampionsTogether title gear at the MLB.com Shop, from the same authentic caps and shirts the players wore in Kansas City after Game 7 to a World Series baseball autographed by Bumgarner and Posey.
"Fans didn't just show up at the end of the year when we were winning a lot -- they've shown up for the last six years since I've been in San Fran, every game," said Jeremy Affeldt, the winning pitcher of 2014's final game and whose No. 41 jersey worn during his one-inning hold in Game 4 is up for bidding.
"To be able to say that they can wear the world championship gear, they can wear it proudly," Affeldt said. "There's a lot of pride in that. Our fans take a lot of pride in us. They cheer for us even when we didn't win. Last year we had a rough year, and in 2011 we had a rough year. They were still coming and still pulling for us. So to be able to know they stuck by us in those down times, when we can bring the ring back to them, they deserve to wear that gear proudly. I hope they take a lot of pride in it and know the black and the orange is a big deal."
Mark Newman is enterprise editor of MLB.com. Read and join other baseball fans on his MLB.com community blog. This story was not subject to the approval of Major League Baseball or its clubs.