Mozeliak taking opportunistic approach to Meetings
Having already addressed biggest need, Cards could be quiet in San Diego
ST. LOUIS -- Having already been active to address their most glaring needs, the Cardinals seem poised to enjoy a relatively quiet week ahead at the Winter Meetings in San Diego. General manager John Mozeliak continues to use the word "opportunistic" to describe the organization's ongoing offseason approach, an indication that the Cardinals will act if circumstances are right but not out of desperation.
Done is the organization's search for a right fielder, that hole filled by Jason Heyward. Attempts to reconstruct the bullpen have been successful, too, with the additions of Jordan Walden and Matt Belisle. Even the area of improving the club's middle-infield depth has been tackled.
All combined, those early moves, coupled with the organization's returning internal options, have the Cardinals' 2015 roster already coming into focus. That makes the remainder of the to-do list rather short.
"The Cardinals are in a pretty good spot, in that our roster is pretty much set except for the right-handed bat," general manager John Mozeliak said this week. "Other teams are probably in a little different situation."
While the Cardinals may work mostly under the radar next week, Mozeliak and his staff will be working nonetheless as they continually seek ways to improve the club. Here is a quick look at the Cardinals' situation as San Diego prepares to become the epicenter of Major League Baseball during the Winter Meetings:
Club needs
Right-handed bat: This is of top priority for the Cardinals, who are seeking a right-handed hitter to strengthen the bench and possibly platoon at first base with Matt Adams. While the Cardinals cannot promise everyday playing time in their pitch, Mozeliak said he hasn't focused so much on those players expecting that. Adding someone with power would be a plus.
"I think it's something that between now and February we need to focus on," Mozeliak said. "We're going to continue to look and see. I will tell you that the side of the swimming pool we're in right now anyways is really players that are in that 150 to 300 plate appearances historically."
Mozeliak said he would prefer to address this need via the free-agent market but wouldn't rule out making a trade to do so if that's necessary.
Pitching depth: With bullpen additions already made and starting-pitching depth that includes Carlos Martinez and Marco Gonzales as candidates to join the rotation, the Cardinals do not believe it is absolutely necessary to acquire more pitching this winter. That being said, the organization isn't ruling it out either.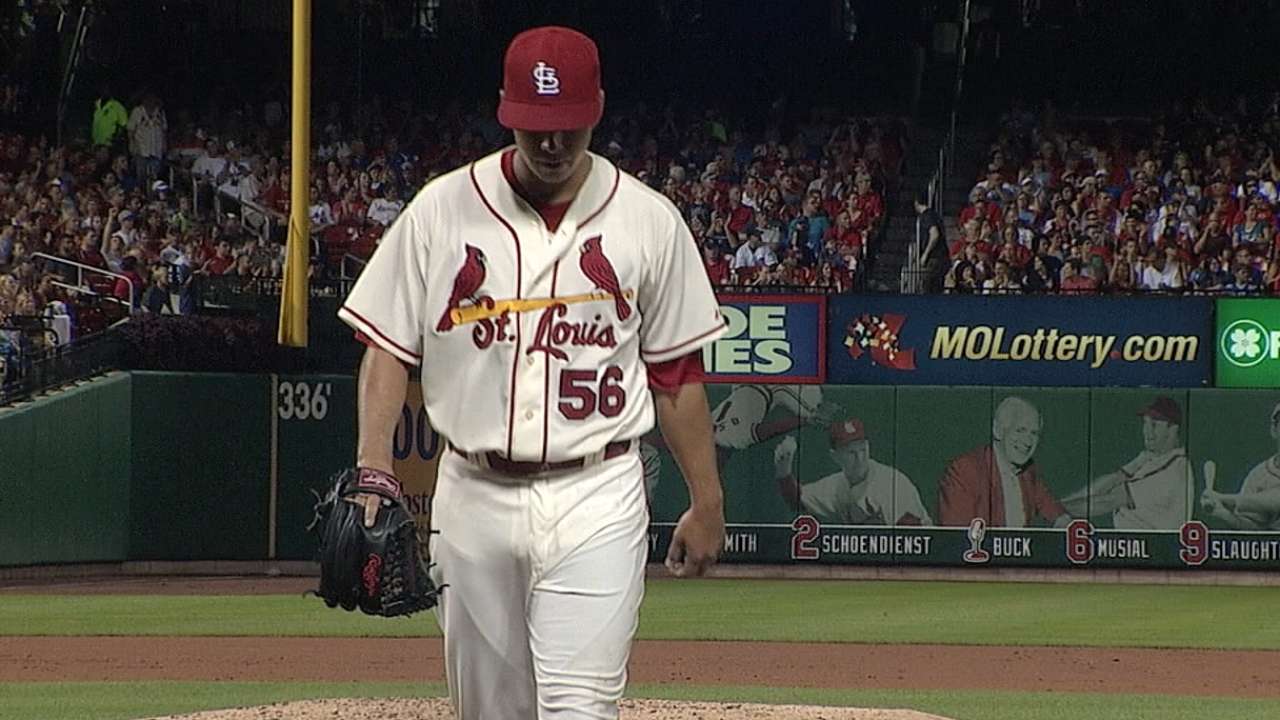 Mozeliak noted that he will "definitely be on the sidelines watching" as the starting-pitching market develops. He downplayed any interest in the biggest starting-pitching chips -- e.g. Jon Lester and Max Scherzer -- but has not ruled out adding depth with a mid-tier starter. The Cardinals seem to have the luxury to act if the price is right, while also feeling comfortable with their in-house options if it's not.
On the relief side, the Cardinals will look for bargains, as they found in Pat Neshek just before Spring Training started last February. Neshek parlayed a Minor League deal into an All-Star season.
Who they can trade if necessary
The Cardinals' starting-pitching depth took a hit when they dealt Shelby Miller to Atlanta last month, so don't look for the club to deal from that area again. In fact, the Cardinals are hopeful that any needs addressed between now and Spring Training can be done without having to make a trade. But if the Cardinals have to do so, they still do have some outfield depth from which to consider dealing.
Top prospects
Asked this week about the current state of organizational depth, Mozeliak asserted that "we're in a better spot than we were at this time last year from a Minor League perspective." He pointed to the expected improvement in depth at the Triple-A level, which is critical in giving the Major League club necessary coverage.
As for the organization's best young talent, the Top 10 Prospects as ranked by MLB.com at the end of the 2014 season include outfielder Stephen Piscotty, left-hander Rob Kaminsky, Gonzales, right-hander Alex Reyes, right-hander Jack Flaherty, right-hander Luke Weaver, outfielder Charlie Tilson, outfielder Randal Grichuk, shortstop Juan Herrera and left-hander Tim Cooney.
Rule 5 Draft
With three spots currently open on their 40-man roster, the Cardinals will have the flexibility to add a player in Thursday's Rule 5 Draft. The order of selection is determined by the reverse order of finish in the 2014 standings. That means the Cardinals will have the 26th pick, though any team ahead of them without a vacancy on its 40-man roster will be ineligible to make a selection.
Since 1998, only three of the Cardinals' Rule 5 selections have stuck through a season. If a player does not remain on the team's 25-man roster for a full year, he must be offered back to his previous club for half of the $50,000 purchase price. The Cardinals did not make a selection in the Major League portion of the Rule 5 Draft last year.
Big contracts they could unload
None.
Payroll summary
The Cardinals opened 2014 with a payroll of approximately $111 million and expect to see that figure increase in 2015. The organization has that flexibility and has actually been preparing for such an increase. But just because the Cardinals have the ability to still spend big this winter doesn't mean they see that as being the best use of their financial resources at this time.
Jenifer Langosch is a reporter for MLB.com. Read her blog, By Gosh, It's Langosch, and follow her on Twitter @LangoschMLB. This story was not subject to the approval of Major League Baseball or its clubs.