Giants head to Meetings with raised expectations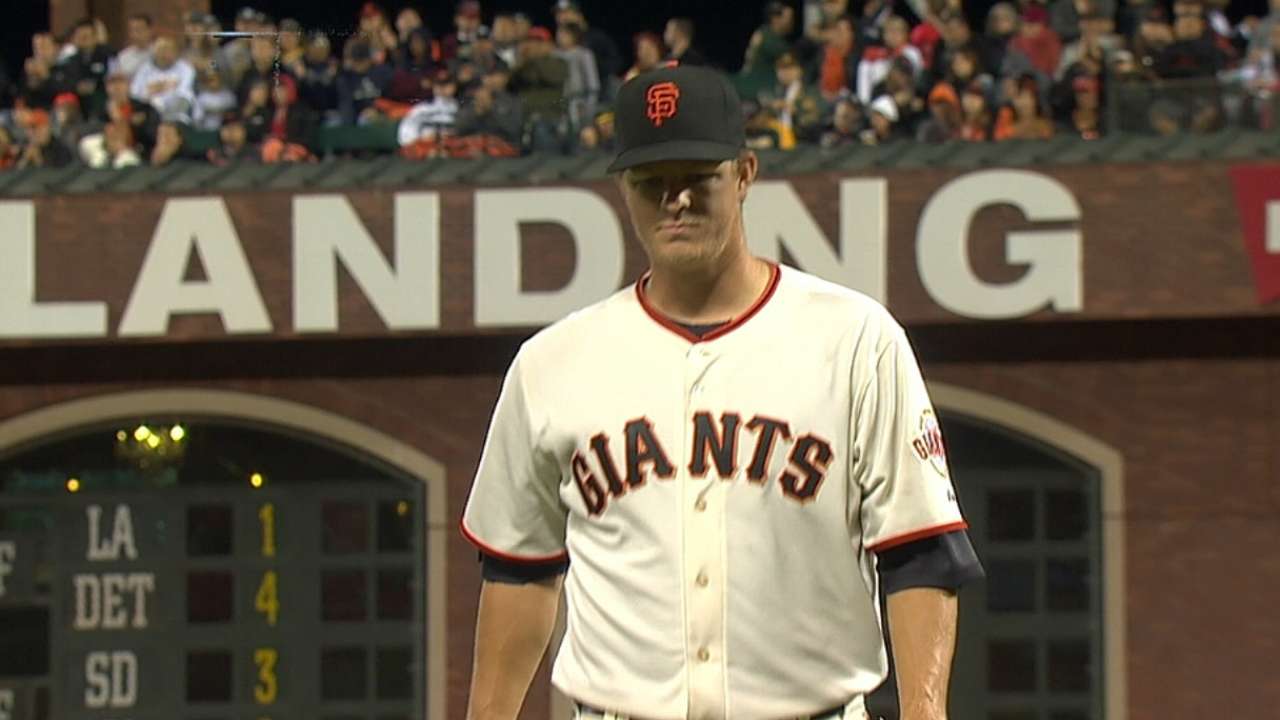 SAN FRANCISCO -- The past, present and future are combining to raise expectations for the Giants as they approach baseball's Winter Meetings, which begin on Monday in San Diego.
They team addressed various priorities in this setting during the recent past, signing free agent Michael Morse (2013), retaining Angel Pagan and Marco Scutaro (2012), and trading for Pagan (2011). Their present status as reigning World Series champions gives them a cachet that the 29 other Major League teams can only envy. But their front office must fill critical personnel vacancies in the near future to have a chance of returning to the postseason.
However, it would be unwise to assume that general manager Brian Sabean's considerable will by itself can fill the Giants' needs. Relatively little has transpired thus far in the trade and free-agency markets, portending a Winter Meetings that's devoted more to proposing deals than making them.
"Some of these things are just going to take through the Winter Meetings and possibly beyond to really get sorted through," assistant GM Bobby Evans said.
The Giants' unsuccessful yet aggressive bid for free-agent third baseman Pablo Sandoval and their pursuit of pricey left-hander Jon Lester demonstrated that they haven't hit the snooze button when it comes to preparing for the coming season. They'd love to break their streak of three consecutive World Series triumphs in even-numbered years by winning it all again in 2015.
Following is a look at the issues the Giants face as they approach the Winter Meetings.
Club needs
Rotation: It's difficult to believe that a team that has relied on its rotation for most of the last six seasons urgently needs at least one reliable starter to complement postseason hero Madison Bumgarner. But questions and doubts surround the rest of the staff given Matt Cain's elbow surgery, Tim Lincecum's inconsistency and Tim Hudson's age (40 next July).
The Giants will quickly begin a vigorous effort to woo another free-agent starter -- Max Scherzer? James Shields? Aaron Harang? -- if Lester signs elsewhere.
Third base: The Giants know they're going to miss Sandoval, who hit dynamically (if not always consistently) and improved enough defensively to become a Gold Glove candidate. And they know they can't replace him, so a reasonable facsimile might suffice. If the Giants don't sign free agent Chase Headley, they might look at trade alternatives and go for the Angels' David Freese, the Nationals' Ryan Zimmerman or the Reds' Todd Frazier. None of them, however, would be easy to acquire.
Left field: The Giants have employed a different Opening Day left fielder in each of the past seven seasons, so change at this spot is anticipated. Having seen glimpses of effective offense from Gregor Blanco, Travis Ishikawa and Juan Perez in 2014, the Giants just might try a platoon if they cannot obtain a player who would be a clear upgrade. Blanco and Ishikawa could divide playing time against right-handed pitchers, with Perez facing left-handers.
Third-base coach: Don't laugh. Tim Flannery, who recently announced his retirement, did much more than signal strategies to hitters and wave home runners chugging toward third. Flannery provided astute bunting instruction and helped first-base coach Roberto Kelly tutor players in baserunning. Since most or all of the organization's key figures will be in San Diego for the Meetings, this will be as good a time as any to evaluate the numerous candidates, all of whom likely will come from within the organization.
Who can they trade if necessary
Brandon Belt: To be clear, Belt doesn't appear to be on the trading block. Team officials continue to see him as a potential .300 hitter who can contribute welcome run production. (Exhibit A -- his game-winning home run in the 18th inning of Game 2 of the National League Division Series at Washington.) In the unlikely event that he is dealt for an innings-eating starter or a reliable third baseman, Ishikawa and Buster Posey would lead the crew of possible first basemen.
Catchers: The Giants probably can't accommodate both Andrew Susac and Hector Sanchez on the active roster for the long-term unless Posey switches positions. That probably won't happen in the next year or two, if at all, so it's up to the Giants to certify that Sanchez has overcome the effects of the concussions that plagued him in 2014. Then he and Susac, who often looked impressive in 35 games as a rookie this season, will be measured against each other. One stays; the other is traded.
Pitchers: Rival teams approach the Giants about one or more of their intriguing Minor League pitchers on a near-daily basis. In rare instances, the Giants heave a symbolic sigh and dip into this talent pool to engineer a trade that bolsters their big league roster, as they did on July 27, when they swapped Heath Hembree and Edwin Escobar for Jake Peavy.
Top prospects
This could be the year that speedy center fielder Gary Brown begins to make a semblance of an impact. The club's No. 1 selection in the 2010 First-Year Player Draft went 3-for-7 in seven September games, performing well enough to be included on the active rosters for the Wild Card Game at Pittsburgh and the Division Series against Washington. At 26, Brown might sense that his time is now. He's ranked 20th among Giants prospects by MLB.com.
Brown isn't the only position player who complements the aforementioned array of pitchers. The Giants are excited about infielder Christian Arroyo, their No. 1 pick in 2013, whom MLB.com has ranked 12th on San Francisco's prospects list. A right-handed batter, Arroyo hit .291 with two affiliates last year and drove in 48 runs in 58 games for rookie-level Salem-Keizer.
Rule 5 Draft
Though the Giants never ignore the Rule 5 Draft as they prepare for and participate in the Winter Meetings, it's fair to say that the possibilities offered haven't thrilled them. They haven't selected a player in the Rule 5 since right-hander Steve Johnson in 2009, and they returned Johnson to Baltimore the following March. Of course, with three World Series triumphs in five years, the Giants often have been situated toward the back of the pack in the Draft order, denying them opportunities to select the most capable performers.
Big contracts they might unload
None. Intent on remaining contenders, the Giants won't part with any of their players earning $4 million or more next year. This list includes Hunter Pence, Jeremy Affeldt, Santiago Casilla, Javier Lopez, Bumgarner, Lincecum, Cain, Posey, Pagan, Scutaro and Hudson.
The Giants would love to free themselves of the $6,666,667 they owe Scutaro in 2015, but his injury history eliminates any chance of a deal. Lincecum's erratic performance combines with his $18 million price tag to scare off any team that might want him.
Payroll summary
Club president Larry Baer has acknowledged that the payroll, which ranked seventh in the Majors at approximately $154 million in 2014, can and will increase in 2015. The Giants might not be able to afford everybody on their shopping list, but they should be able to afford at least one luxury item.
Chris Haft is a reporter for MLB.com. Read his blog, Haft-Baked Ideas, and follow him on Twitter at @sfgiantsbeat. This story was not subject to the approval of Major League Baseball or its clubs.