MLB.com Columnist
Richard Justice
Orioles have earned benefit of the doubt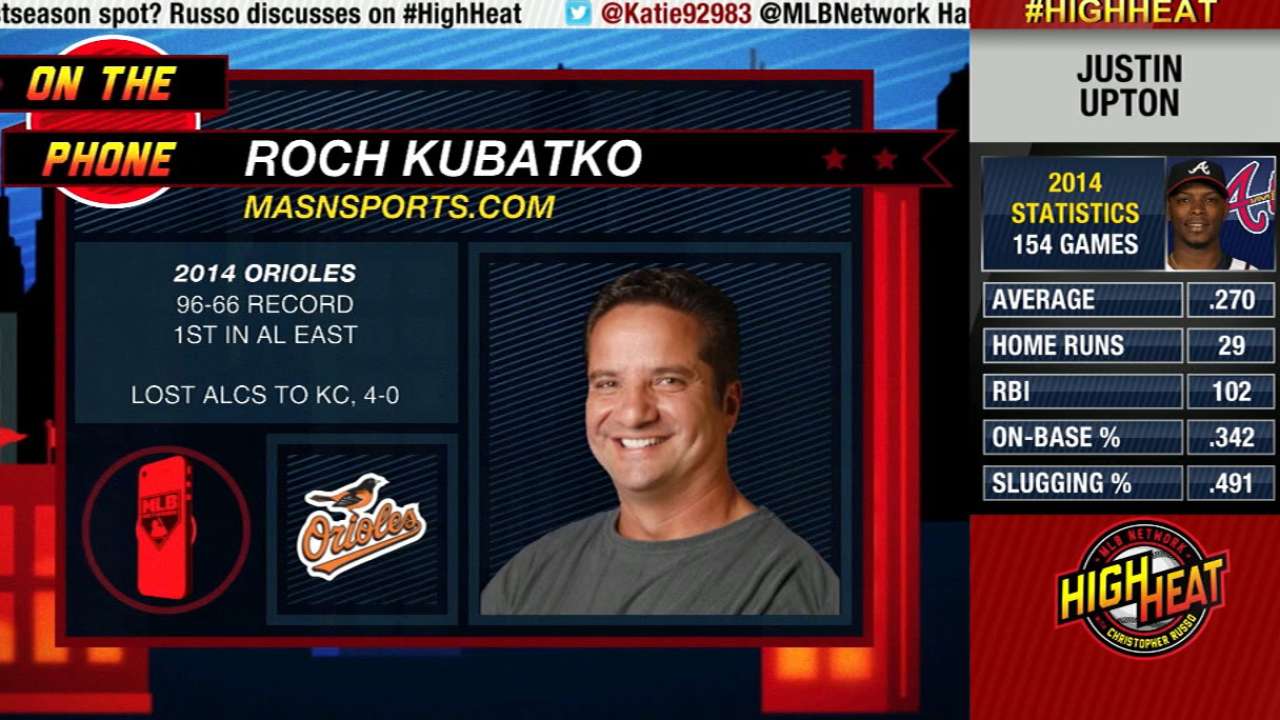 Given all the success the Orioles had the last three seasons, they've earned the benefit of the doubt. In the end, it's that simple.
Dan Duquette and Buck Showalter have overseen a remarkable rebirth of this franchise. Along the way they've awakened a great baseball town, with attendance at Camden Yards soaring 40 percent since 2011.
And on those nights when the place is packed and the crowd is roaring, baseball is as good as it ever has been in Charm City.
"I am really inspired by the amount of interest there is in the team and the way the fans identify with Oriole players," said Duquette, the executive vice president of baseball operations for the last three years.
Since Opening Day 2012, the Orioles have won 274 games, fourth-most in the Majors behind only the Nationals (280), A's (278) and Cardinals (275). They've done it with modest spending by mixing homegrown players, smart trades and a string of under-the-radar free-agent signings, from Miguel Gonzalez and Steve Pearce to Wei-Yin Chen and Nate McLouth.
So there's that.
In his three seasons in Baltimore, Duquette has re-established himself as one of baseball's best executives. And he has turned over all those creative acquisitions to a manager, Showalter, who simply is as good as any on the planet.
With the clubhouse presence of such players as Adam Jones, Matt Wieters and others, the Orioles have been a model operation.
To repeat: The Orioles have done so many things right the last three seasons that they've earned the benefit of the doubt.
Yes, this has been a tough week.
It was one thing to lose outfielder Nelson Cruz, who signed with Seattle after leading the Major Leagues with 40 home runs in 2014.
The Orioles never figured him to be more than a one-year player anyway after signing him late in the last offseason.
But losing right fielder Nick Markakis, that one stung. In the end, the Orioles probably did not lose him as much as they simply allowed him to leave.
The Braves signed Markakis for $44 million over four years, and the Orioles apparently were unwilling to go there.
This probably is that tough place where the Orioles did what good organizations sometimes have to do. They had to make a decision based on what they believe Markakis is still capable of doing.
In his first seven seasons, Markakis had an .819 OPS while averaging 38 doubles and 17 home runs. In the last two, he has had a .707 OPS while averaging 26 doubles and 12 home runs.
The Orioles have wondered if a neck injury -- one he has played through -- may have permanently taken away some of his power. Still, he's only 31 years old and could produce at a high level for several more years. Or not.
When all was said and done, two successful franchises led by an assortment of smart people came to a different conclusion about a player.
In Baltimore the decision stung, because Markakis had been in the organization since he was a first-round Draft pick in 2003, and his arrival in 2006 signaled an era of hope for Orioles fans. In the last three years, Showalter has lavished praise on his veterans -- Jones, Wieters, Markakis, et al -- for their leadership.
In saying goodbye to Markakis, it was like losing both a friend and production. As Jones told the Baltimore Sun, "When you think of the Orioles, you think of Nick Markakis."
Perhaps the most amazing part of the deal is that the Orioles still might be the best team in the American League East. They won the division by 12 games last season, and despite losing Cruz and Markakis, they'll have Manny Machado, Chris Davis and Wieters returning to their lineup. They'll also have their top pitching prospect, Dylan Bundy, healthy and competing for a spot in an already solid rotation.
Now about those two holes in the outfield. Duquette is sorting through his options, with free-agent Michael Morse being one and Delmon Young another.
Yet another is Minor Leaguer Dariel Alvarez, a 26-year-old who hit .306 last season while splitting time between Double-A and Triple-A.
As usual, Duquette has been stocking his roster with an assortment of unheralded free agents, the very type of players from whom he has gotten so much production in recent years.
The AL East is an unfinished work. The Red Sox and Blue Jays need pitching even after some splashy acquisitions. The Yankees and Rays have large questions.
Maybe the Orioles will one day see this week as one in which their discipline and smarts paid off. The Cardinals made a similar tough call three years ago in allowing Albert Pujols to depart, and they kept going to the postseason.
As Jones said, there's a lot of offseason remaining. The Orioles may look significantly different by Opening Day. Duquette has work to do, but history says he's up to the task.
Richard Justice is a columnist for MLB.com. Read his blog, Justice4U. This story was not subject to the approval of Major League Baseball or its clubs.