Trio of A's help bring holiday cheer to Oakland school kids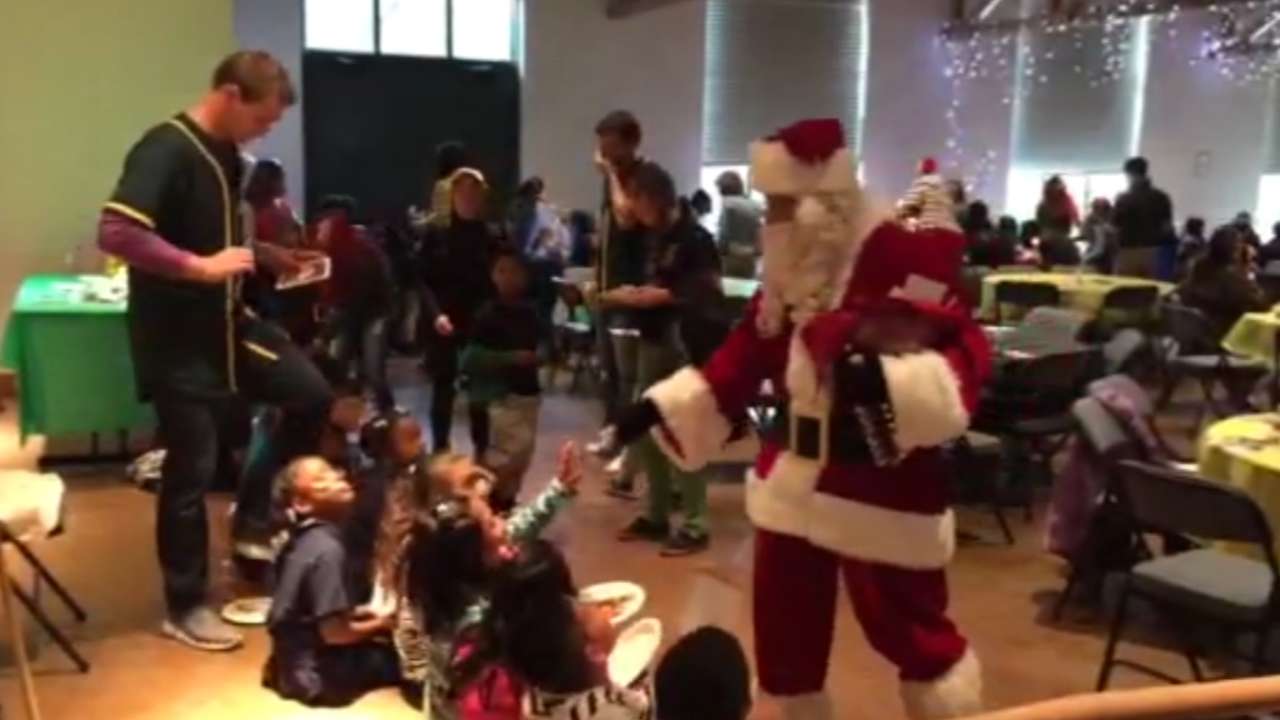 OAKLAND -- A's pitchers Sonny Gray, Dan Otero and Drew Pomeranz sure know how to help throw a party.
The three players were on hand at the Oakland Zoo on Thursday to welcome in local children for a holiday party annually hosted by the A's Community Fund. The players signed hundreds of autographs and were stopped for just as many pictures by the 220 students in attendance from Parker Elementary School in Oakland.
"It's fun for me to be here and support these kids, many of whom probably support us during the season more than we probably know," said Gray, who flew in from Nashville for the day. "It's always nice to give back to the community. When I was young, I looked up to a lot of athletes myself, and now being able to be one of those athletes these kids look up to is pretty special."
The party doubled as a reward for the students' commitment to good citizenship, attendance and classroom behavior. They each received a wrapped gift, courtesy of the Good Tidings Foundation, and were also treated to face painting, arts and crafts, an animal presentation and, of course, a visit with A's players.
"They are a very underserved school, so having this holiday party for them today was most important, and this was a great opportunity for the school's scholars to get out of school and come experience something different, a field trip to this party the A's always love hosting," said Detra Paige, the A's community relations director. "We just want them to have a good time and enjoy some holiday cheer with the A's.
"This is the sixth year we've come here, and it's a wonderful experience. The children get an opportunity to learn about the animals, and each of them gets to leave with something special. It's really great to see the kids and players interact, too. I don't know how much they know about baseball, but I think they're just really thrilled to be here."
Santa Claus and A's mascot Stomper also made an appearance, and both helped serve a pizza lunch provided by Round Table Pizza.
"We're just trying to give back any way we can," said Otero. "Being out here was very nice. It was pretty cool seeing all the kids' faces. It was just really neat being there, because I know, as a kid, it would've been a dream come true of mine."
"It's awesome," added Pomeranz. "Especially during the holiday season, I think it's great that we can get out here and do this for them."
The A's pitchers made one more important stop on their trek through the Bay Area before heading to the airport, arriving at the Salvation Army Garden Street Shelter in Oakland to lead a special dedication of a newly refurbished, A's-themed living space.
Members of the A's organization painted the room prior to Thursday's event, with supplies donated by Kelly-Moore Paints, and it was sprinkled with green and gold furnishings.
The Salvation Army provides temporary shelter for up to a full year for families looking for permanent housing. A mother and her twins will be living in the space dedicated by the A's.
"It's been a crazy day, but it's been an awesome day, to be able to see all the kids and spend a little bit of time with them," said Gray. "Even the littlest thing in the world we can do for them means everything."
Jane Lee is a reporter for MLB.com. This story was not subject to the approval of Major League Baseball or its clubs.