Padres prepared to find right offensive match at Meetings
With several big free-agent bats off the board, Friars could upgrade through trades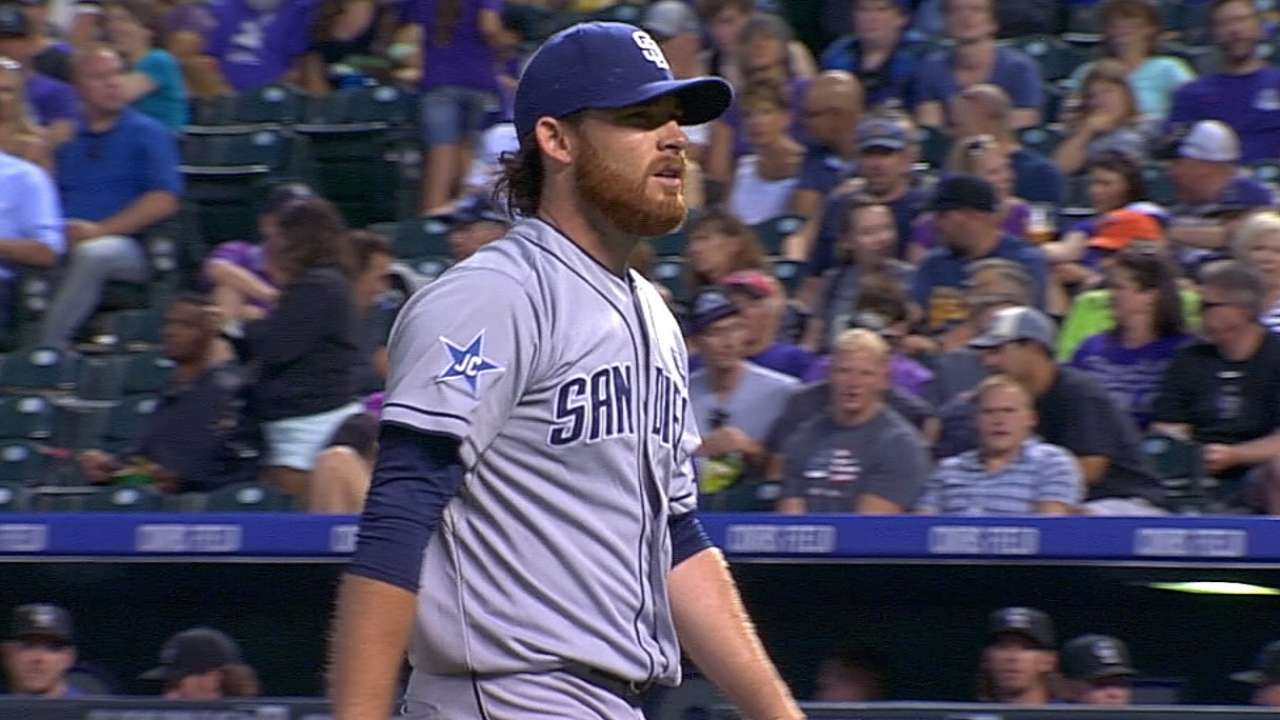 SAN DIEGO -- There's a messy white board located inside one of the Petco Park offices where first-year general manager A.J. Preller and his front-office staff gather at any -- and various -- points of the day to discuss options on how to improve a franchise that hasn't been to the postseason since 2006.
More so, though, the white board has been littered with the names of players who can potentially help the Padres' offense, a touchy subject among the restless fan base who have demanded better and are expecting big things this offseason from Preller, the first-year GM who was hired in August.
Could some of those names on the board become Padres in the next week, as baseball's annual Winter Meetings head to San Diego beginning Monday?
The Padres have at least shown a willingness to spend -- posting the highest offer on free agent Pablo Sandoval, who ultimately signed with the Red Sox -- and have been connected to any number of free agents, but mostly players through trade talks in recent days.
The Padres made a minor move earlier this week, finding some middle infield depth by signing veteran Clint Barmes to a one-year deal with a club option.
To make headway in the competitive National League West -- the Giants are coming off a World Series title and the division champion Dodgers won 94 games -- they'll need much more impact with their subsequent moves.
Club needs
Corner infielders: The Padres got a .238 average and a .300 on-base percentage from their first basemen this past season, marks not much better than the .234 average and .290 on-base percentage (and just 55 RBIs) from their third basemen. Yonder Alonso hasn't played in more than 100 games in each of the last two years because of injuries. Expect the Padres to look for upgrades at the corners -- one or the other, or both.
Offense, in general: The least-productive offense in baseball in 2014 stands to get upgrades in several areas -- not just the corner infield. The Padres have four outfielders under contract, but they could easily move one or more if needed to accommodate an addition. The Friars won't necessarily look for an offensive-minded shortstop (Preller does have his Texas ties ... paging the Rangers' Jurickson Profar, anyone?), but they could.
Who they can trade if necessary
Pitchers Tyson Ross or Andrew Cashner: The Padres were once thought to be considering moving either Ross or Cashner in a deal to get a bat. Then they wanted to keep both (which they still might). But after missing in free agency, the Friars might have to move one or the other to land some much-needed offense. Moving asset-for-asset isn't ideal, but the Padres might have to give this some thought if they're to find some offensive upgrades (more than one).
Pitcher Ian Kennedy: Moving Kennedy figures to be easier, even if he'll likely make close to $10 million in 2015 in his final season of being arbitration-eligible. In 2014, he looked more like the pitcher who won 21 games for the D-backs, surpassing 200 innings and 200 strikeouts. He will be a free agent after '15, so that will likely impact his return in terms of players.
A catcher: The Padres have been getting a lot of hits on three of their catchers -- Rene Rivera, who had a career revival year in 2014, Yasmani Grandal and Minor League backstop Austin Hedges. Catching is a premium position and teams hate to be naked there. Grandal would fetch the biggest return, as Hedges isn't ready for the big leagues and struggled defensively in Double-A, though he's regarded as the top defensive catcher in the Minor Leagues. Could the Padres package Grandal and another player to land some offense?
Top prospects
Hedges is regarded as the team's top prospect, according to MLB.com. Right-handed pitcher Matt Wisler took his lumps in the hitter-friendly Pacific Coast League last season, but those in the organization feel he will be better for it and that he learned a lot as a 21-year-old in a very veteran league. Wisler is the No. 2 prospect in the system. There's a chance he could crack the Padres' rotation, depending on if the team moves a pitcher this winter to find offense.
A pair of former first-round picks, outfielder Hunter Renfroe (2013) and shortstop Trea Turner (2014) are considered important pieces for the future of the organization and could move fast through the system. Both impressed during the Arizona Fall League.
Reliever R.J. Alvarez, the No. 20 prospect, stands a good chance to make the 25-man roster. He was an important part of the Huston Street deal with the Angels this past season, and he impressed the big league staff with a 1.13 ERA in eight innings of work in September.
Rule 5 Draft
After the signing of Barmes, the Padres have a full 40-man roster.
The team faced some tough decisions before setting their 40-man roster in advance of the Rule 5 Draft, and ultimately, left a quartet of pitchers unprotected who could get hits from other teams during the Draft on Thursday -- Justin Hancock, James Needy, Adys Portillo and Johnny Barbato.
The Padres have been active in the Minor League phase of the Rule 5 Draft and found a good one a year ago in infielder Diego Goris, who was drafted from the Royals. Goris hit .302 with 17 home runs and 71 RBIs between two Minor League stops.
Big contracts they might unload
There's a small chance, though it might be difficult to find takers, that the Padres could move two of the largest contracts on the books for 2015 -- outfielders Carlos Quentin and Cameron Maybin -- before the start of the season.
Quentin is owed $8 million in the final year of his deal, and Maybin is still owed $16 million over the next two seasons (including a buyout in 2017). Quentin, limited due to knee injuries, will have to reestablish his value before the team can move him. Maybin has also been hampered by injuries.
Kennedy, again, stands to make close to $10 million in 2015.
Payroll summary
The Padres, who opened this past season with the highest payroll in team history ($90 million), could surpass that in 2015. They already have about $41 million in guaranteed contracts already on the books for 2015, and have shown a willingness to spend through free agency, missing with their big offer on Sandoval.
In addition to the guaranteed contracts, the Friars are looking at about $28 million in projected arbitration raises.
Corey Brock is a reporter for MLB.com. Keep track of @FollowThePadres on Twitter. This story was not subject to the approval of Major League Baseball or its clubs.