Starting pitching remains atop D-backs' Meetings agenda
Even after acquiring Hellickson, Ray, Arizona hoping to supplement rotation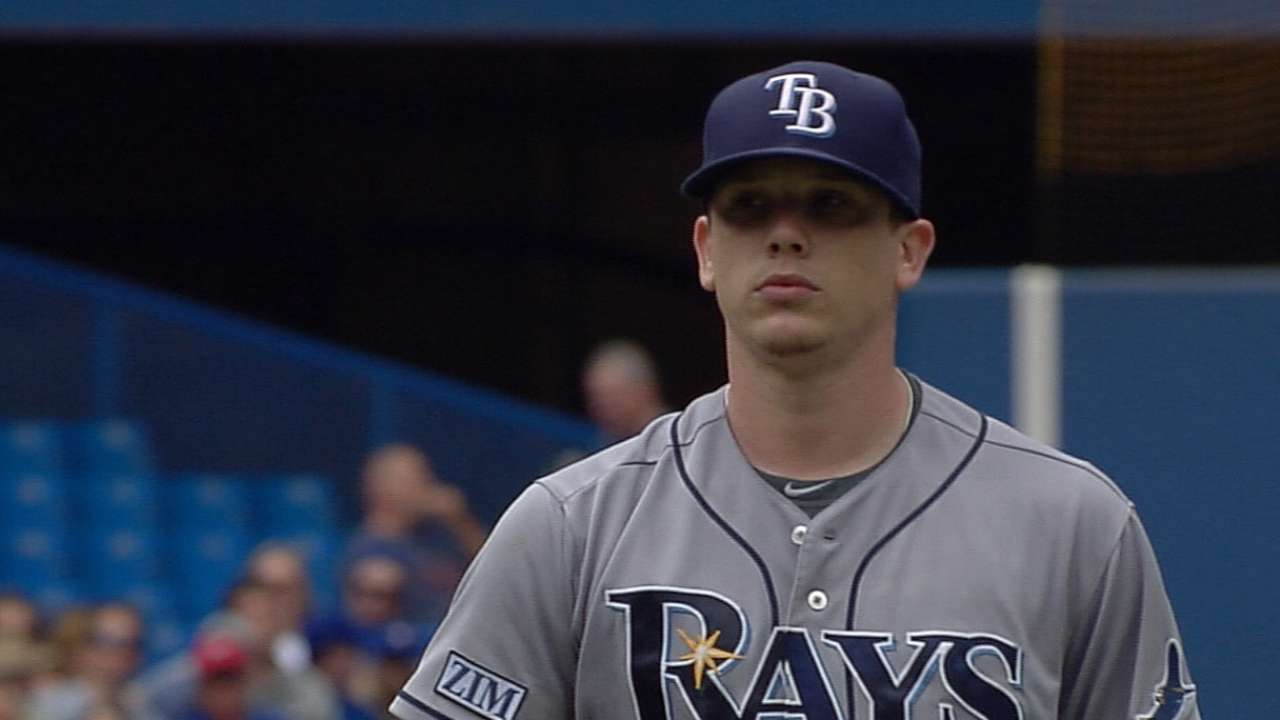 The D-backs have crossed a few items off their shopping list so far this offseason, adding right-hander Jeremy Hellickson and lefty Robbie Ray to the rotation and getting more sock in the lineup by agreeing to terms with Cuban free agent Yasmany Tomas.
There is still more work to be done, though, to improve a team that finished with the worst record in Major League Baseball in 2014 at 64-98, and some of it could get done at baseball's annual Winter Meetings, which get underway Monday in San Diego.
"I think we'll be active," D-backs team president/CEO Derrick Hall said. "I don't know if we'll get anything done. We will certainly try because we're still looking for ways to improve the ballclub. We're having lots of talks with lots of teams."
Trades by former general manager Kevin Towers, along with injuries to Patrick Corbin and Bronson Arroyo, have depleted Arizona's starting pitching depth throughout the system.
"It's not just adding starting pitching that can give us some extra wins in 2015, but it's building up a group of guys that would be available to pitch that we would control for years beyond 2015," D-backs chief baseball officer Tony La Russa said. "The healthiest situation is for them to pitch when they deserve to pitch, not because we need them to pitch. So [GM Dave Stewart is] looking to build some depth."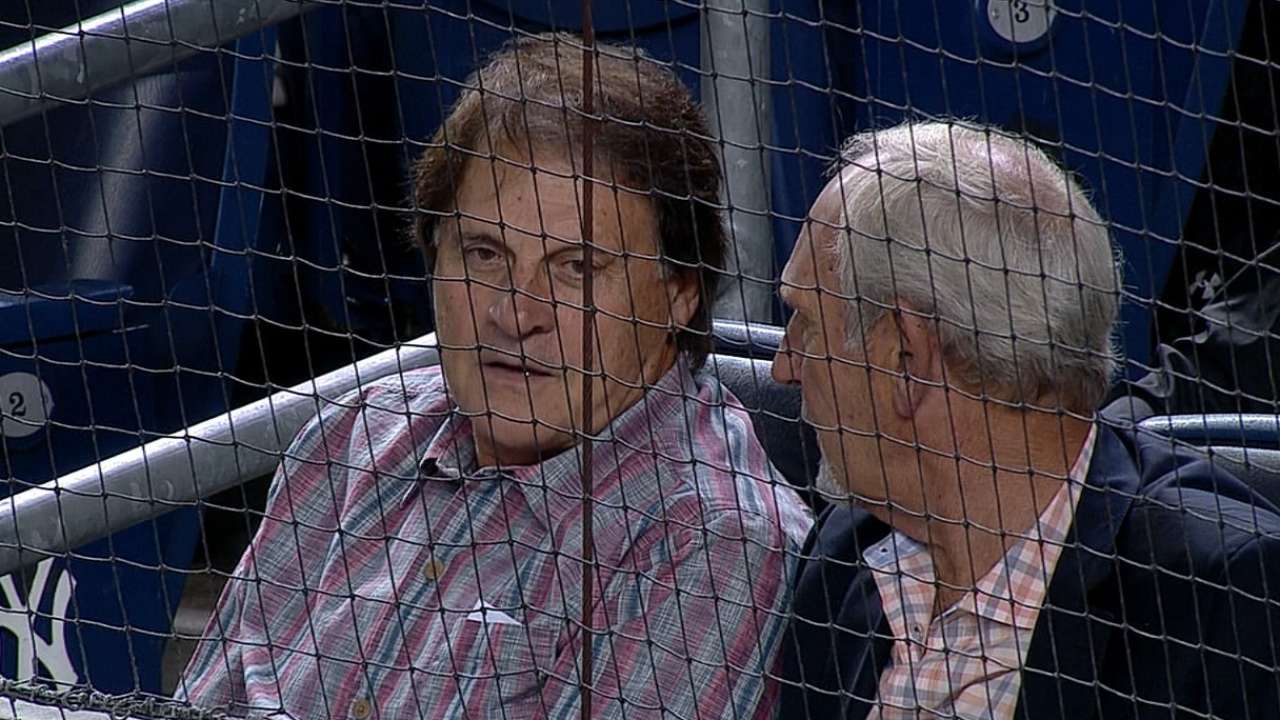 Club needs
Starting pitching, starting pitching, starting pitching: The D-backs continue to search for help alongside Wade Miley, Hellickson and Josh Collmenter in the rotation. Ray, Chase Anderson, Trevor Cahill, Vidal Nuno, Randall Delgado, Daniel Hudson and Archie Bradley are among the other candidates to make the five-man staff, but the team would like to have even more competition for spots. When it comes to free agents, Arizona won't be a player for the top-end guys like Max Scherzer and Jon Lester, but will wait to see who might still be on the board late in the process. The D-backs could sign Chad Billingsley and possibly trade for another arm.
Left-handed bat: The D-backs would like to add a left-handed bat, preferably one with power that can either start or at the very least platoon against right-handed pitching.
Catcher: The D-backs have a good combination in Miguel Montero and backup Tuffy Gosewisch, but if they trade Montero, they will need to add a backstop. Organizationally, they could use some depth at this position as well.
Who they can trade if necessary
Outfielder Mark Trumbo: Trumbo struggled with injuries this past season, and if the D-backs feel like Tomas will be ready to start 2015 in the big leagues, it could free Arizona up to deal Trumbo. Trumbo can play first base and left field, but might even be more valuable to an American League team. He has tremendous power, a quality that is in short supply these days. Then again, the D-backs plan on trying Tomas at third base initially, and Stewart said he had "no interest in" moving Trumbo.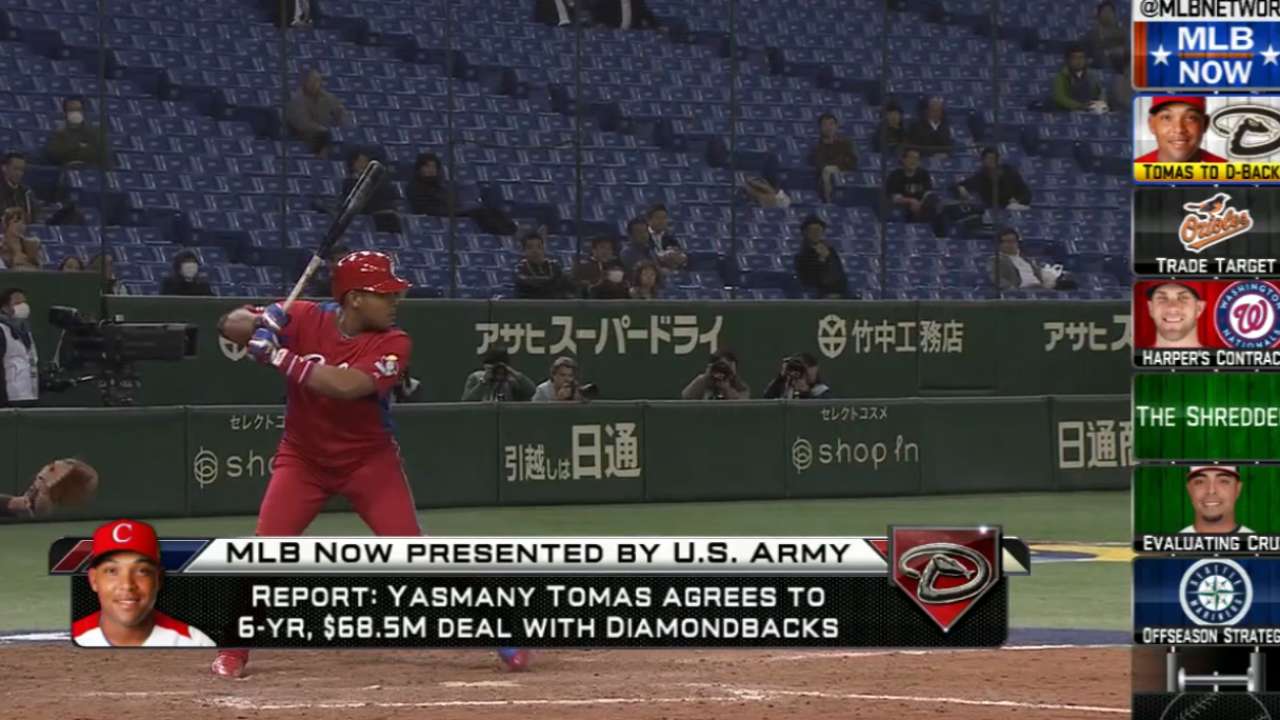 Montero: If the D-backs want to reduce their payroll, dealing Montero, who is owed $40 million over the next three years, is the prime way of doing it. A favorite of the previous front-office regimes, there are indications that this one is open to trading him and has at least been listening to offers the last couple of months.
Bullpen arms: Another area of depth for the D-backs. In addition to closer Addison Reed and relievers Brad Ziegler, Oliver Perez and Evan Marshall, the team will get back David Hernandez and Matt Reynolds from Tommy John surgery. There's also Hudson, if he stays in the bullpen, and Matt Stites. That doesn't take into account some of the young, hard throwers the team has coming up quickly in the system like Jake Barrett and Enrique Burgos. In other words, they have a lot of relief arms.
Top prospects
The D-backs' top 10 prospects, per MLB.com, are Bradley, right-hander Braden Shipley, right-hander Touki Toussaint, right-hander Aaron Blair, third baseman Jake Lamb, third baseman Brandon Drury, Ray, catcher Peter O'Brien, middle infielder Domingo Leyba and outfielder Marcus Wilson.
The D-backs were willing to part with shortstop Andrew Velazquez and outfielder Justin Williams in the Hellickson deal, because they felt like they were at least three to four years away. However, the organization seems less likely to give up its top-end pitching prospects right now.
Rule 5 Draft
Last year, the team selected right-hander Marcos Mateo in the Rule 5 Draft, but he struggled with his command during the spring, did not make the team and was returned to the Cubs' organization.
With their roster full at 40, the D-backs would need to clear a spot if they wanted to be able to pick someone this year.
Big contracts they might unload
Montero is owed $40 million over the next three years and could be the most valuable trade chip the team has at this point.
It seems unlikely that the D-backs would be able to trade Aaron Hill unless they are willing to pick up a big chunk of the $24 million he is owed the next two years. It might make more sense for them to try to hang on to him and hope he rebounds at the plate.
Payroll summary
The D-backs' ownership group has never been cheap. They had an Opening Day payroll of $110 million last year, a club record, and if you figure in the Tomas signing and raises for arbitration-eligible players, it stands right around $100 million. Hall has said the team would like to create more flexibility and have the figure be somewhere around $90 million to $95 million. That will certainly be a challenge.
Steve Gilbert is a reporter for MLB.com. Read his blog, Inside the D-backs, and follow him on Twitter @SteveGilbertMLB. This story was not subject to the approval of Major League Baseball or its clubs.