Dodgers poised to make noise at Winter Meetings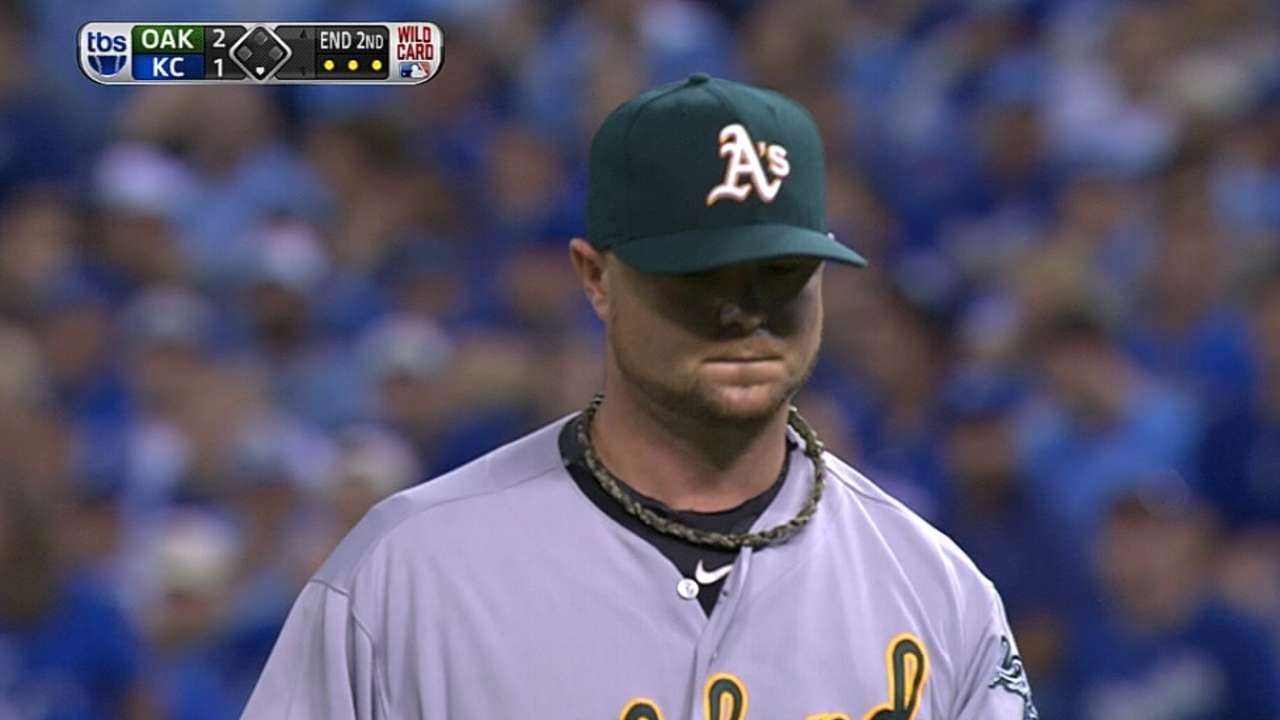 LOS ANGELES -- They'll trade away an outfielder, come up with a pitcher or two and probably a shortstop by the time next week's Winter Meetings in San Diego are over.
They'll also be the subject of rumors involving every big-name, high-salaried player in play. Most of the rumors will be bogus.
They are, of course, the Dodgers, the most interesting team in baseball with an ownership Dream Team, a management Dream Team, 94 wins last season and the highest payroll in history.
Oh, and no World Series appearance since 1988.
That last fact is why the Dodgers would be attracted to a free agent like left-hander Jon Lester, even though the starting rotation is already pretty well stocked. And why they would even think about doling out another multiyear deal to a non-closer like Andrew Miller (who signed with the Yankees on Friday), having already done that for Brian Wilson, Brandon League and J.P. Howell.
One thing not expected to change from last winter is the reluctance to trade any of the organization's top three prospects -- Corey Seager, Joc Pederson or Julio Urias.
In the weeks leading up to the Winter Meetings, president of baseball operations Andrew Friedman & Co. have focused on making incremental improvements and building depth which, general manager Farhan Zaidi said, puts them in position to make "needle-moving moves" later.
So, get ready San Diego, because here they come.
The Winter Meetings begin Monday, with the Rule 5 Draft taking place Thursday, the event's final day.
Club needs
Starting shortstop: Pickings are slim on the free-agent market, although the non-tender of Everth Cabrera by the Padres is intriguing. So are rumors of a trade with the White Sox for Alexei Ramirez. Regardless, whoever is acquired won't compare to the bat of the departed Hanley Ramirez, who will now play left field in Boston. But a significant upgrade defensively will help mitigate the lost offense.
Starting pitcher: The rotation already includes National League MVP and Cy Young Award winner Clayton Kershaw, Zack Greinke, Hyun-Jin Ryu and Dan Haren, so it's a little weird to say the Dodgers "need" a starting pitcher. But their rumored run this week at Lester is the ultimate proof to the adage that you can never have enough.
Setup reliever: The Miller rumor made sense, although the size of the contract (four years, $36 million) woudn't have, especially considering the Dodgers already are paying a ton to Wilson, League and Howell. The club already added ageless middle man Joel Peralta and envisions Juan Nicasio to be better in relief than he has been as a starter.
Who can or needs to be traded
It was mostly talk last winter, but this time new management has given every indication that it really will trade Matt Kemp, Carl Crawford or Andre Ethier. Each comes with contractual burdens. Kemp is now healthy and will bring the most in return, but with Ramirez already gone, a Kemp departure would leave Yasiel Puig as the primary right-handed run producer. Crawford outplayed Ethier last year, but the Dodgers would probably need to eat some salary to move either.
Top prospects
Outfielder Pederson: With 33 homers and 30 stolen bases at Triple-A Albuquerque in 2014, the 22-year-old became the first 30/30 player in the Pacific Coast League in 80 years. Going 30/30 anywhere is no fluke, and Pederson has improved against lefties and cut down the strikeouts. If the front office finally trades away a big league outfielder, it will be an endorsement of Pederson.
Shortstop Seager: He's 20, but the Dodgers already can't wait for him to arrive in Los Angeles. The 6-foot-4 frame suggests he could wind up at third base, but new management prefers keeping him at shortstop.
Left-hander Urias: The Mexico native is only 18, but he's the best pitching prospect in the organization. He has touched 98 mph with his fastball and also features a curve and changeup.
Infielder Alex Guerrero: A year ago he was expected to be the starting second baseman. That was before the club realized he lacked the defensive skills to play the middle infield in the Major Leagues. His advancement was impeded when he missed part of the season after former teammate Miguel Olivo bit off part of his ear. He'll be 28 and has a clause in his contract that prevents a Minor League option without his permission.
Right-hander Zach Lee: He lacks the one dominant pitch you might expect from a pitcher who received a $5.25 million signing bonus, and his regression last year took him out of contention for a midseason callup.
Outfielder Scott Schebler: Although he had committed to Wichita State, the Dodgers took Schebler in the 26th round, paid him $300,000 and got their money's worth, as he stepped up to Double-A in 2014 with no dropoff in offensive production.
Arbitration-eligible
Catcher A.J. Ellis ($3.55 million in 2014), right-hander Kenley Jansen ($4.3 million), second baseman Dee Gordon ($515,000), infielder Justin Turner ($1.175 million), outfielder Chris Heisey ($1.76 million), right-hander Juan Nicasio ($2.025 million), catcher Drew Butera ($800,000).
Rule 5 Draft
The Dodgers' 40-man roster is full. With their former scouting director, Logan White, now with the Padres and their former farm director, De Jon Watson, now with the D-backs, it wouldn't be a surprise if the Dodgers lost a player to either of those organizations.
Big contracts to unload
Crawford ($62.25 million, three years), Ethier ($56 million, three years), Kemp ($107 million, five years).
Payroll summation
The Dodgers spent a record $240 million last year and can afford anything, but club president Stan Kasten has said he wants to rein that in and rely more on the farm system. There's already $194 million committed to 16 players for 2015.
Ken Gurnick is a reporter for MLB.com. This story was not subject to the approval of Major League Baseball or its clubs.