MLB.com Columnist
Jim Callis
Pipeline Perspectives: D-backs should pick Rodgers
High school shortstop out of Florida has no apparent weaknesses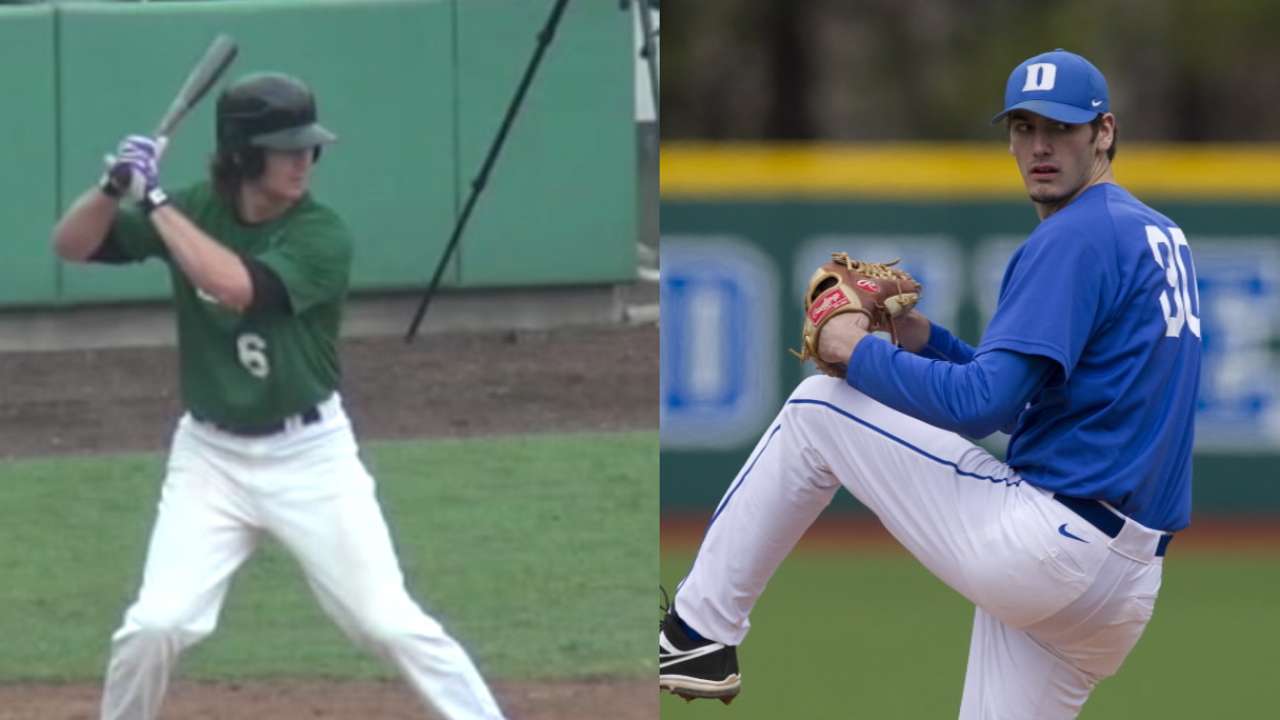 There's a good amount of subjectivity regarding baseball prospects. With the evaluation of talent being in the eye of the beholder, finding consensus is often difficult. Even Jim Callis and Jonathan Mayo of MLBPipeline.com don't always see eye to eye. They discuss their viewpoints regularly in a feature called Pipeline Perspectives. Submit a topic for them to debate.
For the first time in four First-Year Player Drafts, the Astros won't be making the No. 1 overall pick. Instead, that privilege belongs to the D-backs after they finished last season with 98 losses.
Seeing as how Arizona is the only one of the 30 teams that doesn't currently have a scouting director -- Ray Montgomery left to become vice president of amateur scouting and special assistant to the general manager for the Brewers a month ago -- the Pipeline Perspectives crew figured that we'd help out. This week's topic: Which player deserves to hear his name called first when the Draft kicks off on June 8?
While the consensus within the industry is that there's no clear-cut No. 1 overall prospect for 2015, the decision is pretty obvious to me (with the disclaimer that an awful lot can and will change over the next six months, of course). The D-backs should take Lake Mary (Fla.) High School shortstop Brendan Rodgers.
Rodgers, who occupies the top spot on MLBPipeline.com's Top 50 Draft Prospects list, has plenty of strengths and no apparent weaknesses. He has the bat speed and strength to generate 20 or more homers per season in his prime, and his approach is also impressive. He has a simple, short right-handed stroke and uses the whole field rather than selling out for power.
Rodgers' arm gives him a third plus tool to go with his bat and his power. The worst thing scouts can say about him is that he's not as quick as a typical shortstop, but he's still a solid runner and defender who won't have to find another position. His instincts and soft hands are two more assets in the field, and his overall package is similar to that of Cubs mega prospect Addison Russell, another Florida high school product.
Rodgers is a humble kid who draws raves from coaches and scouts for his makeup. He has a higher ceiling than most middle infielders and is the type of player whom a franchise can build around.
At this point, there are two other viable options for the No. 1 overall pick: Duke right-hander Michael Matuella, who's Jonathan Mayo's choice, and left-hander Brady Aiken, who's expected to surface at a junior college this spring after declining to sign with the Astros as the first choice in the 2014 Draft.
Matuella and Aiken clearly have the stuff and physicality to go at the top of the Draft. Matuella has a mid-90s fastball, can miss bats with both a curveball and slider and exhibits feel for his changeup and throwing strikes. He's also 6-foot-7, so he creates plane and angle with his pitches that make him that much tougher to square up.
Aiken isn't as big or overpowering as Matuella, but he has outstanding stuff for a southpaw and advanced command for a teenager. He works at 92-94 mph and reaches 97 mph with his fastball, backing it up with a pair of plus secondary pitches in his curveball and changeup. He has an athletic pitcher's build at 6-foot-3, 210 pounds.
However, both Matuella and Aiken come with health concerns. Matuella has pitched just 116 innings in two seasons with the Blue Devils and only 4 2/3 in two years of summer ball. He missed time with a lat strain last spring, took the summer off after being diagnosed with spondylolysis (a manageable defect of the vertebra in the lower back) and didn't face live hitters during fall practice.
Aiken finished his 2014 senior season at San Diego's Cathedral Catholic High throwing as well as he ever had and quickly agreed with the Astros on a $6.5 million bonus that would have matched Jameson Taillon's record for a high school pitcher. But a post-Draft physical revealed that Aiken has an unusually thin ulnar collateral ligament in his elbow, prompting Houston to reduce its offer. He turned down the Astros' final bid of slightly more than $5 million at the July 18 signing deadline.
The health of pitchers is fickle enough already that the worries with Matuella and Aiken make it even easier to side with Rodgers. Even if Matuella and Aiken came with pristine medical records, it would be foolish to ignore Rodgers' upside as a middle infielder with five-tool potential. The D-backs should go with the high school shortstop -- just like they did when they last had the No. 1 overall choice and selected Justin Upton in 2005.
Jim Callis is a reporter for MLB.com and writes a blog, Callis' Corner. Follow @jimcallisMLB on Twitter. This story was not subject to the approval of Major League Baseball or its clubs.