Inbox: How does Markakis measure up to Heyward?
Beat reporter Mark Bowman answers questions from Braves fans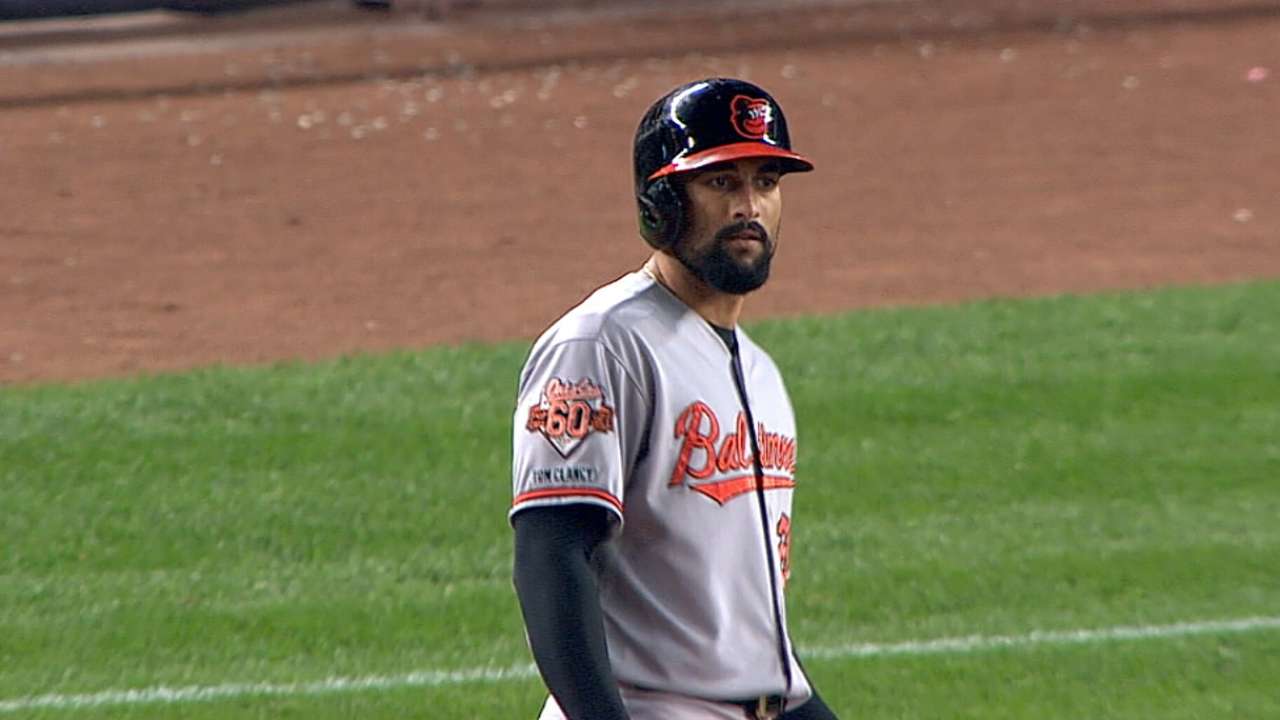 Will Nick Markakis be a good replacement for Jason Heyward?
-- Stan F., Kennesaw, Ga.
Right fielders Heyward and Markakis are both two-time Gold Glove winners who were beloved by the fans of the only organization each had been a part of since becoming just one of the many Georgia products selected in the first round of the First-Year Player Draft.
Now that Markakis is preparing to fill the role previously held by Heyward, it seems that many fans want to draw parallels between the two. But other than the similarities mentioned above, there really isn't much reason for comparison. They are two different players at different points of their respective careers.
While Heyward is still bidding to live up to his tremendous potential as he approaches the prime years of his career, Markakis is a 31-year-old veteran attempting to prove he can distance himself from the neck ailment that has robbed him of the power he possessed throughout the first seven seasons of his career.
It remains to be seen what the future has in store for both of them. The one certainty is that Markakis, who agreed to a four-year, $44 million deal on Wednesday, comes at a cost that is about half of what Heyward hopes to get as a free agent next year.
The Gold Glove selections might indicate that they are comparable defenders, but dating back to 2011, when Markakis first won the award, Heyward has been credited with 82 Defensive Runs Saved, and Markakis has -11.
Recent offensive comparisons of the two have to be made with the reminder that both have been hampered by ailments. Markakis has dealt with discomfort in his neck while batting .274 with 24 homers and a .707 OPS the past two seasons. Heyward, who missed two months of the 2013 season, has hit .264 with 25 homers and .752 OPS during this same span.
Heyward might go to St. Louis and rekindle the promise he produced in 2012, when it looked as though he was ready to establish himself as one of the game's elite players. Markakis might no longer have that potential.
But after being burdened by his neck throughout much of the 2013 season, Markakis hit four additional homers and improved his slugging percentage by 30 points this past season. If nothing else, he is trending back toward being the player he was from 2006 to 2012, when he produced a .455 slugging percentage -- a mark that Heyward has exceeded just twice in five seasons (including his .456 in 2010).
Markakis has also proven to be a much more consistent hitter against left-handers.
But the Braves haven't brought him to Atlanta to be compared with Heyward.
The Braves simply want him to prove steady on the field and enrich their clubhouse with the high-character personality that made him so popular among the players, coaches and fans in Baltimore.
With the struggles that Mike Minor endured this past year, how can the Braves rely on him as one of their 2015 starting pitchers?
-- Patrick F., Ottawa, Canada
Let's not forget that this past season was anything but ordinary for Minor, who spent last New Year's Eve undergoing a urinary tract procedure that essentially kept him sedentary for much of January. He was basically a month behind at the start of Spring Training and then had to travel to multiple Minor League cities to complete his rehab.
Then, of course, he admitted in late September that his shoulder had occasionally bothered him as he produced a 4.77 ERA over 25 starts. If there is any reason for the Braves to be concerned about him, it should be the possibility that a few months of rest during the offseason won't prove to be enough to end the discomfort.
When healthy, Minor has shown that he can be effective at the Major League level. From July 1, 2012, through the end of the 2013 season, he ranked 10th among all qualified Major League starters with a 2.90 ERA.
Are the Braves considering trading Craig Kimbrel?
-- Jason M., Huntsville, Ala.
The Braves have never even hinted at this possibility, which simply arose from speculation created by the possibility that they planned to blow up their roster this winter. The thought proposed by media members, including myself, was that if you're not going to be competitive for the next couple of seasons, then why not try to get a king's ransom for a guy whom many consider to be the game's best closer?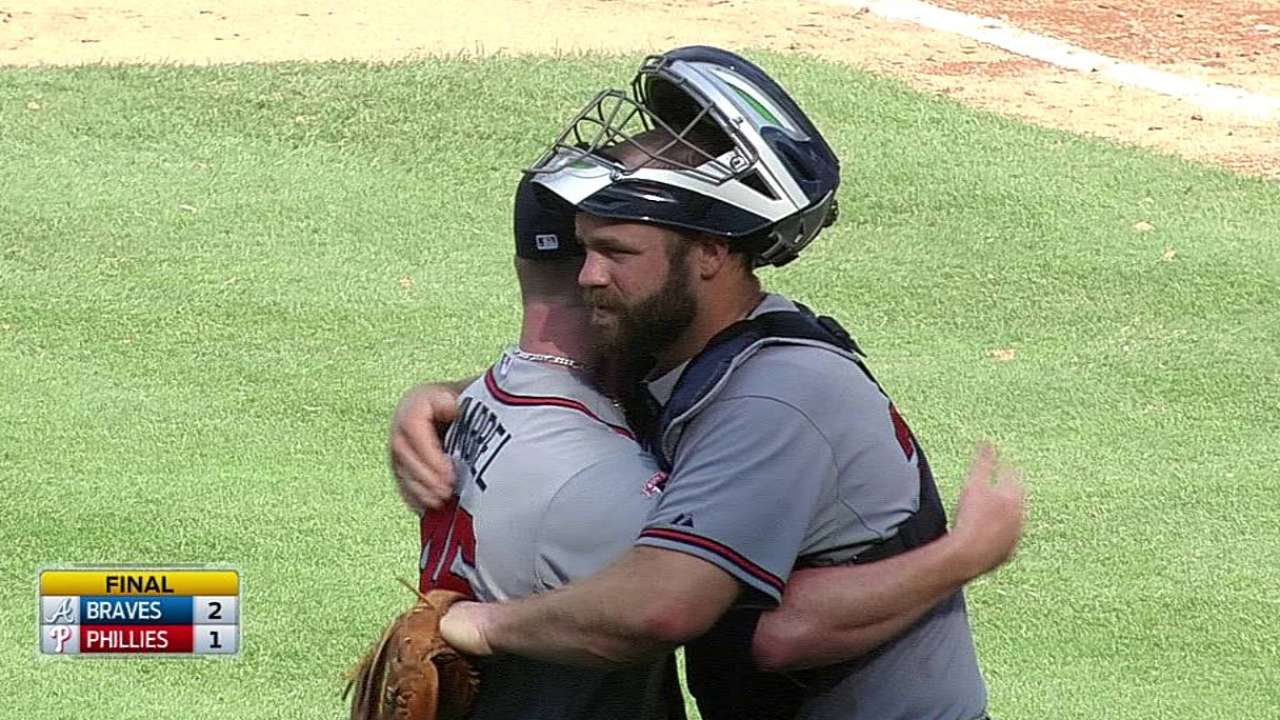 But even though there remains a slight possibility that both Justin Upton and Evan Gattis will be traded, the Braves have not provided any indication whatsoever that they have discussed the possibility of moving Kimbrel.
Is there anything the Braves can do to unload B.J. Upton?
-- Tom P., Longwood, Fla.
When teams have shown interest in Gattis or Justin Upton, the Braves have at least checked to see if they could package B.J. in the deal. But needless to say, there haven't been too many teams interested enough in one of those two sluggers to assume the $46.4 million B.J. is owed over the next three years.
There is still a possibility that the Braves might be able to find a club willing to swap bad contracts, but it seems as though Atlanta's best hope is that B.J. starts to show some signs of life while working with new hitting coach Kevin Seitzer this year.
Mark Bowman is a reporter for MLB.com. This story was not subject to the approval of Major League Baseball or its clubs.