Brewers still looking to improve roster
Winter Meetings could help club find lefty reliever, platoon first baseman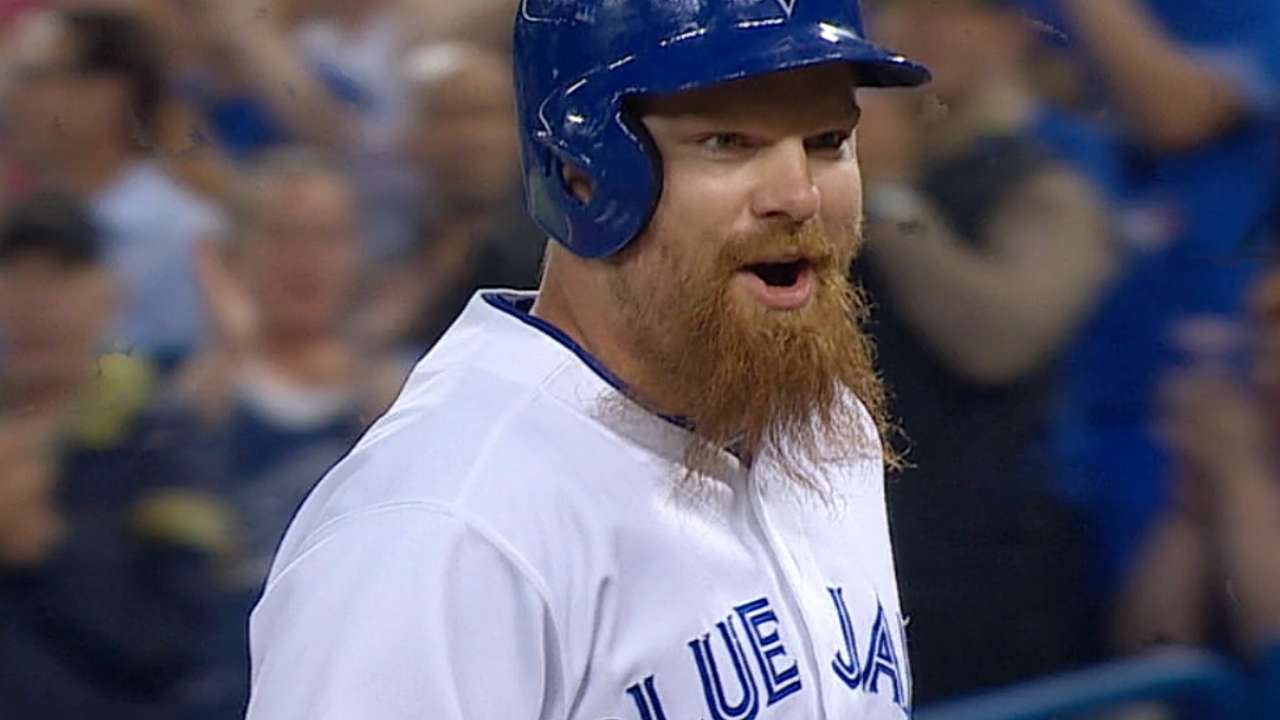 MILWAUKEE -- Had some things broken differently for the Brewers, they might have been buyers at next week's Winter Meetings. Instead, the team acquired outfielder Gerardo Parra and projected closer Jonathan Broxton in midseason trades, added Adam Lind at the start of November, then were surprised by third baseman Aramis Ramirez's decision to exercise his half of a mutual option.
As a result of those moves, the Brewers have names penciled into every defensive position, every spot in the starting rotation and at least four slots in the bullpen, including at closer. It could be a different sort of Winter Meetings than in years past.
"The great thing is that at the beginning of the conversation you're not sitting there saying, 'Where can we get a first baseman?'" assistant GM Gord Ash said. "You're saying, 'Where can we get better?' You can add this and subtract that. Or subtract that and add this. There's all kinds of different scenarios."
Here's a look at where the Brewers stand as they head to San Diego:
Club needs
Left-handed relief: Melvin has talked about using big left-hander Will Smith in a "closer by committee" setup with Broxton and Jeremy Jeffress, which would make the search for more left-handed help an even higher priority. The Brewers were in good shape in that category last season with Smith and Zach Duke and briefly engaged Duke in discussions about a return before the White Sox blew the Brewers out of the water with a three-year, $15 million contract. But that role can also be filled more frugally; Duke originally came to the Brewers on a Minor League contract with a big league camp invitation.
Platoon partner for Lind: Given his health history and uneven splits (Lind owns a lifetime .860 OPS against right-handed pitching and a .588 OPS against lefties), the Brewers will look at right-handed-hitting options to share time at first base. It could be as simple as occasionally giving All-Star catcher Jonathan Lucroy a break from behind the plate, and newcomer Luis Jimenez and former organizational player of the year Jason Rogers also have a shot.
Third baseman of the future: Ramirez will turn 37 before the All-Star break and has been frank about nearing the end of his playing career. Nicky Delmonico, who had ranked among MLB.com's top 20 Brewers prospects at the start of last year, was derailed last season by an undisclosed personal matter followed by a 50-game suspension for amphetamines. At some point soon, the Brewers will have to address third base.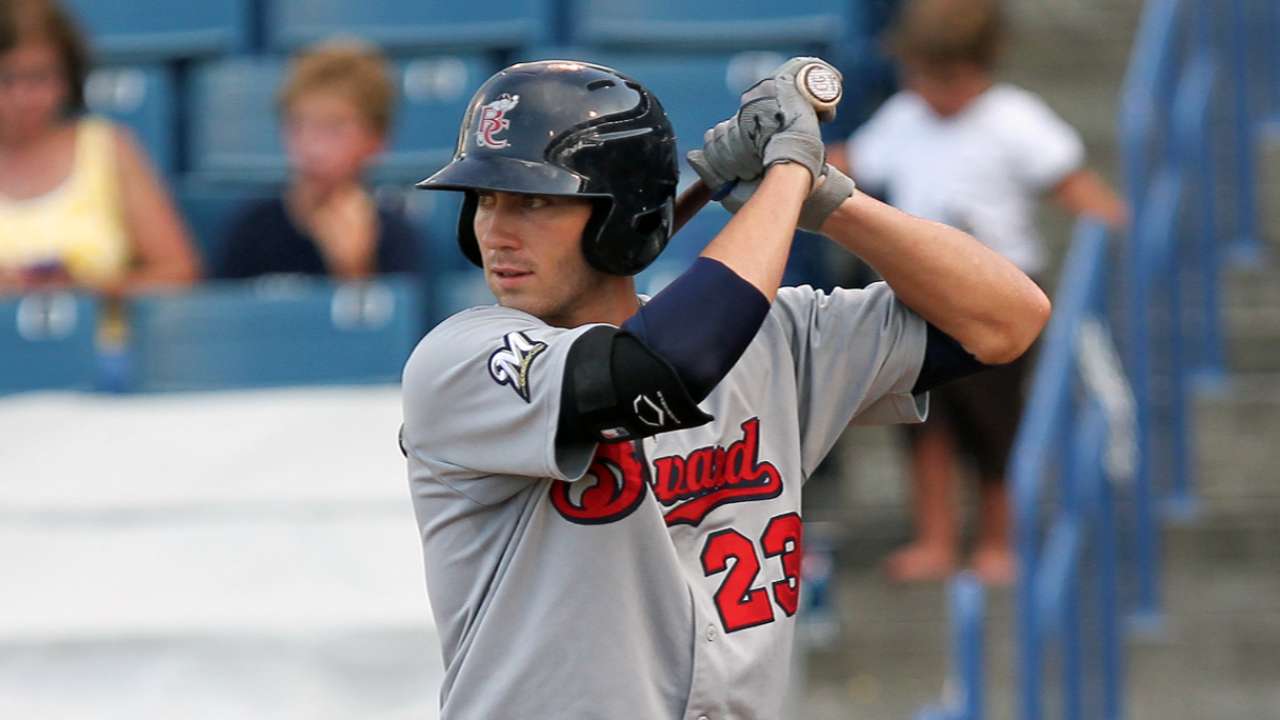 Who they can trade if necessary
A starting pitcher: The Brewers have six starting pitchers (Yovani Gallardo, Kyle Lohse, Matt Garza, Wily Peralta, Mike Fiers and Jimmy Nelson) for five spots, two of whom (Gallardo and Lohse) will be free agents after next season. The Brewers may just retain the depth with the option to shift Fiers or Nelson to the bullpen on Opening Day, but would also listen to offers for either Gallardo (due $13 million next season) or Lohse ($11 million) if it's a trade that makes sense. Either way, Brewers officials don't expect action on this front until more free-agent pitchers fall off the market.
An outfielder: In the outfield, it's four viable players for three spots. With right fielder Ryan Braun, center fielder Carlos Gomez and young, slugging left fielder Khris Davis essentially locked into the starting roles, the extra man is Gold Gove Award contender Parra, who will earn upwards of $6 million next season through arbitration. Parra finds his way into lineups because of his defense and left-handedness (he compiled 574 plate appearances for the D-backs and Brewers last season despite playing largely a reserve role), so Brewers officials maintain they don't mind paying that significant salary to a fourth outfielder. But they are also positioned to dangle Parra at the Meetings to see what he might fetch for a return.
A shortstop: In Jean Segura and Minor Leaguers Yadiel Rivera and Orlando Arcia, the Brewers have three top defensive shortstops aged 24 or younger. The way Melvin talks about the value of that position, it would probably take a significant offer to move one of them.
Top prospects
Outfielder Tyrone Taylor tops most lists of the top Brewers prospects (including MLB.com's), but Arcia is also highly regarded. Whichever of the two is your top pick, the Brewers' best prospects are mostly outfielders (Taylor, recently converted Clint Coulter, Monte Harrison and Victor Roache among them) or pitchers (including 2014 first-round pick Kodi Medeiros, 2013 top pick Devin Williams and 2011 first-rounder Taylor Jungmann).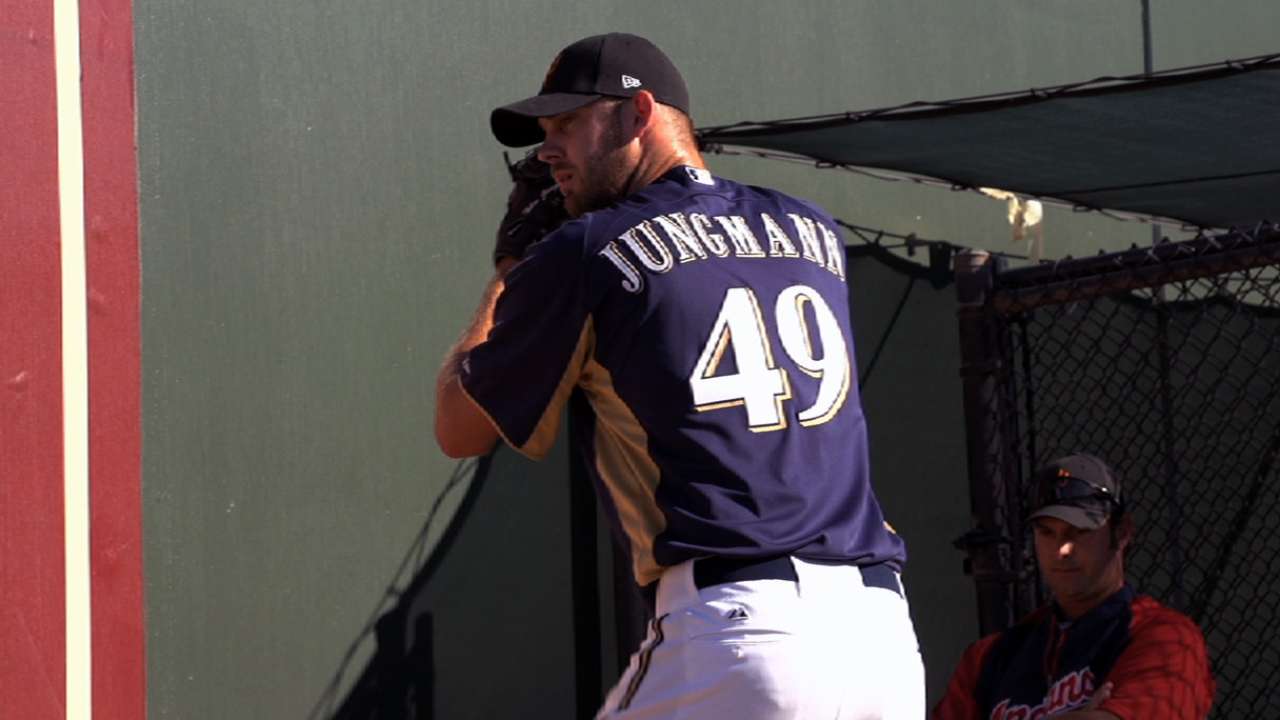 Of those players, only Jungmann is right on the cusp of the Major Leagues, which can be read a couple of ways. On one hand, the Brewers would probably match best in trade talks with teams looking at a longer-term building project. At the same time, if the Brewers trade an established player for a young one, they could use advanced prospects.
Rule 5 Draft
The Brewers filled their 40-man roster by adding Jungmann, Rivera, David Goforth and Michael Strong at the deadline to protect eligible players from the Rule 5 Draft, but cleared a spot several days later by outrighting right-hander Ariel Pena to Triple-A. That means they could pick a player in the Rule 5 Draft if they wish. Last year, the Brewers made a surprise selection in left-hander Wei-Chung Wang and kept him in the big leagues despite the fact Wang had never pitched above rookie ball. He struggled out of the bullpen, spent most of the second half on the disabled list and will return to the Minor Leagues in 2015 to start over as a starting pitcher.
Big contracts they might unload
Assuming Braun is able to rebound from the thumb injury that sapped his power in 2014, the Brewers don't have any burdensome long-term contracts. But Ramirez ($14 million), Gallardo ($13 million), Lohse ($11 million) and Broxton ($9 million) are all carrying significant salaries into the final guaranteed year of their deals.
Payroll summary
With the Lind trade, Ramirez returning via mutual option and projections for arbitration-eligible players and minimum salary players, the Brewers' payroll pushed over $100 million by the first week of November -- something of a stunner for a team in one of baseball's smallest markets. Principal owner Mark Attanasio has a history of pushing the payroll limit (he signed Lohse for $33 million at the end of 2012 Spring Training and Garza for $50 million in January), but it's difficult to see the Brewers, with their current commitments, getting involved in any of the big-time free agents this time.
Adam McCalvy is a reporter for MLB.com. Read his blog, Brew Beat, and follow him on Twitter at @AdamMcCalvy. This story was not subject to the approval of Major League Baseball or its clubs.