Outfielders to remain hot topic for Braves at Meetings
Club has made several moves, but is still discussing deals involving J-Up, Gattis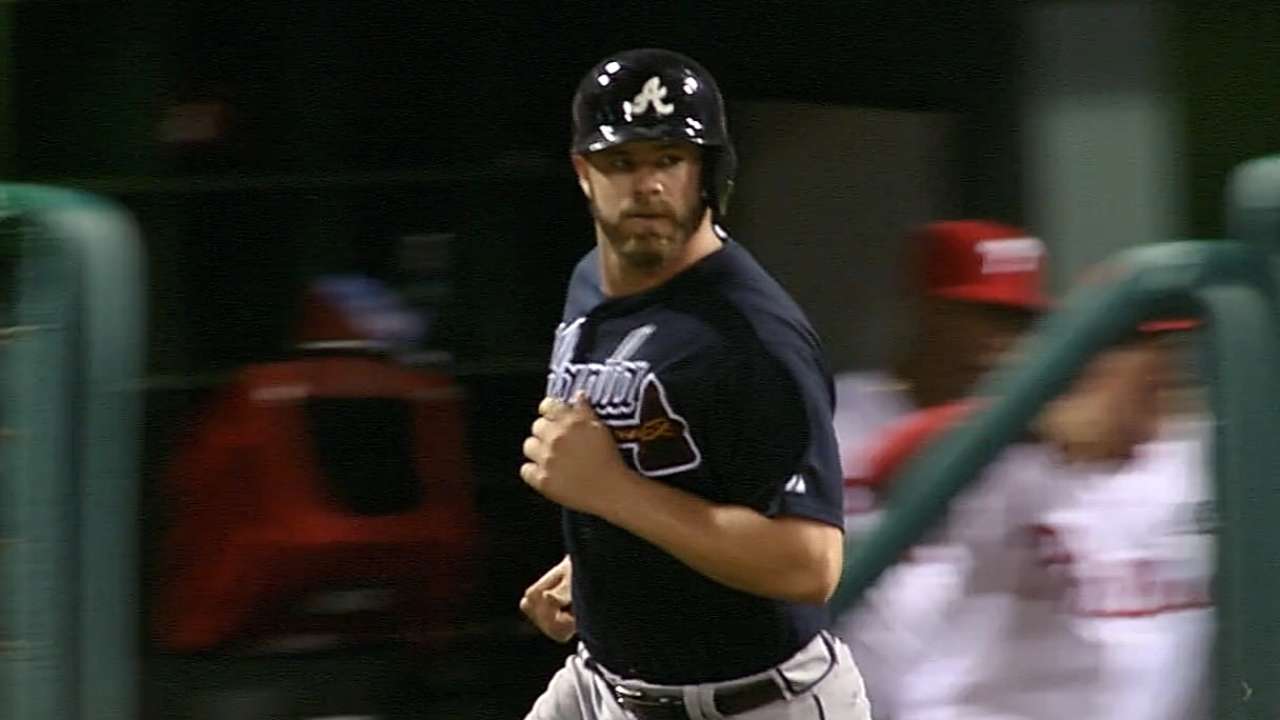 ATLANTA -- There is no doubt that the Braves want to position themselves to be consistent playoff contenders when they move into their new stadium in 2017. But with a couple of aggressive moves during the early stages of this Hot Stove season, they have at least kept open the possibility to prove successful in 2015.
The Braves have already landed a potential frontline starter (Shelby Miller) in exchange for Jason Heyward, and they signed Nick Markakis to fill Heyward's void in right field. But their direction for the immediate future will truly be dictated by what they opt to do with Justin Upton and Evan Gattis.
Potential trade talks involving Upton and Gattis have swirled over the past month and might prove to be one of the hottest topics during this year's Winter Meetings, which will begin on Monday in San Diego.
Braves president of baseball operations John Hart and assistant general manager John Coppolella have navigated the club through what has been its most intriguing offseason since former general manager Frank Wren was tasked with constructing a new starting rotation before the 2009 season.
Along with having to acquire at least two Major League-ready starting pitchers, the Braves entered this offseason knowing they would likely have to reconstruct their outfield, fortify their bullpen and attempt to strengthen a weak farm system.
With Miller, Markakis and former All-Star closer Jim Johnson already in place, the Braves now face the tough decisions regarding Upton and Gattis. Any trade involving either or both of these two right-handed sluggers will certainly influence the makeup of the 2015 roster. But the goal will be to gain a return that will positively impact the organization for many years to come.
Here is a quick glance at the Braves' situation heading into the Winter Meetings:
Club needs
Rotation
When Miller was acquired from the Cardinals in exchange for Heyward, he joined Julio Teheran, Alex Wood and Mike Minor as the only members of next year's projected rotation. The Braves need to add at least one more Major League-ready starter and attempt to continue adding to the organization's overall starting-pitching depth. They took a step in this direction when the trade with the Cardinals also netted them Tyrell Jenkins, a high-upside prospect who could serve as one of Atlanta's starters at some point during the 2016 campaign.
Outfield
With Markakis, Upton, Gattis and B.J. Upton, the Braves currently possess four outfielders who could serve as everyday players next year. But Markakis is the only member of this quartet who might not be traded within the next couple of weeks. While hope might be the only thing fueling speculation that the Braves might move B.J. Upton's unappealing contract, there is reason for the club to gain some insurance in the event that he once again shows he should not be manning center field on a regular basis. Then, of course, if the Braves opt to move both Gattis and Justin Upton, they will be in the market for at least one starting outfielder.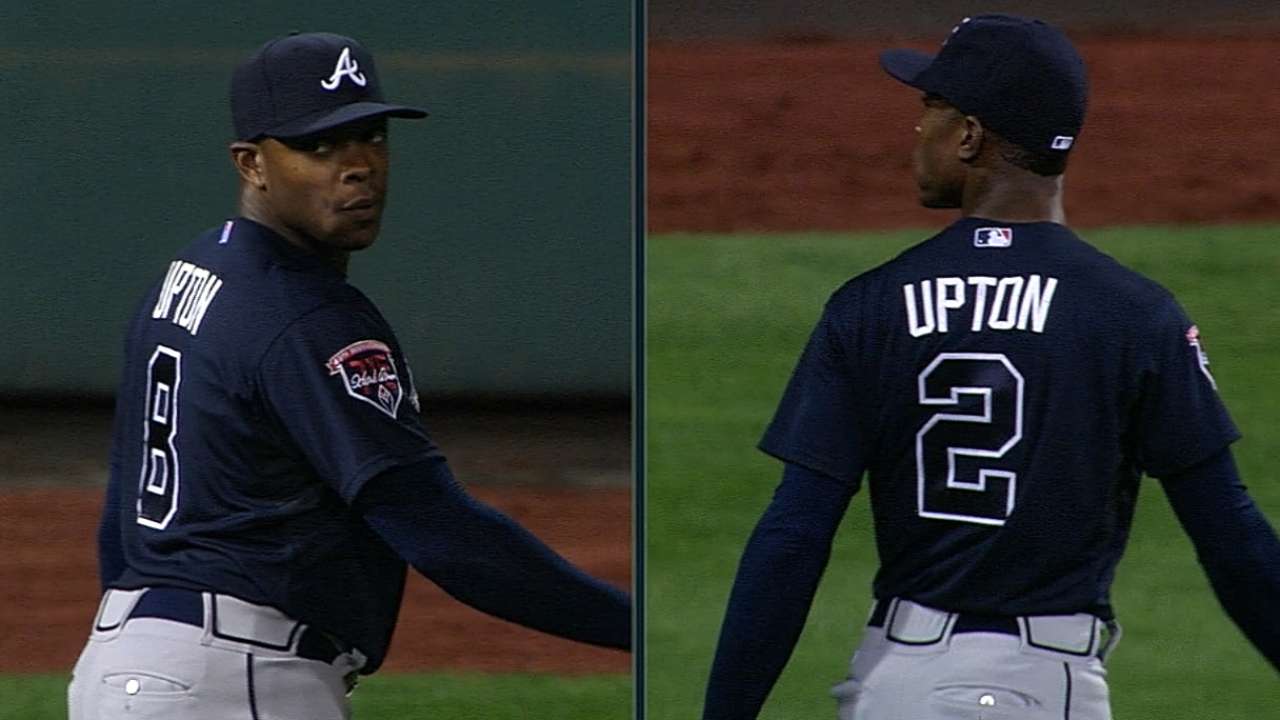 Bullpen
If Johnson can rebound from a horrific 2014 season, he can team with David Carpenter and Shae Simmons to serve as reliable setup men for Craig Kimbrel. James Russell and Luis Avilan are available to serve as left-handed relievers. But given that Avilan struggled throughout this past season and Russell proved to be much more effective against right-handers, the Braves might attempt to fortify their bullpen with a left-handed specialist.
Second base
Tommy La Stella fell out of favor in early August and was traded to the Cubs in early November. Now the Braves find themselves looking for someone to bridge the gap until top prospect Jose Peraza is ready to become their starting second baseman. With the assumption that Peraza will need at least three more months of Minor League seasoning, the Braves have to decide if they would rather give the job to Phil Gosselin on a temporary basis or find a veteran who would be willing to come to Atlanta for what might be just a one-season stint.
Bench
The Braves have targeted A.J. Pierzynski, Jose Molina and David Ross to serve as a backup catcher and mentor to Christian Bethancourt. Along with needing to fill this role, Atlanta could benefit from a backup infielder and the acquisition of a proven veteran who might provide consistency to a bench that produced a .178 batting average in pinch-hit situations last season.
Who they can trade if necessary
Justin Upton
Though he might be the club's most influential offensive asset, Upton is positioned to be one of next year's top free agents, and the odds of him returning to Atlanta seem slim at best. Thus, the Braves will continue to evaluate their options to deal him now in an attempt to gain more value than they would from the compensatory Draft pick they would receive if he received a qualifying offer next year and exited via free agency.
Evan Gattis
It would be tough to say goodbye to this kind of power potential who could remain under club control for the next four years. But there are definite concerns about his defensive abilities in left field and reason to wonder if it is best to move Gattis to an American League club now, when his value might be as high as it will get.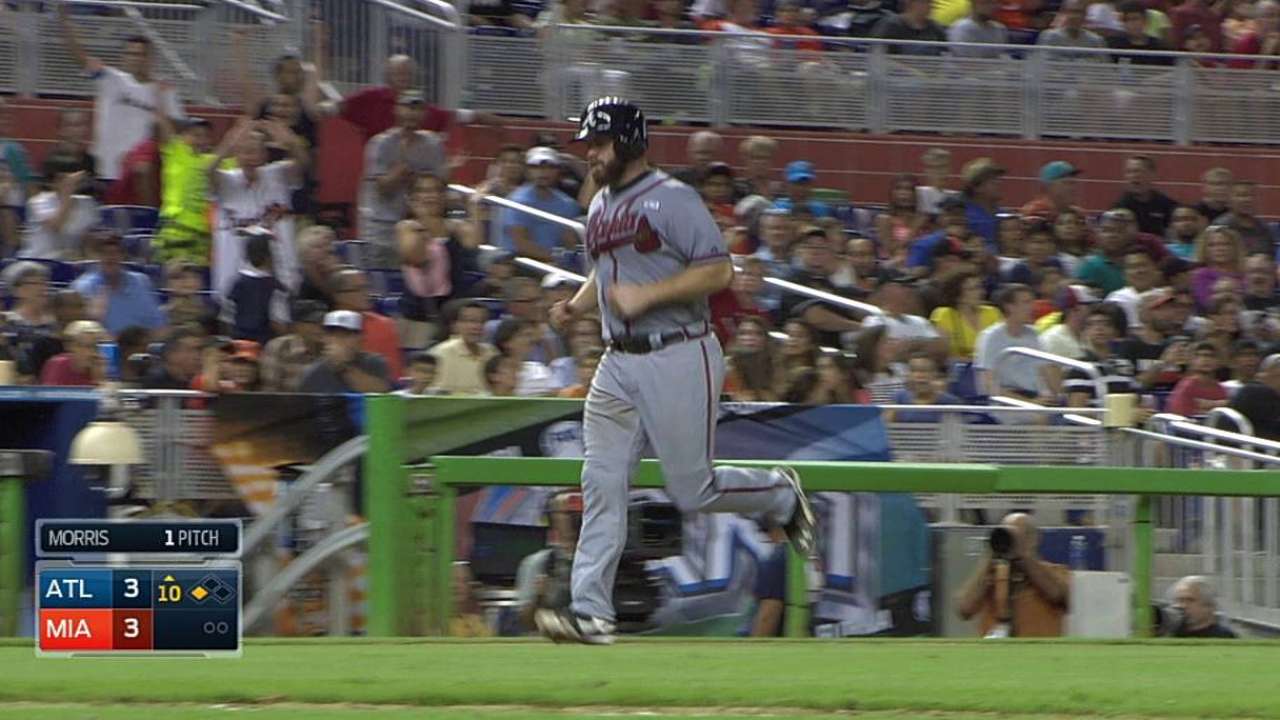 B.J. Upton
The Braves have tried to package him with Gattis and his younger brother in trades. But teams haven't shown much interest in assuming three years and $46.4 million for a player who has produced a .593 OPS over the past two seasons. Barring a potential swap of bad contracts, the Braves might be left to hope B.J. will benefit from the guidance of Kevin Seitzer, Atlanta's new hitting coach.
Rule 5 Draft
The Braves currently have 39 players on their 40-man roster. Any acquisitions made over the next week would certainly influence the club's ability to be active in Thursday's Rule 5 Draft. There might some interest in some of the pitchers who will be available. But for now, the Braves will have to wait to see if they have space on their roster to be active participants during this Draft.
Big contracts they might unload
The Braves would obviously like to rid themselves of B.J. Upton's deal. But it is much more likely that they could gain some financial flexibility by trading Justin Upton, who is owed $14.5 million in what is the final year of his contract.
Payroll
The Braves are already committed to paying approximately $91 million to 11 players and Dan Uggla, who was released earlier this year. This would leave them around $14 million to round out their roster.
Mark Bowman is a reporter for MLB.com. This story was not subject to the approval of Major League Baseball or its clubs.