Bridich eyes change at first Winter Meetings as GM
Club looking to upgrade starting rotation, bullpen as it tries to close gap in NL West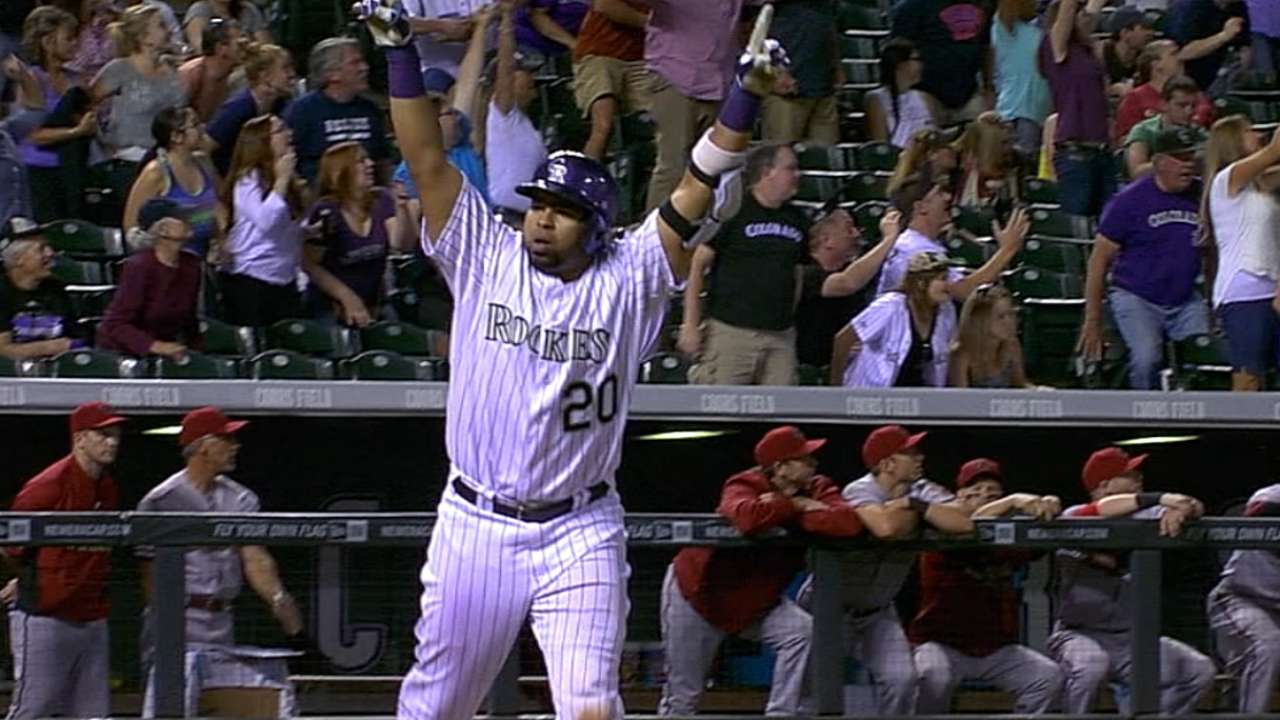 DENVER -- What seems like dramatic change is really just the prelude to change for the Rockies.
Four straight losing seasons pushed the Rockies to a major front-office shakeup, with Jeff Bridich moving from senior player development director into the general manager role in a revamped management structure. Manager Walt Weiss, looking for a new voice for his maligned pitchers, hired Steve Foster as pitching coach and former Rockies reliever Darren Holmes as bullpen coach. But now the real change will begin.
Even before those changes, the Rockies believed they had a solid offense and the makings of decent pitching. Injuries took away many of the offensive leaders and bore through the depth of the pitching staff. The thought is the Rockies can make immediate noise in the National League West if they improve the quality and depth of their pitching and stay healthy. But there are holes to fill before the Rockeis can present a roster that has a realistic chance in a division that includes the World Series-champion Giants and the division-champion Dodgers.
Here are some of the issues the Rockies will attack during the Winter Meetings, which start Monday and run through Thursday in San Diego:
Club needs
Rotation: You could say this about the Rockies every year. But really, most teams have the same issue. The starting rotation's ERA was the second worst in the Majors last season (4.89, with the Twins at 5.06), even with a solid year from veteran lefty Jorge De La Rosa and decent work from righty Jordan Lyles before he broke his non-throwing hand. A bounce-back season from Jhoulys Chacin, who was limited to 11 starts because of right rotator cuff fraying, will help. But with the Rockies not able to plan on righty Tyler Chatwood, who is coming off Tommy John surgery and may not be ready until late in the year, they're short to begin with, and they need depth.
Bullpen: The Rockies were among the worst in this category, despite good work from closer LaTroy Hawkins and righty setup man Adam Ottavino. Even if lefty Boone Logan returns to form after an injury-filled 2014, the Rockies still need a couple of high-quality relievers to shore up the late innings.
Catcher: When injuries to his wrists and hands and an energy-sapping bout with the flu robbed Wilin Rosario of his power last season, his struggles defensively came into greater focus. The Rockies are giving serious thought to finding a veteran defensive stalwart to help the pitching staff, but won't make a move unless they find a taker for Rosario. A report from FOX Sports has pitted the Rockies and Mariners as possible trading partners.
Who they can trade, if necessary
Shortstop Troy Tulowitzki and outfielder Carlos Gonzalez: It's hard to speculate on one without speculating on the other. Both are multi-time All-Stars with big salaries, and both underwent season-ending surgery last August.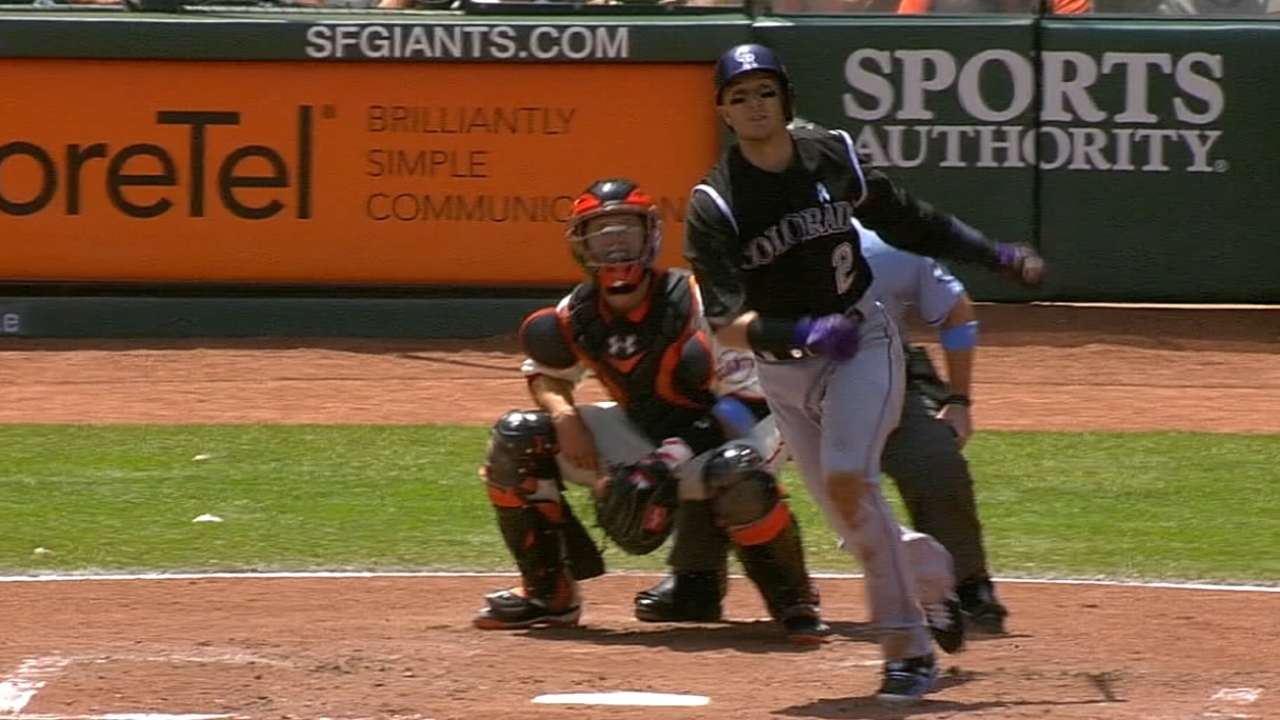 First baseman Justin Morneau: Dealing the defending NL batting champ would have been more likely had outfielder/first baseman Michael Cuddyer accepted the team's qualifying offer instead of signing with the Mets. Any deal involving Morneau -- or Tulowitzki or Gonzalez, for that matter -- would have to involve the Rockies somehow getting an impact bat. Yes, they need pitching. However, the winning formula in the past has been adequate to above-average pitching and an offense strong enough to handle the swings in success between home and road games.
Rosario: He could wind up the player most likely to go, which would put the Rockies in the free-agent market for a starting catcher.
Top prospects
While the Rockies don't feel restricted payroll-wise, they're not going to go crazy trading their top prospects, which would take away the possibility of having young talent help them win games and control costs. Their top prospects, righties Jon Gray and Eddie Butler, still are expected to help the Rockies' rotation sooner rather than later. Top 2014 Draft pick Kyle Freeland, a lefty, impressed Major League personnel during instructional ball. Teams could seek outfielder David Dahl, who had a solid '14 after a poor '13, or outfielder/first baseman Kyle Parker, who hit well at Triple-A Colorado Springs but received few opportunities during his big league callups. The organization likes the athletic ability and bat of outfielder Raimel Tapia and third baseman Ryan McMahon. It's possible teams will ask about them in trade talks.
Rule 5 Draft
Last year, the Rockies selected righty reliever Tommy Kahnle from the Yankees. Kahnle, who hadn't pitched above Double-A, stuck throughout the season and showed a heavy fastball and decent changeup. He'll need to develop savvy to stick in the future. With 39 players on this year's roster going into the Meetings and with thoughts of adding through trades and free agency, chances are against the Rockies selecting anyone. It's possible they could lose some players, however.
Big contracts they might unload
Even if the Rockies were in the unloading mode, it might be tough to deal Tulowitzki's $118 million over the next six years or Gonzalez's $53 million over the next three. The injury histories and the fact they're still rehabbing as we speak could lessen those chances. Morneau is receiving $6.75 million this year with a $750,000 buyout on a $9 million option for 2016.
The MLB Trade Rumors website projects Rosario to earn $3.6 million in his first year of arbitration and Drew Stubbs to earn $5.7 million in his final year. Both could be dealt, although it's not clear how much salary the Rockies would have to take in return.
Payroll summary
Bridich has refused to give specifics on the payroll, but the fact he has said he doesn't feel restricted speaks volumes. The Rockies increased payroll from just under $74 million in 2013 to $93.5 million in '14. It was the first season over $90 million. How much the payroll rises in '15 is dependent on what trades are made, but the club isn't begging teams to take its big contracts.
Thomas Harding is a reporter for MLB.com. Read his blog, Hardball in the Rockies, follow him on Twitter @harding_at_mlb, and like his Facebook page, Thomas Harding and Friends at www.Rockies.com. This story was not subject to the approval of Major League Baseball or its clubs.