Royals enter Meetings seeking starter, DH
AL champions positioned to make impact moves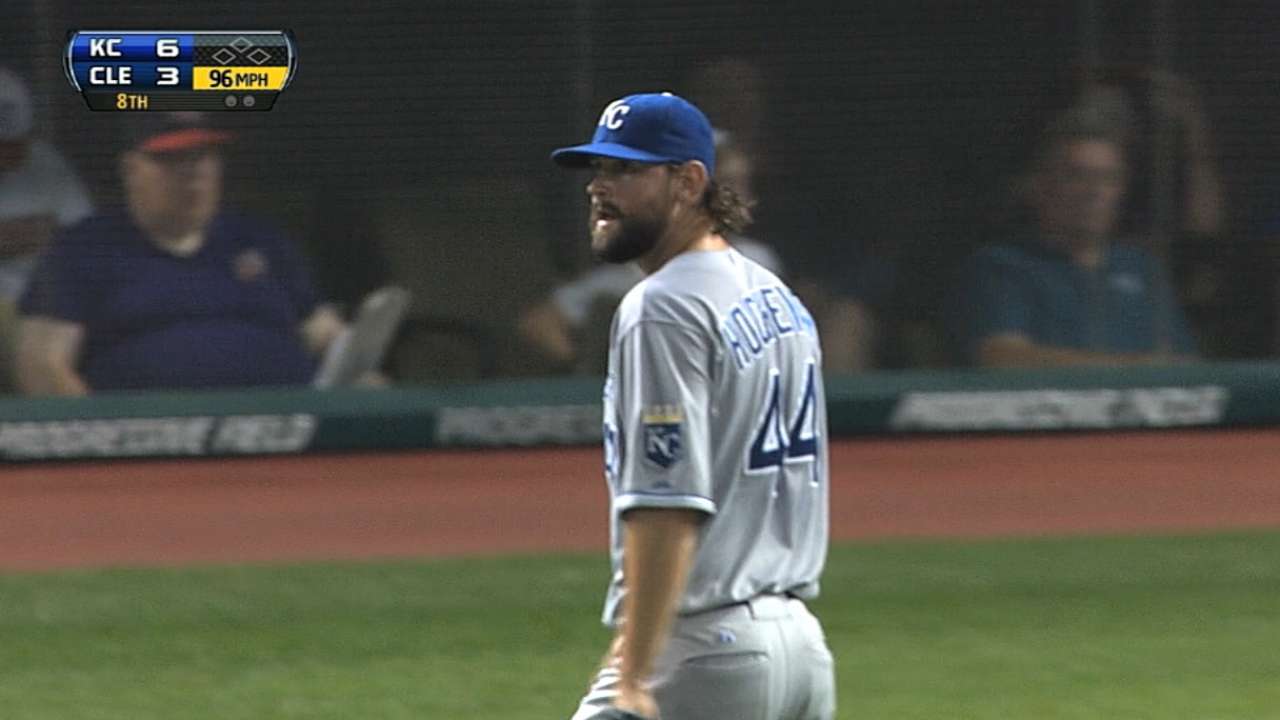 The Royals don't want to just find the one more win they could have used in October, when they took the victorious Giants to seven games in one of the most memorable World Series stories in recent memory.
No, Kansas City plans to build a club to last, a perennial contender that will experience many more Fall Classics in Kauffman Stadium.
With that in mind, the Royals' front-office contingent will descend on next week's Winter Meetings in San Diego with specific needs to fill and a willingness to be creative to do so.
General manager Dayton Moore already has made a few stealth moves leading up to the Meetings, indicating that larger strategic maneuvering could be on the way as the Royals now operate with the mindset of American League champions, not plucky underdogs.
While the team did not land veteran Torii Hunter to fill the vacancy for an outfielder/designated hitter left by the departed Billy Butler, Moore already has traded reliever Aaron Crow, re-signed bullpen righty Jason Frasor and brought back reliever Luke Hochevar on a reported two-year, $10 million deal. This gives the Royals more bullpen depth and perhaps greater confidence to trade closer Greg Holland, if the market is right and the return is justified.
Meanwhile, the Royals figure to be very much in many Southern California conversations regarding starting pitchers now that it's a foregone conclusion that their ace of the last two years, James Shields, will be moving to another team.
It's unlikely that the Royals will navigate the waters toward category headliners Max Scherzer and Jon Lester, but Kansas City might find a deal to its liking a few rungs down the ladder.
Here's a quick glance at what might go down in San Diego:
Club needs
Rotation: They're likely going to lose Shields to free agency, and while they might not be able to match his leadership qualities with any new acquisition, the Royals will do what they can to replace his 227 innings and 3.21 ERA. If Holland were dangled for a starter, Moore probably figures Wade Davis or Kelvin Herrera would slot into the ninth inning and be just fine, and Hochevar is back and was excellent prior to his Tommy John surgery. So packaging Holland for the right starter -- or bat -- could work.
As for the free-agent route, right-hander Ervin Santana has been mentioned, and he makes sense. He fit in well with Kansas City in 2013, pitched well in Atlanta after signing late in 2014, and might be had on a three- or four-year deal, but if Santana is seeking more than that, it might take a while. Other free-agent options in this tier include Jason Hammel, Francisco Liriano and Brandon McCarthy. Less expensive risk-reward types include Brett Anderson, Justin Masterson and Brandon Morrow.
Right field/designated hitter: Butler's deal with Oakland and the likely departure of Nori Aoki means the Royals need another outfielder/bat, and they wouldn't mind if that bat had a little thunder. That's why they were reported to be in on Hunter, and that's why they might be considering free agents along the lines of former Royal Melky Cabrera, Michael Morse and Alex Rios, if the price is right.
If those prices aren't right, they could decide to give Nate Schierholtz or Chris Denorfia a shot for platoon-type situations. And there's always that Holland trade possibility.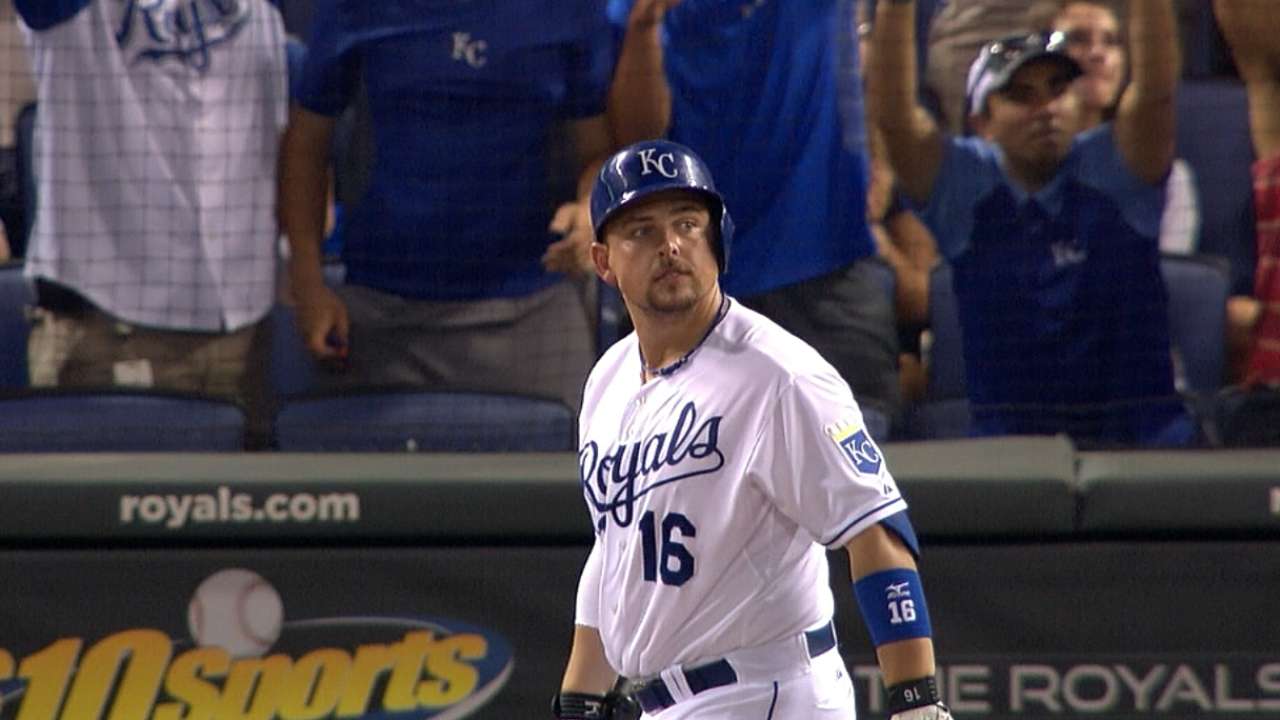 Bullpen: Adding Hochevar might not be the end of the story for the Kansas City bullpen, and of course obtaining another reliever will be a priority if the Royals do decide to deal Holland.
Lefty Brandon Finnegan was impressive during the postseason after a meteoric rise from the 2014 First-Year Player Draft, but Moore, who has built the best bullpen in the AL, knows how volatile relievers can be from season to season and might tack on to this strength for security.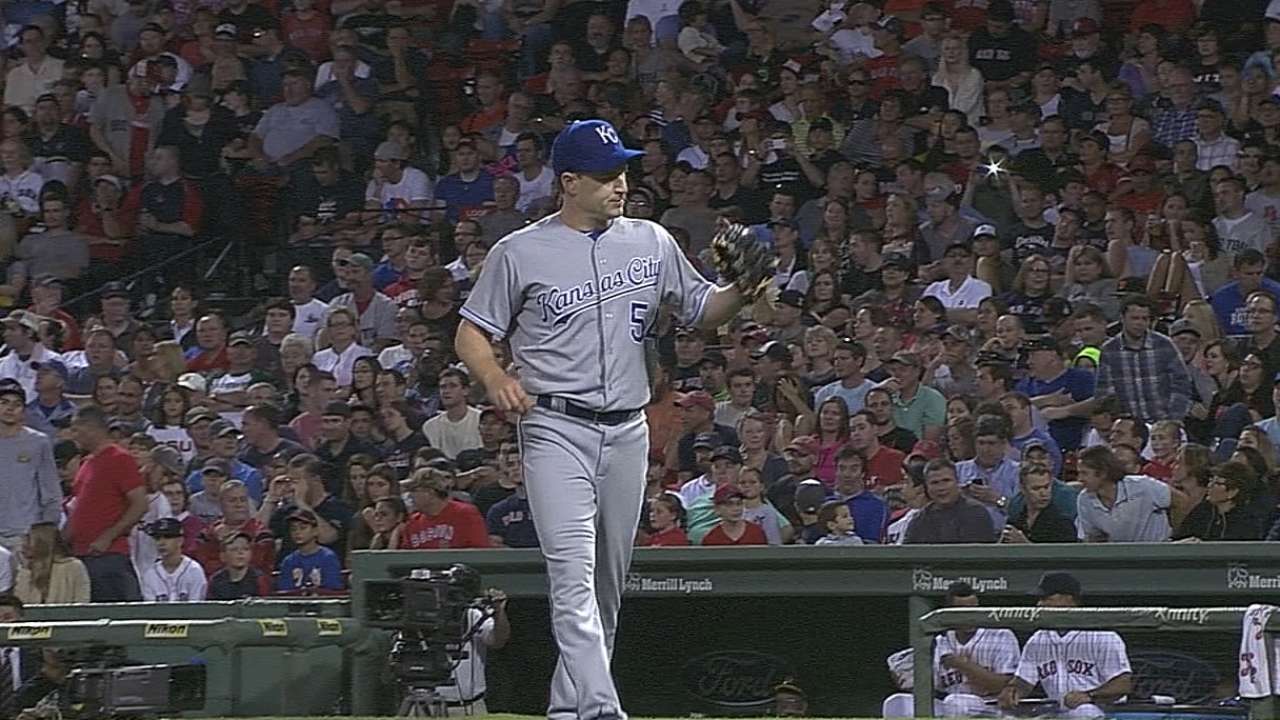 Who they can trade if necessary
Holland: He seems to be the most likely of the bullpen arms to be traded, since he's the proven closer of the bunch and his salary could double via arbitration. The Royals could save a nice chunk of money by shipping him off now, at his peak value, and restock the prospect cupboards, which is how they built this powerhouse team in the first place.
Davis: The starter-turned-elite-setup-man seems less likely than Holland to be dealt because he is controlled with set club options for the next three seasons ($7 million in 2015), and Holland is a closer who will get ninth-inning money via arbitration. Then again, if a team really, really prefers Davis, Moore would have to at least answer the phone, wouldn't he?
Top prospects
The Royals' top 10 prospects, according to MLB.com's most recent rankings, are shortstop Raul Mondesi Jr., right-handed pitcher Kyle Zimmer, left-hander Sean Manaea, third baseman Hunter Dozier, right-hander Miguel Almonte, Finnegan, outfielder Jorge Bonifacio, right-hander Christian Binford, lefty Foster Griffin and catcher Chase Vallot.
Remember that the most significant deal Moore made in his tenure as Royals GM was a trade of his top prospect at the time, outfielder Wil Myers, along with highly touted arms for Shields and Davis. It means he won't hesitate to ship off young talent again if he feels the deal makes Kansas City a better team.
Rule 5 Draft
The Royals' 40-man roster is at 38 players, but that will change to 39 once the reported Hochevar signing is official. The Royals did not select or lose any players in the Major League phase of either of the last two Rule 5 Drafts.
Big contracts they might unload
Other than potentially dealing Holland, there's not much to see here. The Royals let Butler leave to free agency and they'll do the same with Shields, continuing a trend of keeping the payroll manageable with smart maneuvers and doing whatever they can to promote from within.
Payroll summary
The Royals' 2014 payroll was around $92 million, which ranked 19th in the Major Leagues. After a stirring postseason run and the added revenue that went along with it, it would not be unreasonable to see that number head up to the $100 million mark.
"We've always done our best to evaluate players based on future performance and match that up with the dollar signs," Moore said. "But [owner] Mr. [David] Glass has wanted us to focus on who the players are, how can they make us better, and are we paying for value?
"There's no number that says, 'Hey, you can't do this or do that.' But that doesn't mean we're going to have a $150 million payroll. We just try to operate responsibly."
Doug Miller is a reporter for MLB.com. Follow him on Twitter @DougMillerMLB. This story was not subject to the approval of Major League Baseball or its clubs.